Creature Comforts
Surrounded by Grinches and Sneetches and 'Flit' stuff lives a dentist named Cohen, the ultimate Seuss buff
By Julie Flaherty
If Dr. Seuss had based one of his fantastical characters on Charles Cohen, D87, he might have been the Knowtooth Seussasleuth, or the Amassalot from the island of Dentium. No doubt, the inimitable Pulitzer Prize-winning author would have chosen a more eloquent name. But Seuss, who once created a character called the Escardax (half escargot, half dachshund), probably would have appreciated a man who was part dentist, part literary scholar.
Click on the play button to watch a slideshow of Dr. Seuss' early commercial art that led to the creation of his most memorable work.
Cohen, a general dentist who lives very near Seuss's birthplace of Springfield, Mass., spends about three-and-a-half days a week caring for patients, and much of the rest of his time collecting, appraising, writing, curating and fielding questions about Seuss, who even after his death in 1991, continues to be the world's best-selling author of children's books.
Although he never met the author, whose real name was Theodor Seuss Geisel, Cohen knows as much about Seuss's work as anyone who was acquainted with him, perhaps more so. His collection of Seussiana, which he began a decade ago, is believed to be the largest private anthology of its kind.
Along with a wide variety of trade, library and foreign editions of all the beloved Seuss books, he has gathered obscure publications like Geisel's first poems and drawings for his high school newspaper. There's a human-sized Sneetch intended for outdoor display at a theme park (and which currently greets visitors to Cohen's home). And there are larger items, like an advertisement for How the Grinch Stole Christmas designed for the side of a bus. Some of the most valuable pieces are watercolors, pen-and-ink drawings and sculptures Seuss designed and sold through mail-order. Such original works can fetch tens of thousands of dollars.
Acquiring the items was really just a byproduct of Cohen's desire to know more about the genius behind them. It began in 1988, when Cohen saw a traveling exhibition about Seuss that displayed some of his lesser-known work as a political cartoonist and advertising artist.

"That was my first exposure to the things that Ted Geisel did outside of his famous Dr. Seuss children's books, and it piqued my interest," Cohen says. But when he began looking for more background on the author, he found a dearth of facts. "More distressingly, the things that were written often turned out to be wrong."
A fair amount of the misinformation came from Geisel himself. Asked where he got his ideas, for example, Geisel would describe a Swiss hamlet called Über Gletch, where he purported to go every August 4 to have his cuckoo clock repaired: "While the cuckoo is in the hospital, I wander around and talk to the people in the streets. They are very strange people, and I get my ideas from them."
As Cohen says, "Ted was a great storyteller, and it was much more important to him to tell a good and amusing story than to tell the truth." So the dentist started looking for firsthand sources, combing through the Boston Public Library, the Library of Congress and the Seuss archives at the University of California, San Diego, and at Dartmouth College, Geisel's alma mater. He became a constant scourer of eBay, too.
An Unlikely Candidate
In doing so, he came to appreciate Geisel's breadth of experience and his uncanny success in just about any field he chose to pursue. As a young man in the 1920s, selling a funny drawing to the Saturday Evening Post for $25 was all the encouragement Geisel needed to move from Springfield to New York City to make his living drawing cartoons. One of Cohen's favorites is a 1928 sketch of a man giving a bouquet of fish to a girl, with this caption: "The Height of Deception: Taking Advantage of his Best Girl's Astigmatism."
"Apparently our senses of humor coincide on that level, since I still find that one particularly funny," Cohen says.
When Geisel decided to try to make some extra money in advertising, he used his witty scenarios and unlimited zoo of characters to help sell "everything from beer to ball bearings, windshield wipers to whisky, sugar to shaving cream, clocks to cosmetics, spark plugs to spot removers, and radios to rifles," Cohen says.
In a 1930s ad for disposable Ajax cups, an unmistakably Seussian crowd of fanciful germs parties on a drinking glass. Geisel, in fact, created one of the most recognizable ad campaigns of the era, for Flit Bug Spray, where the insecticide battled comically oversized mosquitoes. ("Quick, Henry, the Flit!" was the "Got Milk?" of its day.)
It wasn't until Geisel was midway through his career that he decided to try his hand at writing children's books. He was an unlikely candidate for the job, Cohen points out. He had no children of his own, and his early humor was often inappropriate for kids. One of his cartoons, titled "Making Our Daughters Less Irritating," featured a spring-loaded mallet called The Pout Extinguisher: "After this apparatus has been securely fastened to daughter's head by a reliable blacksmith, let her go ahead and pout if she dare!"
Yet because books like And to Think That I Saw It on Mulberry Street and The Cat in the Hat were so different from the insipid Dick-and-Jane primers that children were used to, kids loved them. Aided by a carefully honed use of anapestic tetrameter (his poetic rhythm of choice), Seuss was able to get children to read at an earlier age than was generally thought possible.
"I'm not sure if most people truly understand his contribution to improving children's literacy," Cohen says. "Utilizing repetition, rhyme and infectious rhythm to drum his stories into kids' heads, Ted was able to facilitate memorization and bring the pleasures of reading to children before they could read actual words."
In 1940, Geisel put aside children's books to focus on the growing threat of Adolf Hitler, whom he lambasted in political cartoons. He later joined the Army, where he got involved with Chuck Jones, Friz Freleng and Mel Blanc (the talents behind Bugs Bunny and others) in writing "Private Snafu" cartoons, which showed enlisted men what not to do as soldiers. His work writing propaganda films led him to try a career as a Hollywood screenwriter. Along the way, productions based on his work have won Oscars, Emmys, Grammys and many other awards.
From the DTs to Horton
The more Cohen unearthed, the more he saw the evolution of Seuss's artwork. His research revealed that Geisel was drawing pachyderms in trees and stacking terrapins long before Horton the elephant decided to hatch an egg or Hitler gave Seuss his inspiration for the tyrannical Yertle the Turtle.
Cohen also found that Prohibition had a significant influence on Seuss's work. Where an ordinary alcoholic might see pink elephants, drunkards in Seuss's early cartoons were treated to wide-eyed, sock-footed beasts with balloons for tails, misplaced horns or rainbow stripes.
"That weird menagerie started as the odd animals one would see in the throes of delirium tremens and only later developed into loveably eccentric animals for children to enjoy," Cohen says.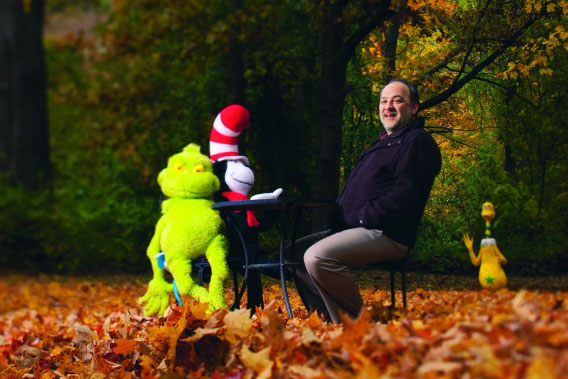 "I'm not sure if most people truly understand his contribution to improving children's literacy," says Charles Cohen of Dr. Seuss. Photo: Steven Vote
Each find helped separate the truth from the fiction (contrary to persistent myth, Geisel was not opposed to merchandizing his artwork, as his mail-order sculpture business attests) and the real from the counterfeit. "I used to estimate that 80 percent of the 'original' Seuss artwork I saw for sale was not authentic," Cohen says. "We've put a substantial dent in that figure over the last couple of years."
All this became fodder for Cohen's colorful visual biography of Geisel, called The Seuss, the Whole Seuss and Nothing but the Seuss (Random House, 2004), which pays as much homage to his work as a cartoonist and advertising man as it does to his children's books.
"I was hesitant to try to write a biography of a man whom I'd never even seen in person," Cohen says, "but it actually turned out to be essential to doing it successfully. Not knowing him allowed me not to make the mistake of trusting his version of events."
He later approached Random House with the idea of celebrating the 50th anniversaries of How the Grinch Stole Christmas and Yertle the Turtle and Other Stories with special editions of the books. Cohen provided images and commentary to show, for example, how the Grinch evolved from a pucker-mouthed character in an advertisement for sugar to the familiar green sourpuss with more than a passing dislike for the December holiday. More special editions are in the works.
There is not much overlap between his dental practice and his passion for Seuss, although you will find copies of Cohen's books among the usual magazines in his waiting room, and a couple of cels from the animated production of The Lorax, mounted at kid's eye level. Cohen fears that a reputation as the "Dr. Seuss dentist" would lead to an exclusively pediatric practice, which he says he would find "too limiting."
And Cohen doesn't like to be limited. He studied postmodern literature as an undergraduate, but, as later witnessed by his methodical search for empirical data about Seuss, he also had an appreciation for scientific discovery. Dentistry was his father's suggestion. "I thought he'd gone insane when he mentioned it," Cohen says. Yet the fit made sense. "Dentistry keeps me grounded in science, in mechanical precision work, and attuned to people's difficulties and needs—all of which are important to me."
Like Seuss, Cohen finds many outlets for his creativity. When he was doing postgraduate work in orthodontics, a moment of boredom would find him bending wire meant for braces into more elaborate designs. Soon he was selling them as earrings to a jeweler. His interest in the arts has led to several one-man shows of his own paintings, photography and sculptures, and a number of literary and musical compositions.
He says he and his wife, Margarita, joke about her putting up with his obsession, which takes a lot of his time and resources. "If there was no money spent on Seussiana, our house would long ago have been repainted, and the hideous linoleum in our kitchen would have disappeared," Cohen says. But he thinks his wife is also proud of what he has been able to accomplish. "She knows that I'm very seriously touched by the fleetingness of mortality and that it means a great deal to me to have created things that will live on in libraries and potentially be of use to people long after we're gone."
And so he revels in the acquisition of a paper flyswatter advertising Flit Bug Spray, fascinated that no one had the sense to throw it out back in 1931, and begins a search for the dozen or so Dr. Seuss books he recently learned had been translated into Persian. By the way, if you happen to have a copy of the 1952 Serbo-Croatian edition of Thidwick, The Big-Hearted Moose or a flag from Seuss's 1937 Esso Marine Navy ad campaign cluttering up your closet, Cohen would like to hear from you.
Blame it on an overdose of anapestic tetrameter, but Geisel's style has certainly drummed its way into Cohen's brain. Asked how he stores his collection, he responds with a Seuss-worthy tale: "For security reasons, the collection is moved to a new location each day. One day last week, for example, it was kept in a self-storage unit in Havre de Grace, Maryland, carefully watched by a solitary chimney sweep with acromegaly, and the next day it was moved to a Quonset hut in Corfu, Greece, guarded by frilled sharks and coelacanths."
Someday, Cohen says, he might like to open a museum for it somewhere. I hear Über Gletch is in the running.
This story first appeared in the Winter 2009 issue of the Tufts Dental Medicine magazine. Julie Flaherty can be reached at julie.flaherty@tufts.edu.