Blight to Boon
Reclaiming abandoned industrial properties is tough, says UEP's Justin Hollander, but with creative thinking, parks, museums and even wildlife refuges can take their place
By Helene Ragovin
On the side of an 80-year-old truss bridge that spans the Delaware River is a giant set of neon letters that proclaims: "Trenton Makes, the World Takes." The iconic sign, long a landmark for those approaching or leaving New Jersey's capital city, harks to the days when Trenton was an industrial powerhouse.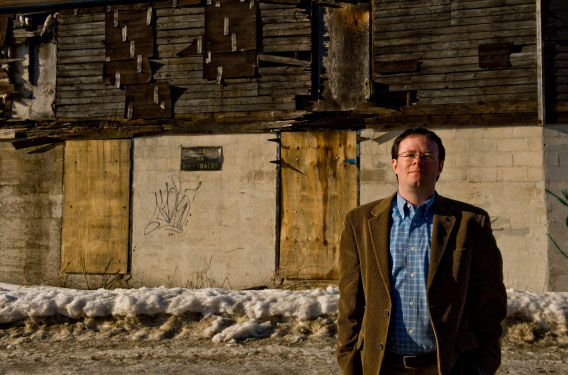 "As we face an economic future of uncertainty, there is at the same time opportunity to do something positive with these sites that doesn't demand new industries move into town," says Justin Hollander. Photo: Alonso Nichols
Those days surely are gone, for Trenton and many other cities. But the decline of American manufacturing has left behind more than roadside oddities. The remains of abandoned, often contaminated, industrial sites litter the country—particularly in the Northeast, South and Midwest—posing a dilemma for urban leaders and heartache for the people who live near them.
Justin Hollander, A96, assistant professor of urban and environmental policy and planning, tackles the issue of some of these blighted properties in his new book, Polluted and Dangerous: America's Worst Abandoned Properties and What Can be Done About Them (University of Vermont Press).
"I'm continuing a long tradition within UEP of looking at the intersection between environmental conditions, urban quality and health," says Hollander.
In his book, Hollander examines abandoned sites in five U.S. cities: Trenton; New Bedford, Mass.; Pittsburgh, Pa.; Richmond, Va.; and Youngstown, Ohio.
The first-line approach to rescuing these areas—trying to convert them to new industrial uses—isn't necessarily the best solution, Hollander concludes. Instead, the emphasis should be on finding ways to mitigate the impact of blighted areas on the adjacent community, regardless of whether that results in a tax- or revenue-generating use.
That could mean turning a former textile factory into a park with soccer fields and playgrounds, as happened in New Bedford. Or, it could mean demolishing dilapidated buildings at an old battery plant and fencing off the site while pollution is cleaned up, as happened in Trenton. In both cases, the once-threatening properties are no longer a drag on the quality of life in the nearby neighborhoods.
Warts and All
A location like this is known as a "high-impact temporarily obsolete abandoned derelict site," or HI-TOAD, in urban-planning lingo. In general, they look like the crumbling remains of shuttered factories and warehouses. But what's distinct about a HI-TOAD is its proximity to populated neighborhoods (hence, "high-impact"), and the lack of an accountable owner.
For those keeping track of their acronyms, a HI-TOAD shouldn't be confused with a LULU—a "locally unwanted land use," such as a refinery or a garbage dump—because HI-TOADS are no longer in active use. And while some HI-TOADS may also have a spot on the National Priorities List—uncontrolled hazardous waste sites that are targeted by the Superfund federal government program for cleanup—not all do.
"As an urban planner, it's really not as useful to use the Superfund classification," Hollander says. "The more relevant concept is that of the HI-TOAD—sites that are so detrimental to the community that they are bringing down property values more than a quarter of a mile away. When you think of a typical urban neighborhood, that's really far."
These sites represent a threat to neighborhood stability, he adds. "So that was what made me interested in researching and looking at what cities and urban planners were doing to address these worst of the worst sites."
Did touring the "worst of the worst" derelict sites in the country leave Hollander despairing for the future of urban America?
"Not hopeless at all," he says, because it helped him appreciate new ways of thinking about the issue.
"One of the most important messages that comes from the book is that the conventional, public policy and planning approach to these sites does not work," he says. "Rather, what I began to uncover was that an alternative model had the greatest promise, one based on improving the quality of the neighborhood, addressing the public health needs of the residents, and finding a steward for the property. These were the most important organizing principles for successfully addressing the problems at these sites."
Bucking the Received Wisdom
"The conventional mode is oriented around economic development," he says. "So for communities that at one point had a thriving steel mill, I found time and time again that the local planning and economic development strategy was bringing industry back to that site in order to have jobs and tax-generating uses."
But very few HI-TOADS are appropriate for new industrial uses. Millions of dollars are often spent to convert sites, only in many cases for city fathers to discover there is no market demand.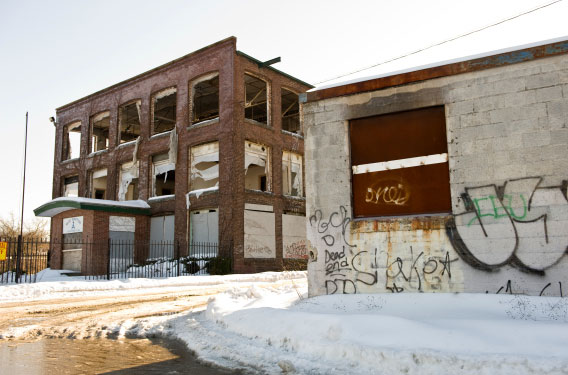 These sites are so detrimental to the community that they bring down property values more than a quarter of a mile away, says Justin Hollander. Photo: Alonso Nichols
"The money is wasted," Hollander says. "So the alternative approach is to really focus on addressing the impact of the site on the neighborhood directly."
That doesn't necessarily mean that any new jobs will come. "But the most hope for the future for these sites is getting them into some sort of new use, and in many cases, that means either as a park, a museum, maybe sometimes even a wildlife refuge," he says.
This view, says Hollander, reflects the new economic realities of the United States in the 21st century. For example, he points to the city of Gardner, Mass., which was once known as the furniture capital of the world.
"The last furniture factory closed there this past summer," he says. "For Gardner to return as the furniture capital of the world is not likely. Rather, Gardner can take advantage of the post-industrial landscape, take abandoned factories and plants and put them to new uses that focus on improving the neighborhoods' quality and providing amenities for the people who are left behind.
"As we face an economic future of uncertainty, there is at the same time opportunity to do something positive with these sites that doesn't demand new industries move into town," Hollander says. "My job as an urban planner and educator and researcher is to look at how we can reshape the physical environment of cities to accommodate this new economic reality."
Helene Ragovin can be reached at helene.ragovin@tufts.edu.