Working Vacation
Over the winter break, a group of students went to Ethiopia to learn about the challenges of developing one of the world's poorest countries
By Marjorie Howard
Brittany Wright held on tightly to the arm of her guide as she was led up four flights of scaffolding made of eucalyptus branches. "It's an interesting experience," she says with understatement, "to see through the cracks of the scaffolding. It's just branches and trunks of eucalyptus nailed together."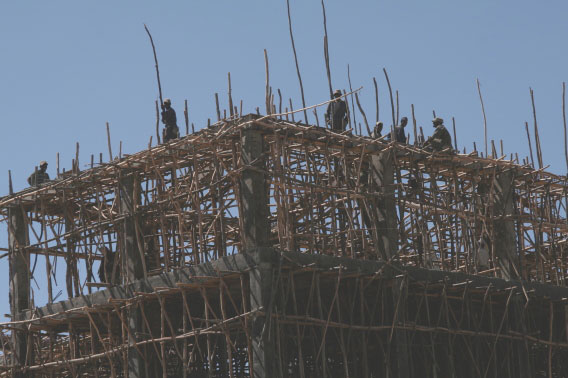 Scaffolding made of eucalyptus branches is a common sight as the Ethiopian government tries to build condos in Addis Ababa for displaced rural residents. Photo: Adrienne Frieden
Wright, a senior from Rhode Island, was making her ascent on a building being constructed in Addis Ababa, the capital of Ethiopia. She and five other Tufts students spent two weeks in the east African nation during their winter break. Their goal: to study affordable housing, energy and food production.
At the same time, they learned to eat Ethiopian style, scooping their food with a flatbread called injera, and listened to traditional music in the streets. They enjoyed exploring the customs of a country where the current calendar says it's 2001 (Ethiopia follows the Coptic calendar, which consists of 13 months and is roughly eight years behind the Gregorian calendar) and where a culture stretching back 3,000 years—to ancient Abyssinia—left its mark in the form of spectacular monuments, walled cities and castles.
The trip was taken under the auspices of the Institute for Global Leadership (IGL), which has been sponsoring winter vacation projects since 1986. Overall, more than 700 students have traveled to some 85 countries.
This past January, groups of Tufts students traveled around the world to South Africa, where they studied energy sustainability; to Shanghai, where they learned about the history and economy of the city; and to Cambodia and Uganda, where they participated in documentary photography workshops. Another IGL group stayed local, working on a photography project in Boston. All the students were required to write a research paper related to the area they were focusing on before heading out on their projects.
The trip to Ethiopia came about as part of a developing collaboration between Tufts and Addis Ababa University, with assistance from Hybricore, a Chicago-based company whose founder, Gregg Steinberg, is working to develop affordable housing in Ethiopia. Steinberg funded the students' trip, as well as a visit to Tufts in October by two Addis Ababa University professors. The Ethiopians spoke to classes organized by the IGL's Education for Public Inquiry and International Citizenship program, or EPIIC, which is sponsoring a symposium called "Cities: Forging an Urban Future" at Tufts from February 19 to 22, when the globe-trotting student groups will make presentations about their travels.
Night and Day
On the flight to Ethiopia, the group had a layover in Dubai, where they marveled at the gleaming city of skyscrapers. "We saw all this development and wealth and million-dollar condos," says Wright. The next day they flew to Addis Ababa, which is overrun with slums. The contrast was stark.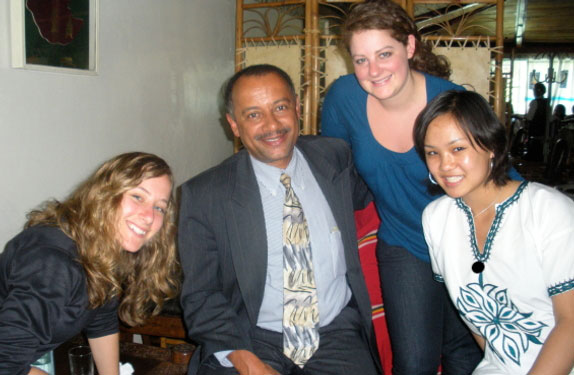 On the trip, Mara Gittleman, Adrienne Frieden, and Eileen Guo (from left) met in Addis Ababa with Abebe Dinku, dean of the Faculty of Technology at Addis Ababa University.
Ethiopia is one of the least urbanized countries in the world and is facing daunting challenges, including a severe housing shortage, says Heather Barry, associate director of the Institute for Global Leadership.
The government is trying to transform Addis Ababa into an orderly, modern capital from a city that evolved without any urban planning, changing from a rural, agricultural-based city to one that encompasses skyscrapers and mud huts. What it didn't take into consideration is the average income of the capital's residents.
Adrienne Frieden, a senior majoring in international relations, spent her two weeks focusing on affordable housing. She says the government's 2005 plan to build 200,000 condominiums is far from being realized. Only 33,000 have been constructed so far, and they are too expensive for Addis Ababa's low-income residents.
In addition, much of the land adjacent to the city that had been used for agriculture is being taken over by the government for new construction, a practice that is affecting food production. "The city has been expanding its borders and buying up land for buildings," says Mara Gittleman, a senior majoring in environmental studies and American studies, who focused her research on how urban expansion is affecting farmers.
"The heart of the country is agriculture. When the city wants to use agricultural land for development purposes, they give people a small amount of compensation and take the land," Gittleman says. "These are the people the government wants to go into condos, but they can't afford to. Many weren't part of the economic system, but were in self-sufficient communities, so the process is disenfranchising entire communities."
Affordable housing wasn't the only focus for the students. Senior Michelle Liu researched the impact of HIV in Ethiopia, while freshman Eileen Guo studied food production and distribution issues, including the role aid organizations play. Sophomore Gillian Javetski studied the role of corporations in the country's economic development.
Some of the students hope to return and do more. Wright, who is majoring in civil engineering, says she and three other engineering students, all members of Engineers Without Borders at Tufts, want to build a wind turbine in Ethiopia using local materials and methods. The goal, she says, is to build a low-kilowatt turbine that would provide power to a rural community. She plans to work on the turbine as her senior project.
"One of the great aspects of this program," says Barry, "is the students can actually lay eyes on what's happening" out in the world, which enhances their work back on campus.
Marjorie Howard can be reached at marjorie.howard@tufts.edu.