Growth Spurt
The dental school's outreach programs for youngsters in underserved areas is expanding
The School of Dental Medicine will expand its school-based oral health programs in Lowell and Boston, as well as in Hampden County in western Massachusetts, thanks to a multi-year grant from the Boston-based Oral Health Foundation.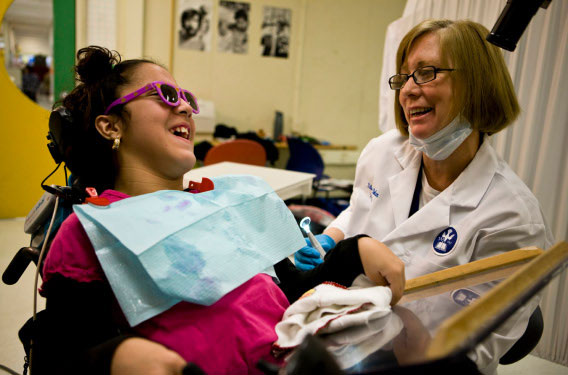 Kathy Dolan, director of the Tufts Community Dental Programs and an assistant professor of public health and community service, gives an oral health pep talk to a student at the Josiah Quincy Elementary School in Boston.
The funding will allow the school's Department of Public Health and Community Service to build on the success of its outreach program, Oral Health Across the Commonwealth, which helps reduce dental disease in children in preschool through eighth grade, when intervention can be most effective.
The goal of Oral Health Across the Commonwealth is to create a sustainable community-based program for at-risk children in underserved areas. This kind of outreach improves kids' oral health status through preventive services, including sealants, regular cleanings and fluoride varnish treatments.
The Tufts Community Dental Programs also received another infusion of funding when American Dental Partners (ADP), for the fourth consecutive year, donated $5,000 toward those efforts. ADP representatives toured the dental school and visited the school-based clinic at the Josiah Quincy Elementary School in Boston's Chinatown neighborhood on December 15.