Magnet Classes
As students focus on timely and "Tufts-centric" issues, classes like Arabic, Chinese, community health, biomedical engineering and music are seeing a strong uptick in enrollments
By Helene Ragovin
At the height of the Cold War, students at Tufts and other universities flocked to Russian classes.
Today, Arabic is the new Russian—with Chinese not far behind. The fluctuation of preferences in foreign language study is just one example of how current events affect students' course choices. For the most part, coursework pursued by Tufts undergraduates mirrors national trends, reflecting changes in world affairs, domestic politics and, of course, economic cycles.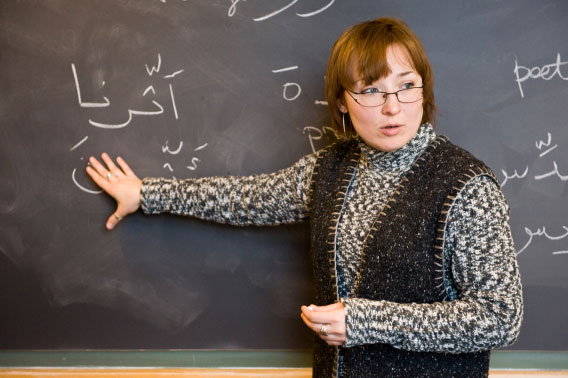 "Obviously, having Arabic as a working language is a big positive in terms of looking for jobs right now," says Valerie Anishchenkova, coordinator of the Arabic Language and Culture Program. Photo: Alonso Nichols
In other cases, the motivation behind what students study is more "Tufts-specific," so to speak. The number of students taking music courses, for example—always high for a school with an undergraduate enrollment of just under 5,000—has climbed even higher since the Granoff Center, the university's spectacular new music building, opened in February 2007.
"There are external changes, and also good examples of internal changes, things happening within the institution that students have responded to," says James Glaser, dean of undergraduate education. Because Tufts has so many interdisciplinary programs, such as International Relations, looking at course enrollments within academic departments, rather than majors, provides a clearer picture of students' interests.
For much of the past decade, the single event that has influenced students' course choices has been, without a doubt, 9/11. The aftermath of the terrorist attacks and the subsequent war in Iraq has not only sustained interest in Tufts' already-strong International Relations program and political science department and prompted a desire for courses in Arabic language and culture, but has also bolstered interest in subjects with a less-obvious connection.
"I think some interesting things happened post-9/11," says Edith Balbach, director of the Community Health Program, which increased its enrollment by 400 students between the 2002–03 and 2007–08 academic years. Students were drawn to community health in large part because "it became clear the country didn't have sufficient public health services, or disease surveillance, in place. The whole anthrax scare made public health visible."
Other factors included developments in science and technology. For instance, by 2002, interest in the emerging field of biomedical engineering had become so strong that the School of Engineering created a new department devoted to the subject. By 2007–08, there were 145 students taking biomedical engineering courses.
Engineering students are turning their focus to energy technology. "The big uptick in interest right now is in sustainable energy," says Linda Abriola, dean of the School of Engineering. "That's the wave of the future." As a result, the engineering school has hired three new faculty members with expertise in energy and is developing new classes to meet the demand.
By the Numbers
A look at the number of Tufts undergraduates enrolled in courses for a grade in the various Arts & Science departments in the 2002–03 and 2007–08 academic years shows some of the most significant increases:
Arabic: 98 to 344 | Chinese: 318 to 600
Community Health: 503 to 904 | Music: 1,501 to 1,898
The departments that traditionally have drawn the largest numbers of students—including mathematics, psychology, English and Spanish—remained relatively steady during that time. Economics, with the largest number of enrollments, was virtually unchanged, with 3,289 enrollments in 2002–03 and 3,285 in 2007–08.
Political science remained stable, too, although traditionally its enrollment has tended to fluctuate with the presidential election cycle, bumping up every four years. But, "we saw growth in political science immediately after 2001, and that has been sustained over time," says Glaser, who is a professor of political science. Poly sci enrollments were at 2,182 in 2002-03 and 2,200 in 2007-08.
Within the School of Engineering, course enrollments by department don't prove as useful a measure, because the school reorganized three areas of study in 2002, creating the department of biomedical engineering and splitting the department of electrical engineering and computer science into two separate departments.
Engineering work is becoming increasingly interdisciplinary, says Abriola, the dean. For instance, there are faculty members in each engineering department who are engaged in bioengineering applications, she says. One result of that this semester is an experimental computer science class in bioinformatics, the application of information technology to the field of molecular biology.
"Also, there is a very keen interest in what some circles is called human engineering—which is consistent with Tufts' emphasis on active citizenship," Abriola says. "It's the idea of using engineering to solve problems in developing nations, particularly in environmental areas, like water supply and disease mitigation." Civil engineering students are interested in learning about new methods of construction—"smart buildings"—and rebuilding infrastructure in a sustainable way, she adds.
The influence of the economic climate was evident in the dip in popularity in computer science after the dot-com bust a few years ago. "In about 2002, we saw a drop in computer science majors, which used to be one of our larger groups," Abriola says. "But that's starting to come back again somewhat."
In just the past year, there has been a "dramatic increase," says Diane Souvaine, chair of the computer science department. In spring 2008, for example, 85 students took "Introduction to Computer Science"; this semester, there are 110 in the course, with six on the wait list at the start of the semester. A year ago, there were 49 students in "Data Structures"; this semester, there are 113.
Nationally, a 2008 survey from the Computing Research Association, an academic organization, found that for the first time since 2000, the number of students majoring in computer science was up slightly.
A Surge in Arabic Studies
For many years, Mohammed Alwan, lecturer in Arabic, was a "one-man show" in the department of German, Russian and Asian Languages and Literatures, teaching about 20 students, says department chair Hosea Hirata.
Now, the department struggles to fill more than a half-dozen full- and part-time positions for teachers of Arabic to meet student demand that has topped 300 enrollments. "It's hard; it's absolutely difficult," Hirata says. "Everybody is looking for competent teachers of Arabic." According to the Modern Language Association (MLA), in 2000, job postings for college-level Arabic teachers represented 0.5 percent of all foreign language positions advertised; in 2008, they represented 4.5 percent.
Across the country, student enrollment in Arabic classes rose 127 percent from 2002 to 2007, according to the MLA. And during that time, the number of colleges and universities offering Arabic classes doubled.
The catalyst, of course, was 9/11, which, among other things, brought to light how little most Americans knew about the Arab world—particularly significant at a school like Tufts, which sends so many graduates into the international arena.
"Obviously, having Arabic as a working language is a big positive in terms of looking for jobs right now," says Valerie Anishchenkova, coordinator of Tufts' Arabic Language and Culture Program. "Even now, eight years after 9/11, there is still a lack of specialists in the Middle East.
"But I would say the interesting thing is that students are not only interested in the language, but also in the culture," Anishchenkova adds. "Of course, it's something they need for the job market, but on the other hand, I think they are personally interested in that part of the world."
Neck-and-neck with the demand for classes in Arabic at Tufts is Chinese. "Chinese is now the largest language constituency in this department," Hirata says. "China has become so important in terms of economics." This, too, follows national trends: faculty postings for teachers of Chinese rose from 1.4 percent of foreign language positions in 2000 to 4.5 percent in 2008. Nationally, enrollment in Chinese language classes rose 51 percent between 2002 and 2007.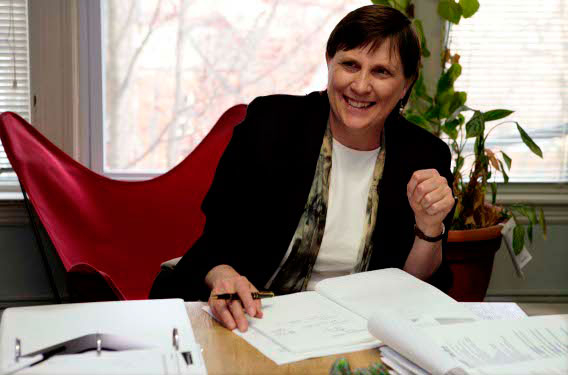 A heightened awareness of public health issues has made more students want to study it, says Edith Balbach, director of the Community Health Program. Photo: Melody Ko
Rallying Around Community Health
The Community Health Program was established in the mid-1970s, and it graduated about 10 majors a year for the first few years, Balbach says. This year, there will be 79 majors among the graduating seniors. "About 10 years ago we topped 50, and we've been on a trajectory up since then," Balbach says.
Aside from the spotlight that 9/11 cast on the public health system, there are other reasons students are drawn to the program, Balbach says, such as heightened public awareness of issues like climate change and global food scarcity. "People have started to look at the big issues," she says. And, there is also a greater awareness of the effects of the environment on personal health within the U.S.
"No matter how careful you are about jogging every day, there are things that have a negative impact on your health that you have no individual control over," Balbach says.
She is also seeing more pre-med students who double-major in community health and Spanish, with an eye toward the growing Hispanic population in the U.S., or who combine community health with child development if they are interested in pediatrics.
"Part of it is the program is so good here; it gets good word-of-mouth" among students, adds Glaser. "Many students may not even be aware of community health, or know what it is, and then they get here and discover this strong program, and over time it becomes an increasingly popular destination."
A New Tune Playing
Tufts has always attracted students who are interested in music, regardless of their academic majors. Non-majors can enroll in academic music courses and participate in more than a dozen ensembles.
"Tufts is unusual in that regard," says Joseph Auner, chair of the music department. "It is unlike a lot of places where if you are not a music major, your possibilities are limited." And that enthusiasm for music has only grown since the opening of the Perry and Marty Granoff Music Center.
"Definitely, the new music building has had a lot of appeal to students who had not thought of taking a music class; it brought it to their consciousness for the first time," Auner says.
"For example, our Javanese gamelan used to be in the basement of a little house on Professors Row, and students who weren't already in the gamelan ensemble didn't normally have an opportunity to see it," he says. "Now, it's in our world music room; we have performances all the time, and we are totally full and overenrolled with students who want to be in the ensemble. All of our ensembles have grown a lot, because once students are able to see the range of opportunities we have, they are really coming over here in significant numbers."
Helene Ragovin can be reached at helene.ragovin@tufts.edu.