Arthur Goes to the Library
The animated aardvark and his PBS pals from Elwood City have found a new home at Tufts with the arrival of the Marc Brown archives
By Helene Ragovin
Scene: The Sugar Bowl, an ice-cream shop in Elwood City. Seated around the table are a snub-nosed aardvark with glasses and a yellow sweater; a happy-go-lucky rabbit and a monkey who sports barrettes and blue jeans.
Arthur (the aardvark): Hey, isn't it great being the stars of our own animated public television children's show?
Buster (the rabbit): Sure is. Can't believe WGBH has been producing our show for more than 10 years now.
Francine (the monkey): But I've got a question—what happens to all the material from our TV show after the season is over—y'know, the story boards, the sketches, all that stuff?
Arthur: Maybe, with any luck, we'll end up someplace like Tufts.
OK, it's doubtful that Arthur creator Marc Brown ever wrote a scene like that for the show based on his best-selling children's book series. But nonetheless, it's true. Tufts has become the "retirement home" for the famous TV aardvark and his friends, with the arrival at Tufts of the Marc Brown archives.
"We could not be happier," says Julie Dobrow, director of Tufts' communications and media studies program, about Brown's decision to donate the collection to Tufts.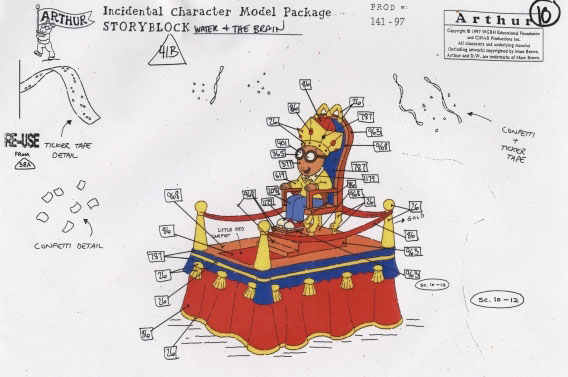 A model package for the Arthur episode "Water and the Brain," giving directions for animation. "What's really interesting is to see the creative process, from concept to production," says Anne Sauer, director of digital collections and archives. Illustration: Courtesy of the Marc Brown Collection and Digital Collection & Archives
The materials will be used in communications and media studies courses and at the Eliot-Pearson Department of Child Development—as well as by any other faculty who find the collection useful—and will be available on request in the archives section on the lower level of Tisch for research by students and the public.
When Brown was moving to a new house, he decided it was time for the 10-plus years of Arthur TV material in his studio to find a new home as well. He and his producers solicited proposals from several institutions and eventually chose to donate the material to Tufts.
"We were very interested in having this collection for teaching and research," says Anne Sauer, director of digital collections and archives. "Marc Brown was able to feel comfortable that we would take good care of Arthur."
"What we had to offer," adds Dobrow, "was that we have the oldest, and one of the best-respected, child development departments in the country, and a large thriving communications and media studies program."
This semester, for example, Dobrow is teaching a child development course on children and mass media. "One of the things we do in that class is take a careful and critical look at lots of children's educational media, so one of the things we'll be able to do is take a field trip to Tisch for the students to see how Arthur made the journey from a character in a book to being a character on an animated show," she says.
The collection includes a vast amount of material. It previously had filled a good portion of Brown's studio, a renovated barn behind his home outside Boston. The printed matter arrived at Tufts in 24 cartons, and includes some 60 linear feet of storyboards, character sketches and notes on music selections and script revisions. There are also 700 pieces of electronic media, mostly VHS cassettes, CDs and DVDs.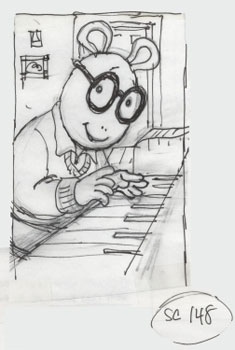 A sketch of the world's most famous aardvark. Illustration: Courtesy of the Marc Brown Collection and Digital Collections & Archives
More Tentacles!
Following the paper trail for an episode reveals the considerable back-and-forth that transpired between Brown and the TV production crew and the amount of detailed work required to get Arthur on the air.
"For instance, there might need to be a monster or an alien, and next to the sketch, Marc Brown might write 'we need more tentacles!' " says Sauer. There are sketches of the regular characters in irregular situations: for example, Arthur as a king or an astronaut, and sketches that illustrate the transformation of human celebrities—such as the Backstreet Boys, Mr. Rogers or Yo-Yo Ma—into animated visitors to Arthur's world.
"What's really interesting is to see the creative process, from concept to production," says Sauer. "Part of our hope is that students who use the collection will be able to see what is involved in creating a high-quality children's program—what was being considered, what was changed, all the issues that go into putting a program like this together."
It's easy to watch the show, but few know what actually goes into the process of making it. "For students who may one day be involved in TV production work, this gives them the tools to think about the impact of what they are doing and how it affects the audience—and that's so important when the audience is very young children," she says.
The Tufts collection includes material from 1994 to 2006, but the core is from before 2002, the point when WGBH began digital production. At that point, the amount of "hard copy" involved in the production process dropped considerably, Sauer says.
In the digital world, keeping a track record of the creative process is difficult. "You go through the process and have an end product, but when you're going through drafts, making changes, you're overwriting—saving files one over the other on the computer—and you lose the ability to track the process as it develops." That's not an issue unique to Arthur—"it's a much larger question of how creative work is documented in the digital environment," Sauer says.
A Dash of Irony for the Grownups
Arthur first came off Brown's drawing board in 1976, as the main character in an early-reader book series. He's a humanoid-style aardvark (the distinctive long nose of a real aardvark is nowhere to be found) who lives with his parents and two younger sisters—the pesky D.W. and the wiser-than-her-years Baby Kate—in the placid suburb of Elwood City. Along with his menagerie of animal-inspired friends—particularly Buster (a boy/rabbit who later got his own spin-off TV show), Arthur learns the sometimes-hard lessons of growing up, but in a gentle and humorous way. In 2004, Arthur received an Abby, the Eliot-Pearson Award for Excellence in Children's Media.
"There's a common myth that TV takes away from reading," Dobrow says. "But in this instance, Arthur turns that upside down." While the books had been successful on their own, the debut of the show on PBS made them wildly popular—the 157 Arthur titles have sold more than 60 million copies in the U.S.
"Children's librarians can't keep them on the shelves," Dobrow says. "What clearly happened with Arthur is that TV stimulated the desire to read."
What distinguishes quality children's media, and "what makes Arthur brilliant," Dobrow says, "is that the show works on two levels"—there's enough subtlety and sly humor to keep parents entertained while the kids enjoy the more obvious gags and storyline. Take, for instance, the episode in which the neighbor's dog steals D.W.'s socks and takes them to the "sock market," where he meets a bespectacled canine called "Alan Greenspaniel."
"You want parents to sit and watch with their children," Dobrow says. "A 7-year-old will watch and think it's funny because he knows the characters and thinks they're cool. His parent will watch the same show and think it's funny because she understands the iconic references. From a media literacy standpoint, you can't ask for anything more."
To visit the Marc Brown Collection, contact Digital Collections & Archives at 617-627-3737.
Helene Ragovin can be reached at helene.ragovin@tufts.edu.