Tufts Distinction Awards
Nominate your colleagues for program that honors staff and faculty contributions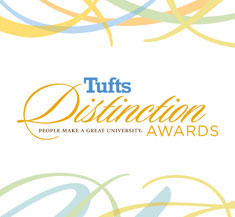 Do you know a colleague or team whose work, in the words of President Lawrence S. Bacow, "exemplifies the very best of Tufts?" For the second year running, these employees—staff and faculty—will be celebrated in a university-wide awards program.
Nominations for the 2009 Tufts Distinction Awards are now open. University personnel can log in and submit their nominations online. Nominations may also be submitted by email, mail or fax.
"This program rewards the excellence of our staff and faculty in such critical areas as customer service and innovative business practices, while also offering an opportunity to recognize unsung heroes and those who excel in building bridges in the workplace," says Bacow.
Last June, at the first annual awards ceremony, 12 individuals and two teams, from all three campuses, were recognized for their service to the university.
Four categories have been created for individuals and teams. Multiple winners will be awarded in each category. Here are the categories, with some of the criteria:
1) The Extra Mile Award, for exceptional customer service
This award celebrates individuals or teams who always go the extra mile to meet the needs of the people they serve. While these "customers" will often be Tufts students, faculty or staff, they may also include patients and their families, parents, alumni, donors and those in Tufts' host communities. Candidates in this category are known for meeting and then exceeding expectations, developing effective relationships and using resources creatively to achieve outstanding results.
2) The Bridge Builder Award, for bringing out the best in others
Nominees in this category are noted for building strong connections with colleagues and students. These individuals work well with people from all walks of life, including those whose cultural background, sexual orientation or life experience may be different from their own. They promote a collegial, inclusive environment and may act as mentors or coaches to support the professional development of others. These nominees make a real impact on the Tufts community, and their work may also make a difference in the wider world.
3) The Change Agent Award, for creating new opportunities for innovation
This award honors catalysts for change—those who see solutions where others may not. Nominees in this category have earned a reputation for flexibility, creativity, efficiency and entrepreneurship in tackling tough issues. They approach challenges with curiosity and confidence, and have a gift for getting others involved. They deliver results through new ways of working and by drawing on best practices.
4) The Unsung Hero Award, for accomplishing the extraordinary every day
This award recognizes people who demonstrate a real willingness to do whatever needs to be done on the job. Candidates for this award are those consummate team players who contribute to the success of Tufts in ways that may not always be readily apparent. They are unwavering in their pursuit of excellence and are the dependable "go-to" people who are seemingly always there to help.
The nominating process is now open, and closes March 6. Go to the website at http://distinctionawards.tufts.edu for online nominations.
A selection committee composed of staff, administrators and faculty from across the university will choose the winners. Bacow will present the second annual awards at a ceremony on June 3 in the Behrakis Auditorium in the Jaharis Family Center on the Boston campus.
"It is people who make a great university," says Bacow, "and in these difficult times, it is more important than ever to recognize those among us who make exceptional contributions to our community."