Many Mouths to Feed
Keep the policy focus on the world food security, says a former secretary of agriculture
By Jacqueline Mitchell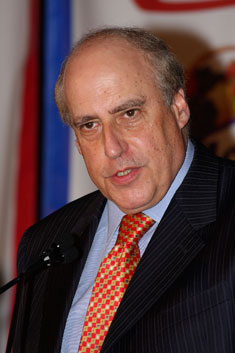 "The political stability of the developing world relates to food security," said Dan Glickman, former secretary of agriculture, at the Friedman School Symposium. "We have to invest as a nation in these priorities." Photo: Bethany Versoy
When the next president takes office in January, Dan Glickman hopes one topic is near the top of his priority list: the strategic importance of food and agriculture policies. The issue might not grab headlines like health care, terrorism or education, "but food and agriculture affect all of these other issues very directly," he said.
Glickman, who was U.S. secretary of agriculture from 1995 to 2001, gave the keynote address last month at the second annual Friedman School Symposium, a meeting for national and international experts to discuss subjects affecting nutrition policy and the food industry. "The issues of food security, food scarcity, nutrition, global economic development and food safety are going to be paramount to our national security focus for the next decade and will take a much higher profile than they did in the last decade," he said.
"The world of food economics is changing rapidly," Glickman said, adding that the recent spike in food prices is a mere harbinger of things to come. Given climate change, changing patterns of land use, energy costs and increasing standards of living for millions of people in India and China, the U.S. should plan for "slight food scarcity for the rest of the 21st century," he said. "We have to move away from almost a century of food policy predicated on perpetual surplus."
The U.S. now provides half of all international food aid, as it has for many decades. But America's surplus grain supply is no longer enough to feed the world's hungry, Glickman said.
He argued that the U.S. should engineer a policy shift from sending food aid to fostering development assistance in the form of new farming technologies. The Green Revolution, led by U.S. researchers, allowed poor farmers to wring more food out of each acre of land. But since the end of the Cold War, budget cuts have devastated agricultural development research and aid, said Glickman, who was a U.S. representative from Kansas for 18 years prior to his appointment as secretary of agriculture.
"The political stability of the developing world relates to food security," said Glickman. "We have to invest as a nation in these priorities."
Glickman also argued that the Department of Agriculture needs revamping. The place to begin, he said, is by attracting the talented staff, not just people with farm commodities backgrounds. "We are now seeing the need to attract high-quality people back into government," he said. "Issues of food and agriculture will have as much of an impact on the future of the world as anything else our government will be doing."
Restoring America's leadership in these areas, he said, will require "more science and better science. Your job is to get that information out," he told more than 300 nutrition scientists and professionals from the U.S. and Europe who attended the Friedman Symposium. Experts from Tufts, UC Berkeley, the National Institutes of Health, Massachusetts General Hospital and MIT weighed in on topics such as food scarcity and economics, labeling practices in the U.S. and European Union and vitamin supplementation during the three-day event.
During his tenure as secretary of agriculture, Glickman administered farm and conservation programs, worked to modernize food safety regulations and expand U.S. markets. He also collaborated with former USDA staffer Kathleen Merrigan, now director of the Friedman School's Agriculture, Food and Environment program, to create the first national standards for the production, handling and processing of organically grown agricultural products.
After leaving the USDA, Glickman was director of the Institute of Politics at Harvard University's John F. Kennedy School of Government before joining the Motion Picture Association of America (MPAA) in 2004 as chairman and CEO. He joked that people question how someone with an agriculture background became head of the MPAA.
"I'm no longer in the food business directly," he says. "I used to grow popcorn. Now I sell it."
Listen to Dan Glickman's address at https://secure.nutrition.tufts.edu/fs08_lectures/glickman/.
Jacqueline Mitchell can be reached at Jacqueline.mitchell@tufts.edu.