Honk If You Love Festivals
Once again, Tufts joins a Somerville extravaganza that takes to the streets October 11
By Peter Bendix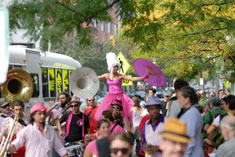 The festivities at Honk! last year in Somerville. Photo: Tiffany Knight
Picture the streets of Somerville taken over by costumed dancers, loose-knit brass bands, stilt-walkers and jugglers, more Mardi Gras than Massachusetts. It's Honk!, an annual street festival that's "a wild celebration of dance and freedom," according to Sarah Moshontz de la Rocha, A08, who is coordinating Tufts' involvement in the event.
For the second year running, the university is taking part in the festival—calling it Honk! U.—offering a series of workshops and a panel discussion to educate students and community members about movement, music and dance. Honk! U. takes place the weekend of October 10–12.
Charlie Keil, a professor emeritus of American studies at the University of Buffalo and the author of Musicking: The Meanings of Performing and Listening, will be Tufts' artist-in-residence for the festival. Invited by Deborah Pacini Hernandez, an associate professor of anthropology, Keil will reach out to community members and students, teaching several workshops in the week leading up to Honk!
"There will be many wild and wacky forms of revelry," says Moshontz de la Rocha, including crazy costumes, blaring brass bands and a giant hamster wheel. (We'll leave that last one to your imagination.)
"Music brings people together in a powerful, primal way," says David Guss, an anthropology professor who is also involved in the program. He likens Honk! to La Fiesta del Gran Poder in La Paz, Bolivia. Guss has participated in that festival as a devil dancer in one of 54 dance troupes, each of which tells a story through dance.
"Honkfest is completely unique," Guss says. "It has a political component but is not a political demonstration." Rather, Honk! is about public space and "wild, spontaneous, ecstatic celebratory behavior," he says, which has, in many ways, disappeared from society.
Guss is teaching a class this semester called "Festivals and Politics in Latin America" and says the Honk! festival is similar to those in Bolivia. Both "use dance and festival as a way of redefining public space," he says. In Bolivia, people were long prohibited from congregating in the public parts of cities, while in Boston, public celebrations are often limited to commemorating sports championships. Honk! is about "who owns the streets," he says, and what legitimate public, celebratory behavior means.
Tufts community members interested in participating can attend several free workshops taught by Keil and learn to play an instrument for the parade. There will also be a panel discussion on the evening of October 10 about the politics of festivals. For more information, go to http://www.ase.tufts.edu/amstud/honk/index.html.
And if you don't feel like participating, Honk! welcomes observers to the streets of Somerville. You might even see that giant hamster wheel.
Peter Bendix, A08, is an editorial assistant in the Office of Publications. He can be reached at peter.bendix@tufts.edu.