First in Class
The freshmen arriving on campus this September are diverse-and smart
By Helene Ragovin
The Class of 2012, which gathered on the Medford/Somerville campus for matriculation ceremonies on August 27, boasts one of the strongest academic records of any entering class in the history of Tufts. It is as racially and ethnically diverse as the class that preceded it and builds on the university's efforts to attract students of varying socioeconomic backgrounds.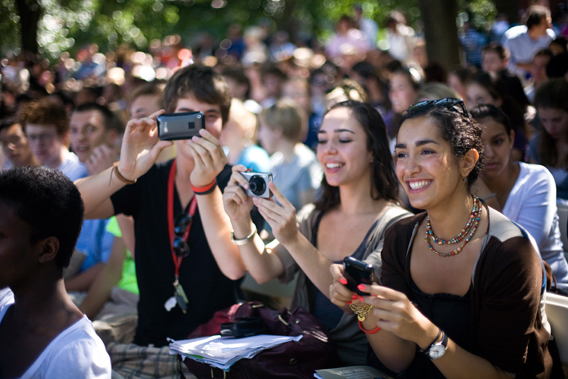 At matriculation: the Class of 2012 boasts one of the strongest academic records of any entering class in the history of Tufts. Photo: Joanie Tobin
The arrival of the first-year class follows a period of economic tumult throughout the country and changes in the admissions practices at other universities. But neither circumstance seems to have hindered Tufts' ability to assemble a class of extraordinary promise, says Lee Coffin, the dean of undergraduate admissions.
"This was a particularly uncertain year externally," says Coffin. "There were a lot of changes nationally, both in early decision plans at some schools and in financial aid [at other schools], so as we went through the process, I was not sure how this would unfold. I am impressed and relieved that the class came together in such a strong way."
Coffin says each class has a distinctive voice, and this year is no exception. "They are a particularly dynamic group of kids, with palpable optimism about how they are going to use their intellects to find solutions to contemporary problems," he says. "We talk a lot about that in our recruiting, and it's exciting to see the students describe themselves in that way-I think they are authentically committed to finding creative approaches to things."
The university received 15,642 applications for the Class of '12, the largest pool in its history; of those, 2,018 applied to the School of Engineering, the most ever for that school. All together, there are 1,302 new undergraduates in the School of Arts and Sciences and the School of Engineering. The class is 54 percent female.
The Class of '12 has the highest two-part mean SAT scores in Tufts' history, at 1415, as well as the highest mean scores for critical reading (707), math (708) and writing (709). Among the engineering students, the mean SAT math score was 749, a record high and a 23-point increase over the Engineering Class of 2011. (See "The ABCs of the Class of '12".)
Diversity Maintained
The Class of '11 was the most socioeconomically diverse in recent Tufts history, and the university was eager to maintain that profile, Coffin says. The softening economy could have hurt the university's ability to do that, but it didn't. "It was a relief that the resources were there through the Beyond Boundaries capital campaign," he says.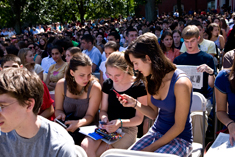 Freshmen exchange the vitals during matriculation. Photo: Alonso Nichols
Forty percent of the class is receiving some type of financial aid, with approximately 36 percent receiving grants from Tufts, Coffin said. There are 133 students receiving federal Pell grants, which are awarded to students from households with incomes of less than $40,000 a year and "are another marker we look at to gauge socioeconomic access," Coffin says.
Tufts spent about $13 million in financial aid for the first-year class, he says. "Compare that to the class that just graduated, the Class of '08-we spent $7 million when they enrolled four years ago," he notes. "We have nearly doubled financial aid to freshmen in four years, and we are seeing the composition of the class shift accordingly as resources are available."
While the tightening credit markets have to some extent affected the availability of student loans, there were no first-year students who were forced to change their plans to attend because their loans fell through, Coffin said. "As the economy softens, it's an issue that Tufts and all our peer schools need to watch," he says.
Middle-class families, with incomes in the $75,000 to $150,000 bracket, have been most affected by the economic slump, Coffin says. "What is starting to happen is that the middle-class group has felt more constraints; we meet their need, but they are increasingly saying, 'It's not enough,'" he says. "That's an issue we'll study this year-can we make adjustments to the way we calculate need for the middle-class families who are seeing their home equity erode, who are being affected by the loan crisis?"
The racial and ethnic diversity of the Class of '12 is similar to that of the Class of '11, with 27 percent of the class composed of U.S. students of color.
Twelve percent are international students, with 17 students from South Korea and 11 from mainland China-the largest contingent of Chinese undergraduates ever at Tufts, a result of recruiting activities there. "It's an interesting development, and it's important," Coffin says, "when you think about China's place in the world and our commitment to globalism."
Helene Ragovin may be reached at helene.ragovin@tufts.edu.