Good Neighbors and Better Lives
Does the community you live in affect who you are and what you become?
By Marjorie Howard
Does it matter where you live? Does the neighborhood you live in influence who you become, or is it more a reflection of who you are? Or does it make no difference at all?
These are questions that intrigue Tama Leventhal, an assistant professor in the Eliot-Pearson Department of Child Development. To find the answers, she is studying data from a decade-long federal program that helped families move out of poverty-stricken neighborhoods, and particularly, the impact the changes had on children and adolescents.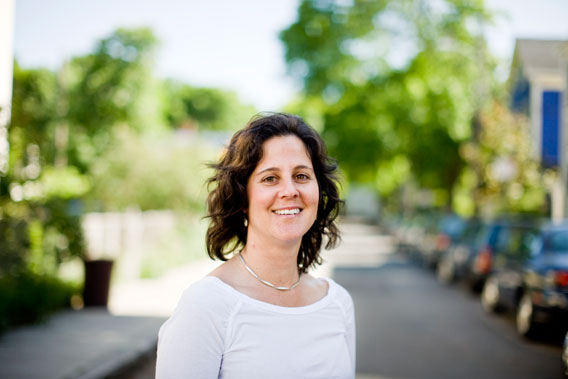 Tama Leventhal, an assistant professor in the Eliot-Pearson Department of Child Development, explores the connections between neighborhoods and children's lives. Photo: Melody Ko
How neighborhoods affect the lives of children and families is a very complex topic, says Leventhal, who came to Tufts last fall from Johns Hopkins University. In a 2005 study, she and two colleagues found that moving out of high-poverty housing projects initially seemed to improve the lives of teenage boys when compared with their peers who stayed in the projects. But after five years, that trend reversed, and they were actually worse off. Teenage girls, though, had a different experience. Another study found that the program, in fact, markedly improved their lives.
The discrepancy isn't entirely understood, but Leventhal believes that moving may have been more disruptive to boys, which may have offset any gains associated with improved neighborhood conditions. She is continuing to analyze the data, with the help of a five-year, $330,000 grant from the W.T. Grant Foundation. Several graduate students at Tufts are also helping to explore whether the program might have had a larger and possibly more beneficial effect on families that moved to wealthier neighborhoods and stayed.
The data comes from the Moving to Opportunity program, which was organized and funded by the U.S. Department of Housing and Urban Development (HUD). It moved poor families to richer communities to learn about the influence of neighborhoods on people's lives.
The program began in 1994 and involved some 4,600 people, most living in housing projects with poverty rates around 40 percent. The families were from Baltimore, Boston, Chicago, Los Angeles and New York and were divided into three groups.
One group of families remained where they were living. Members of a second group were given Section 8 vouchers, allowing them to move to subsidized apartments in a variety of neighborhoods. The third group received vouchers that had to be used in neighborhoods with poverty levels no higher than 10 percent; they also received some counseling and assistance in moving. "The number-one reason families agreed to do this was to get away from gangs and drugs," Leventhal says.
Human beings, of course, are not lab animals, and their lives don't always follow experiment guidelines. Some families moved to wealthier neighborhoods, but soon left to be closer to transportation or family, among other reasons. Because of a tight housing market at the time, some families had trouble finding housing in better-off neighborhoods and ended up living near the housing projects they had left. And some landlords, realizing they could charge more rent on the open market, left the Section 8 program, meaning some families were forced to move.
Leventhal explores what it is about living in poor neighborhoods that might be harmful to adolescents and has focused on several possibilities. Among those are the types of institutional resources a community can provide, such as parks, libraries and schools, as well as whether residents share common values and will act on behalf of those values for everyone's benefit. How parents behave toward their children can also affect the extent to which neighborhoods influence children's lives, she adds.
Despite her own commitment to neighborhood research, Leventhal notes that many social scientists are skeptical about the importance of neighborhoods as a contributor to the well-being of children. One of the variables that makes it difficult to study neighborhood influences, she says, is that an individual's personal characteristics may matter more than where one lives.
"Maybe I'm a low-income mother and I choose to live in a very small apartment in a particular neighborhood because it's safer than living in a larger place in a less-safe neighborhood," Leventhal explains. "Another low-income mother might prefer to have a bigger apartment in a less-safe community." In other words, she says, the personal qualities and interests of the parent may have more of an influence on the family than the neighborhood.
Marjorie Howard may be reached at marjorie.howard@tufts.edu.