Clear Sailing
Jen Provan, J01, is competing in her second Olympic Games, riding the waves for the Canadian team
By Paul Sweeney
Thanks to her sailing skills-and a dash of good fortune-2001 Tufts graduate Jen Provan is set to compete in her second Olympic Games this month in Beijing.
A Toronto native, Provan skippered Canada's team to 13th place in the 470 class at the 2004 Games in Athens. This year, Provan was invited to join Canada's team in the Yngling class, but they just missed the final cut of 15 teams in Olympic trials. Then two teams opted out of the Yngling competition, and Canada was awarded a berth.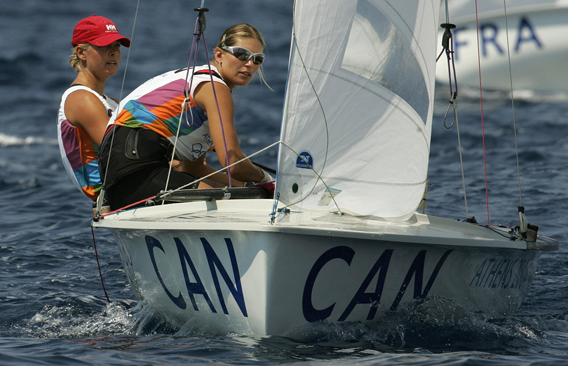 In the 2004 Olympics, Jen Provan (front) sailed in a two-person 470 class boat, seen here in Athens. At the Beijing Games, she'll compete in the three-crew Yngling class. "We are ecstatic to be going," she says. Photo: Menahem Kahana/AFP/Getty Images
"The greatest thing about competing at the Olympic Games is being there to represent your country," Provan says. "You compete with your national letters and flag on your sail. The first day we went out in Athens with our flag on our sail was one of the proudest moments of my life. It was when I really felt that we had made it, and all our hard work had paid off."
Her second Olympics will be a new challenge. The Yngling is a much different dinghy than the 470, which is a lightweight boat build for speed and sailed by a crew of two. The Yngling, sailed by a three-woman crew, is heavier and slower, requiring tighter and more tactical racing.
Provan's team-she is joined by Katie Abbott and Martha Henderson-recently earned a bronze medal at the Yngling Open Worlds in Denmark against male sailors. Skipper of the Canadian boat, she is confident that a medal is a possibility in Beijing.
"With my being so new to the boat, we're still trying to assess our potential, but every regatta we sail gets better and better," she says. "Most teams have been in China training, getting tired and feeling the pressure of the upcoming Games. Because of our late entry to the Games, we are ecstatic to be going, and realize that being fresh will be a huge advantage."
Provan credits her sailing experience at Tufts, under Coach Ken Legler, with setting her on a path toward the Olympics. Paired with classmate Laurin Manning, J01, G04, for three years, they won the Intercollegiate Sailing Association national championship for Tufts in 1999.
"Without my sailing at Tufts, I doubt that I would be a two-time Olympian," she says. "Being on the Tufts sailing team was one of the greatest experiences I've had in my life. Ken is a fantastic coach and leader, and has given me the utmost support since I graduated. On top of that, I learned what teamwork was all about and how important it is to have a crew that you enjoy sailing with. I was fortunate enough to sail with Laurin, and I owe a lot of what I know now to her."
The strong relationship Provan now shares personally and competitively with her Canadian teammates Henderson and Abbott gives her confidence heading into the Olympics. In total, 400 athletes will compete at the Olympic sailing venue on the Yellow Sea in Qingdao, some 550 miles from Beijing. The Yngling competition will feature 11 races between August 9 and 16.
After returning from China, Provan will have a new challenge: she's beginning work on an MBA at the University of Toronto's Rotman School of Management.
"The past few weeks have been totally insane," she says, "but when you get to the Games, it's your team's moment to put it all together and go for it. That is a great feeling."
Paul Sweeney is Tufts' sports information director. He may be reached at paul.sweeney@tufts.edu.