Giving Peace a Chance
An initiative to solve the intractable conflict in Iraq brought the warring sides together in Helsinki for talks-thanks in part to critical Tufts connections
By Helene Ragovin
Look at the line of smiling conference attendees-delegates and observers from around the globe and their young assistants-and it's easy to miss the significance of the gathering.
Many of the men standing easily side by side were once bitter enemies. They were veterans of struggles in South Africa and Northern Ireland, and they had come to Finland to coach another group of adversaries-the Shia, Sunnis and Kurds of Iraq-about the difficult, but not unattainable, process of political reconciliation.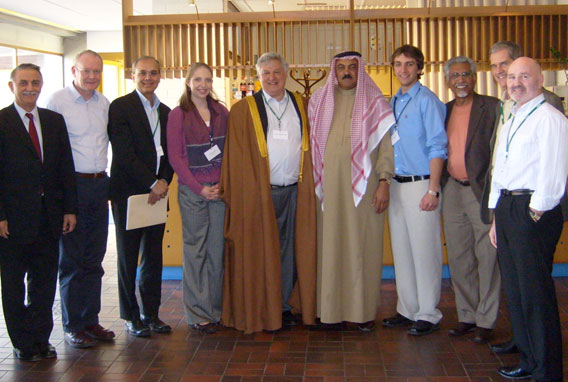 At the Helsinki talks, participants included, from left: Younadim Yousif Kana from Iraq; Martin McGuinness from Northern Ireland; Tufts Provost and Senior Vice President Jamshed Bharucha; Kelsi Stine, A10; Tufts trustee Robert Bendetson, A73; Sheikh Wisam Abed Ibrahim al-Hardani from Iraq; Joseph Emru, A08; Mac Maharaj, F09P, from South Africa; Roelf Meyer from South Africa; and Alex Maskey from Northern Ireland.
The talks, held amid considerable secrecy in Helsinki in late April, marked the third time since January 2007 that Iraqi leaders had sat down in search of common ground, with help from South African and Northern Irish facilitators. They were brought together by the Tufts Institute for Global Leadership at the instigation of institute Director Sherman Teichman and Tufts trustee Robert Bendetson, A73, Professor Padraig O'Malley of the University of Massachusetts-Boston, who directed the project, and the Finland-based Crisis Management Initiative. As the conference ended, the Iraqis agreed on a further set of principles and to meet again, this time in Baghdad in late summer.
The young assistants were a pair of Tufts undergraduates from the institute's Education for Public Inquiry and International Citizenship program, known as EPIIC. While most college students learn about critical international issues from classes, on-campus speakers or panel discussions, Kelsi Stine, A10, and Joseph "JJ" Emru, A08, were watching history unfold, live and in person.
"It was such an incredibly rewarding experience. It's really something to be present when people are talking about these issues with each other," says Stine, who is doing an internship in Helsinki this summer with the Crisis Management Initiative, a nonprofit conflict-resolution organization.
"Living in the United States, we're not connected to the dialogue-you might get random clips in the news, or hear about things the Iraqis have said to each other, but what you do not see is the power dynamic, the people interacting with each other," she says.
Political Reconciliation
The precursor of the April meeting was held in Finland in September 2007; the sessions have become known as "Helsinki I" and "Helsinki II." At the end of Helsinki I, the Iraqi participants, who included Shia and Sunni representatives, agreed on a 12-point framework that set the stage for Helsinki II, and, it was hoped, for a strategy for political reconciliation that would lead to a reduction of violence and a lasting peace.
For Helsinki II in April, "the table was broadened to include as many political parties and stakeholders as would come to the table," says Bendetson, who attended both gatherings. In all, 36 Iraqis representing political parties and tribal communities attended. Among the major Iraqi factions, only the Sadrists, those loyal to Shia cleric Moqtada al-Sadr, were absent; fighting, a siege and roadblocks made it impossible for them to make the flight. The Sadrists attended Helsinki I.
The facilitators were well acquainted with conflict. Among them were former members of the Irish Republican Army, including Martin McGuinness, a one-time IRA military leader, and Protestant political leaders from Northern Ireland. Mac Maharaj, a longtime African National Congress activist and confidant of Nelson Mandela, and Roelf Meyer, a one-time minister of police under the South African apartheid government who subsequently negotiated peace with the ANC, represented their once-opposing sides.
Upon returning to Boston, the mood among the Tufts delegation was one of cautious optimism.
"Knowing that there are such thoughtful players in the political arena [in Iraq], representing many of the principal parties and groups, naturally made me more optimistic," says Provost and Senior Vice President Jamshed Bharucha, who observed the proceedings in Helsinki. "Most Americans would be unaware of the caliber and qualities of so many of the elected Iraqi leaders.
"Of course, the challenges are daunting and in many ways beyond the control of most people," Bharucha continues. "But it's still good to know that there are so many dedicated people who are trying very hard to rise above the violence and the other factors that have been getting in the way of building a state."
Unexpected Results
The impetus for the Helsinki meetings was a Tufts conference called "Politics of Fear," says Bendetson, co-chairman of the external advisory board of the Institute for Global Leadership (IGL) and founder of the institute's Robert and JoAnn Bendetson Global Public Diplomacy Initiative at Tufts. At that 2006 conference, Bendetson heard four South Africans on opposing sides of the political divide discuss their path to reconciliation.
"It was amazing to me, being the host, to see people come from a divided society who had actually tried to annihilate one another come together and break bread and discuss issues in an intellectual manner and talk about issues together," Bendetson says.
The Politics of Fear conference also reconnected Bendetson and O'Malley; when O'Malley taught economics at Tufts, Bendetson was one of his students. O'Malley later helped further the reconciliation process in Northern Ireland, and has worked extensively on the issue of divided societies. O'Malley is an INSPIRE (Institute Scholars/Practitioners-in-Residence) fellow at the IGL and helped launch EPIIC's immersive education efforts in the mid-1980s.
"[O'Malley] took our first student on his first immersive education experience to Northern Ireland in the summer of 1986, to interview families of the IRA's hunger strikers," says Teichman. "It's a longstanding friendship and intellectual relationship, which once again bore fruit in this particular enterprise."
Eventually, O'Malley became project manager and secretary of the coordinating group, along with Bendetson and later, Cyril Ramophosa, an ANC chief negotiator, and the IRA's McGuinness, for the Iraqi Reconciliation Initiative. In early 2007, a group of Iraqi leaders met for the first time with South African and Northern Irish facilitators at the IGL's "Iraq: Moving Forward" forum at Tufts, which in turn laid the groundwork for Helsinki I.
"Education can lead to results that you never expect," says Bendetson.
Diplomacy 101
Since its formation, EPIIC has sent undergraduates on immersive education experiences to some of the world's most strife-worn spots, so it's not surprising two EPIIC students ended up in Helsinki. Stine was chosen because she was interested in conflict management and was being considered for the CMI internship in Finland; Emru because he had studied four years of Arabic.
Being in Helsinki was an "eye-opening experience," says Emru, who concentrated on Arab and Muslim culture as part of his international relations major and did an EPIIC research project in the West Bank. "I learned a great deal from speaking firsthand to the people involved-you don't get a chance to do that every day."
In addition to routine office work-photocopying, running documents back and forth-both Emru and Stine learned the grueling basics of diplomacy, the importance of attending to a thousand make-or-break details. Emru coordinated the one-on-one private meetings that each participant had with the facilitators, a task that required keeping a complex spreadsheet and running around, literally, with a laptop to make changes.
For Stine's part, her other duties included making sure the traditional prayer rugs used by the Muslim participants were properly placed, with the top pointing toward Mecca.
"I never had an appreciation for the degree of planning, down to the colors of the nametag lanyards, that was required," she says. And she learned firsthand about the nuances of communication and diplomacy: "What people say and what they mean can be very different," she says.
"I learned a tremendous amount from the facilitators themselves," says Stine. "I didn't grow up with a sense of identity that was part of a polarizing conflict, so I can't really understand a society like that. This helped me gain knowledge and awareness of what it means to be living in the middle of conflict."
A Necessary Message
This effort is a classic example of "Track II" diplomacy. "That involves totally neutral parties who have the credentials to be facilitators and who are politicially agnostic," says the IGL's Teichman. "But they have credibility with one another-these are people who have been senior political and military leaders in the underground; in armed conflict and violence; involved in sectarian, religious and ethnic hostilities and who have obviously figured out a way to transcend that. That message was necessary to be heard by the leaders in Iraq."
A key point, says Bendetson, is that the South Africans and Northern Irish are present to act as facilitators-not as mediators. "They are only offering their opinions as requested by the Iraqis and their actual situations," he says. The Iraqis are expected to "take ownership" of the process.
The absence of government sponsorship was also significant. "In many ways, NGOs [nongovernmental organizations] have a much stronger way of engaging the Iraqis," says Stine, who is majoring in international relations and peace and justice studies. "The U.S. has such a stake in what's going on; it can't have a neutral impact."
If outside governments were involved, "the dialogue couldn't be as earnest and genuine as it might otherwise be," Stine says. "If somebody from the outside is dictating what is talked about, is dictating the agenda-even if they let the Iraqis decide, there's that pink elephant in the room."
Bharucha, who is a cognitive psychologist and neuroscientist, says an essential element of diplomacy and peacemaking is being able "to question the categories with which we classify the world; to challenge the frameworks that we take for granted and to try and perceive the world as others perceive it.
"If people make the genuine effort to see the world from a perspective of those who are their adversaries, they are more likely, if motivated to do so, to find ways in which they can accommodate some of their seemingly intractable differences," Bharucha says.
"At Helsinki, people were making a conscious effort to rise above the perceptions of their various political and sectarian factions," he adds. "So it's certainly fascinating for me, as a scholar of the mind, to observe this process in action. Because when people fail to try to frame the world as their adversaries do, there's inevitably a clash that leads to violence."
Helene Ragovin may be reached at helene.ragovin@tufts.edu.