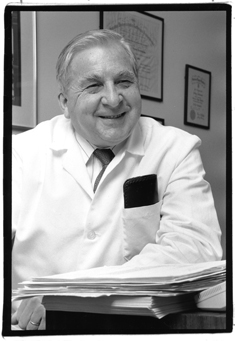 Erling Johansen in 1995. A memorial service for him will be held on September 26 in the dental school's Merritt Auditorium. Photo: Mark Morelli
A Life in Service
Erling Johansen, D49, was Tufts' longest-serving dental dean
Erling Johansen was teaching high school in his native Overhalla, Norway, in 1945 when Tufts invited 22 Norwegian students to enroll at the School of Dental Medicine. The Nazis had closed universities in Norway during World War II, and the Tufts gesture was part of an effort to help the beleaguered Scandinavian country.
Johansen was one of the lucky ones chosen, and graduated cum laude from Tufts in 1949. Exactly 50 years later, he retired as the longest-serving dean of the Tufts University School of Dental Medicine after 16 1/2 years at the helm.
He died on February 29 in Norway after a long illness. He was 84. Memorial services will be held on the Boston campus on September 26 at 3 p.m. in the dental school's Merritt Auditorium on the seventh floor of One Kneeland Street.
From Rochester to Boston
After serving for a year as a lieutenant in the Norwegian Armed Forces Dental Corps in the Allied occupation army in Germany, he was awarded a Fulbright Scholarship to pursue doctoral studies at the University of Rochester School of Medicine and Dentistry.
Johansen was appointed chair of Rochester's department of dentistry and dental research after he completed his Ph.D. in pathology in January 1955. In 1966, Rochester named him the Margaret and Cy Welcher Professor of Dental Research.
His pioneering research in preventive dentistry led to the development of an oral health management system for cancer patients. Head and neck cancer patients and others around the world benefited from his research.
When Tufts sought a successor to retiring dental school Dean Robert B. Shira, H81, the university was intent on hiring a top-flight researcher who could reinvigorate the dental school's research enterprise. The natural choice was Johansen, who, during his 24 years on the Rochester faculty, had supervised the training of more dental researchers than anyone else in the country. He became dean of Tufts School of Dental Medicine on January 1, 1979.
"When I graduated from this school in 1949, I didn't believe in my wildest dreams that I'd ever come back as dean," Johansen said in a 1995 interview published in the university newspaper, the Tufts Journal. "When I did, I found six or seven [of my Norwegian] classmates on the faculty. It was like coming back to my family."
One of his first tasks as dean was to engineer the switch from a three-year to a four-year curriculum, a tricky proposition since the six-year-old dental facility at One Kneeland Street had been designed for a three-year curriculum. Johansen noted that with the three-year program, "research more or less disappeared."
Raising the Bar
A prodigious fundraiser, Johansen went on a campaign to elevate the dental school to the high level of clinical and experimental research for which it was known from the mid-1940s through the mid-1960s.
Under his leadership, the dental school established an array of new specialty clinics and laboratories for orofacial pain, orthodontics, pediatric dentistry, oral surgery, geriatrics, and for treating patients with serious medical conditions. With expanded space and the infusion of new funding, Johansen recruited talented scientists who helped raise the dental school's research profile.
He also believed that alumni were critical to the school's mission. In recognition of the generosity of alumni who enabled the school's strong growth, the school dedicated the Dr. Edward Becker, D34, Alumni Center on the seventh floor of One Kneeland Street in April 1989.
Johansen was appointed a Distinguished Professor in 1994, the same year he received the Tufts University Alumni Association's highest honor, the Distinguished Service Award. That year also saw Johansen honored by Becker, the alumnus who established the school's first endowed faculty chair, the Dr. Erling Johansen, D49, Endowed Professorship in Dental Research.
When Johansen retired on July 1, 1995, he had been at the dental school's helm for 16½ years-still the longest tenure of any dean in the school's 140-year history. His retirement came exactly 50 years to the day he arrived at Tufts as a first-year dental student. He was named dean emeritus and professor of general dentistry emeritus.
At the time of his retirement, nearly half of the dental school's 6,000 living alumni had attended Tufts while he was dean. "I really do believe in the power of education," Johansen said at the time. "And I think a dental education is about the best anyone can get."
He was a member of a number of professional organizations, including the Massachusetts Dental Society, American Dental Association, International Association of Dental Research, American Association for the Advancement of Science, American Association of Dental Schools, American College of Dentists and the Pierre Fauchard Dental Honor Society, among others.
Johansen was an avid fisherman throughout his life. He enjoyed trolling for lake and rainbow trout, walleye and land-locked salmon on the Finger Lakes in upstate New York, and fishing for salmon and halibut in Alaska. He treasured his time fishing on Europe's famous salmon river, the Namsen, which flows through Overhalla, Norway. He also enjoyed downhill and cross-country skiing, photography and historical research, especially European and World War II history.
In retirement, Johansen was active in a number of community causes. As president of the board of directors and chief fundraiser for the Scandinavian Charitable Society of Greater Boston, he was instrumental in the establishment of the Scandinavian Living Center, a retirement home and Scandinavian cultural center in West Newton, Mass. He was a member of the Norumbega Lodge 3-506 of the Sons of Norway, and in 2004, he received the Sons of Norway District 3 Leif Erikson Day Citation in recognition of his lifetime of achievement.
Johansen is survived by his wife of 55 years, Inger; three sons, Erling T. Johansen of Alaska, Erik B. Johansen of Australia, and Steven D. Johansen of Norway; three grandchildren; and his sisters, Laila Voie of Norway and Randi Jakobsen of Sweden.