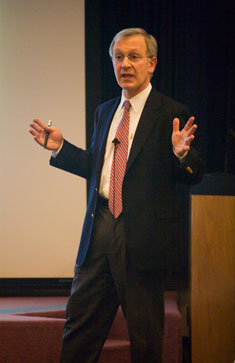 The National Institutes of Health wants to leverage its spending "to really make an impact on peoples' health," said Harry P. Selker, keynote speaker at the School of Dental Medicine's Bates-Andrews Research Day. Photo: Joanie Tobin
From Bench to Bedside
Tufts is joining the NIH push for practical applications of research findings
By Jacqueline Mitchell
Moving innovations from the lab to the doctor's office is the future of medical research. That's the message from the National Institutes of Health, and Tufts is ready to take advantage of it, Harry P. Selker told an audience in March at the School of Dental Medicine's Bates-Andrews Day, an annual student research fair.
Referring to the increasing emphasis on bringing advances in biomedical science out of the lab and into the clinic, Selker, professor of medicine and director of the Sackler School's clinical research graduate program, said the NIH "wants to leverage its spending to really make an impact on people's health." It is, he added, "a total change in focus of the NIH. This is a very different message than we've ever heard before."
The NIH's definition of research historically did not include studies like assessments of best clinical practices. But as federal funding for medical research has leveled off over the past several years, and as the public and Congress increasingly have been looking for a return on their large investment, the NIH leadership has recognized that "what has been learned in the research setting often is not implemented into daily clinical practice," said Selker, who studies issues that affect clinical care and its outcomes, including clinical, socioeconomic and gender issues.
Recent studies have shown that research often does not translate to clinical applications. For instance, a study by John P.A. Ioannidis, adjunct professor of medicine, noted that of 101 research publications promising such applications, just five had come to fruition after 20 years. This kind of insight led the NIH to establish the Clinical and Translational Science Awards (CTSA). The awards are intended to support up to 60 academic health-care centers; 24 research centers have already been selected to receive awards. Selker, who does translational clinical research in cardiology, is now spearheading Tufts' application to join the CTSA national consortium of academic health centers.
"If funded, it would have an impact on the future of every dental student and faculty member interested in research," said Jonathan Garlick, director of the dental school's Division of Cancer Biology and Tissue Engineering.
Should Tufts be selected as a Clinical and Translational Science Award recipient, faculty and students from all nine schools would have more opportunities to collaborate. Dental researchers, including Garlick, already are working with scientists at Tufts School of Engineering. Projects at the new center would focus on "work with potential to change the way medicine is practiced or delivered," Selker said, "something that will really make a difference."
Jacqueline Mitchell can be reached at jacqueline.mitchell@tufts.edu.