New Accolade for Dental Building
School's vertical expansion project wins International Facilities Management Association award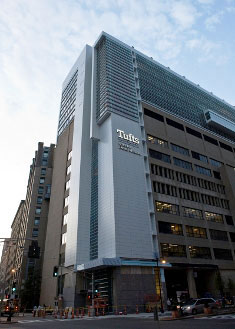 The School of Dental Medicine shortly after completion of the expansion project. Photo: Alonso Nichols
Tufts School of Dental Medicine's newly expanded building, which was dedicated last fall, has received another nod of recognition: a Best Practice Award from the Boston chapter of the International Facilities Management Association.
The $68 million construction project added five floors to the 10-story building at One Kneeland Street in Boston, and was designed by ARC/Architectural Resources Cambridge and built by Shawmut Design and Construction.
Earlier this year, the vertical expansion project received LEED Silver Certification from the U.S. Green Building Council in recognition of its sustainable design; a Building of America award, which recognizes the country's most innovative and challenging construction projects; and the Boston Society of Architects Honor Award for Healthcare Facilities Design.
Related stories:
New Heights at the Dental School
Onward and Upward