It's All About Change
Sol Gittleman encourages graduates to face their future with an appreciation for the past
By Marjorie Howard
Sol Gittleman, a professor beloved by thousands of Tufts graduates, told the Class of 2010 that in order to understand and be ready for the future, they must know about the past. "Each generation," he said, speaking at the all-university commencement exercises on May 23, "has to grow from the previous one, learn from its errors and build."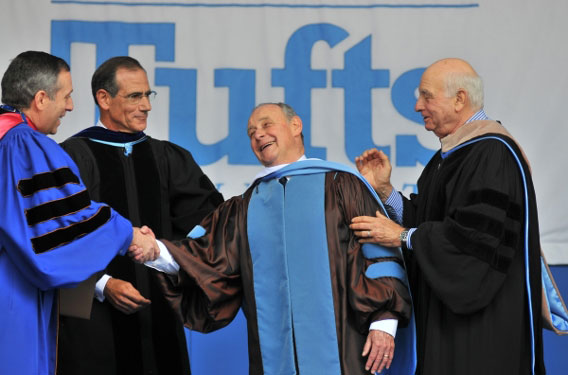 Commencement speaker Sol Gittleman, center, said that ideally, everyone would be "at least partial history majors" so they could be connected to the world of their parents and grandparents. From left, President Lawrence S. Bacow; James A. Stern, E72, A07P, chair of the Board of Trustees; Gittleman; and Nathan Gantcher, A62, H04, a trustee emeritus. Photo: Jodi Hilton
Gittleman, the Alice and Nathan Gantcher University Professor and the university's provost from 1981 to 2002, was the main speaker and the recipient of an honorary degree at the ceremony on the Medford/Somerville campus. The university awarded 3,037 degrees, including 1,341 undergraduate degrees and 1,696 graduate degrees, at its 154th commencement.
In addition to Gittleman, Tufts President Lawrence S. Bacow presented honorary degrees to Richard Dorsay, A60, M64, a founding member of the Leonard Carmichael Society; Kristina M. Johnson, the Under Secretary of Energy in the U.S. Department of Energy; Ann Hobson Pilot, former principal harpist of the Boston Symphony Orchestra; and Gordon S. Wood, A55, a Pulitzer Prize-winning historian who was on the faculty at Brown University for nearly 40 years.
Bacow introduced Gittleman as "representing the very best tradition of great teaching at Tufts," noting his course on Yiddish literature "is the standard by which all great courses are measured." He said Gittleman is also known for the personal time and attention he gives to his students.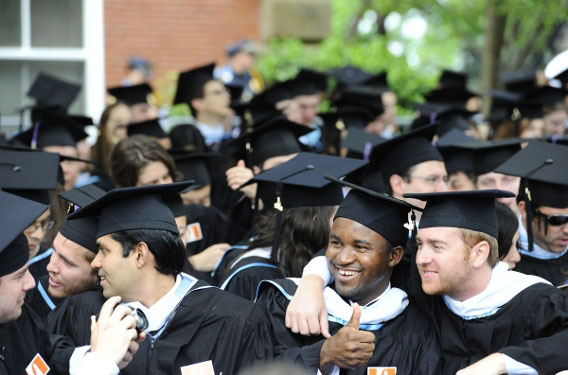 Parting shots: watch an audio slideshow of the all-university commencement. Photo: Alonso Nichols
With the same humor, grace and wisdom he has imparted to his students over the years, Gittleman charmed the audience with recollections from his own upbringing and provided them with insights on technology, history and the state of the world. And, slightly mocking himself, he compared himself to the character Polonius from Shakespeare's Hamlet and offered some words of advice.
Even though his mother couldn't read, he said, and his father had only a rudimentary education, both imbued him with the "optimism and knowledge that I would go to college, no matter what." But his mother was a tough taskmaster. "Try as hard as I could to please and satisfy her, she would look at my excellent report card, which was incomprehensible to her, with very mournful eyes, and say, 'Your brother's doing better.' Well, he wasn't doing better, but what did I know?"
To laughter, he explained why he tends to do things speedily. "I grew up during the Depression in one room behind a candy store in Hoboken, N.J., in a bedroom shared by my immigrant parents, my brother and me," he said. "I don't remember why, but at times we had only one pillow and my mother would say to me, 'Sleep fast, your father needs the pillow.' "
Gittleman told the graduates they must keep one foot in the past and one in the future. He said that if he could have pressed a button, he would have made everyone "at least partial history majors" to make certain they are connected to the world of their parents and grandparents.
"Your world will be that of the 21st century, but if you expect to understand it, you had better make certain how we got here," he said. In order to understand World War II or the current conflicts in South Asia, the Middle East and Africa, he said, it is necessary to know the origins and causes of World War I and subsequent peace treaties and agreements. To understand the nature of the conflict in Northern Ireland, it is first crucial to review the causes of the Thirty Years War; to understand the Sunni insurrection of Al Qaeda in Iraq, one has to review the Battle of Karbala in 680 that created the Sunni majority and the Shia minority.
Gittleman said that if he were to draw up a required reading list, three of the books would be the holy scriptures of the religions "that seem uniquely locked in struggle." We are currently fighting a war, he said, involving the three religions that trace their origins to the Patriarch Abraham. "These three faiths, locked in conflict, share a single religious tradition but cannot find peace with each other. . . . For the sake of all of us, you have got to do better than we've done."
He offered views for the graduates of each school. The health scientists and engineers, he suggested, face a future difficult to envision. "Contemplate the fact that 90 percent of all the biomedical and technological discoveries since the beginning of recorded civilization have occurred in my lifetime. Can you imagine what the next half-century will produce?"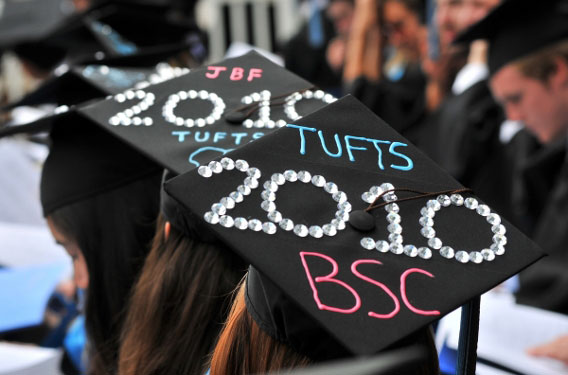 Tufts awarded 3,037 degrees—1,341 undergraduate degrees and 1,696 graduate degrees—at its 154th commencement. Photo: Jodi Hilton
Gittleman told the undergraduates their teachers never thought the courses they offered would actually provide them with all the wisdom they would need. "For most of you, we really didn't even prepare you for a specific job. We prepared you for a life of risk, change and the capacity to think, grow, learn and be happy, to discover what it is that gives you satisfaction."
He reminded the audience that all we've ever known is war. "The only thing that changes is technology, and that is intended to show us the hope for a better world and at the same time to frighten us to death. . . . So to the Fletcher graduates: Find a way to heal the world, make it safe and give it peace."
And to all, he said, "If you can continue to get better at everything you do, if you can take risks, change directions, remain intellectually flexible and engaged in the world around you, if you can discover a modest degree of happiness regardless of your income, then we will take some credit for lighting the candle of your mind."
With thanks to Polonius, "the advice giver," he said: "Work hard at whatever you do, whatever you believe in. . . . Expect nothing. Blame no one. Do something. Don't whine. Keep your memos short; watch your grammar, proofread—and spelling still counts."
Following the all-university, Tufts' individual schools hosted their diploma-awarding ceremonies:
Using M.D. and Ph.D. for the First Time
At the combined School of Medicine and Sackler School of Graduate Biomedical Sciences ceremony, held in the Gantcher Center, speakers were focused both on the current moment and the challenges to come.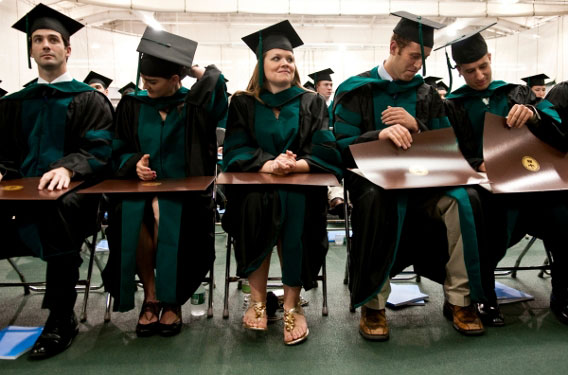 The degrees confirm it: they have indeed graduated. Photo: Jodi Hilton
Alexei Wagner, who gave the medical class president's address, opened with a lighthearted account of his classmates' evolution over the past four years of school, beginning with "a great deal of caffeinated beverages" in first year, through a time when "everybody learned about diseases and we all began diagnosing ourselves," up to the general nervousness preceding Match Day and the impending knowledge of their individual residency placements around the country.
Wagner advised his classmates to be good teachers and reminded them consolingly that next year, when they are awakened by pagers, "one third of us will be awake with you." He concluded by urging his classmates to practice medicine in a spirit of kindness and caring, saying, "Your patients will never forget how you made them feel."
Pamela Harvey, a neuroscientist who received her doctoral degree last August, spoke on behalf of Sackler students, noting that her fellow graduates were destined to make an impact on an American society often confused and misinformed about scientific findings. "We represent a diverse group," she said. "Our voices have the potential to be powerful indeed."
Harvey told a funny story about putting the Ph.D. after her name for the first time—her sister made her do it—that neatly captured the newfound maturity of her stance in the world. "We have struggled for independence, and today we are young adults," she told the audience. "But we may bring our laundry home from time to time."
In her remarks, Naomi Rosenberg, dean of the Sackler School, advised graduates to think broadly while keeping a measure of balance in their lives. "Science is best done in a collaborative way, where there is a free exchange of ideas," she said. In addition to peer interaction, this means engaging younger scientists along the way and "mentoring the next generation. Transmitting knowledge forward is perhaps the best thing that you can do."
New Heights for Dental Students
At a ceremony on Carmichael Quad, 190 dental students became D.M.D.s. Dean Lonnie H. Norris, DG80, thanked the class for their patience and constructive input during the school's vertical expansion, the 18-month construction project that added five new floors to the dental building at One Kneeland Street. "We are fortunate to have had you as students," Norris said. "Your input [as alumni] will help us continue to be a leading dental school in our beautiful new space."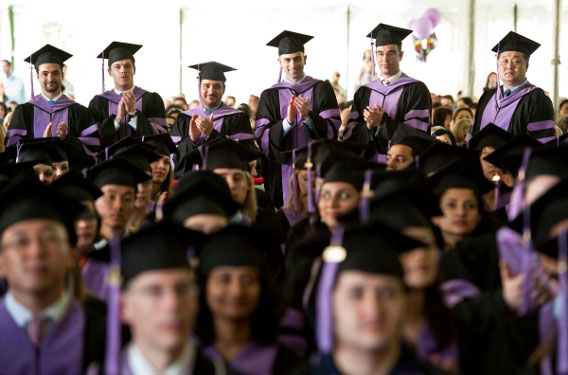 A round of applause for fellow graduates at the School of Dental Medicine. Photo: Alonso Nichols
Dental class president Meghann Dombroski thought back to the first time the Class of 2010 came together in Merritt Auditorium four years ago, recalling the nervous anticipation in the air that day. After 27 dissection groups, 84 exams, two board exams, two Boston sports championships, 24 marriages, 19 babies and one water main break, she said, "I feel that same nervous apprehension. I still have butterflies. But I love beginnings, and this is the start of our future. When you have tough days, remember what you're feeling today."
The Provost's Award for Outstanding Teaching and Service went to Noshir Mehta, DG73, DI77, professor and chair of general dentistry and a member of Tufts faculty since 1976. Peter Arsenault, D94, an assistant clinical professor of prosthodontics, and Marcelo Suzuki, an assistant professor of prosthodontics, shared this year's Dean's Award for Excellence in Clinical Teaching. Paul Leavis, associate professor of physiology, received the Dean's Award for Excellence in Basic Science Teaching. Anthony Silvestri, E69, a clinical professor of prosthdontics, and Charles H. Rankin, D79, DG86, a professor of endodontics, received the Dean's Award for Excellence in Pre-clinical Teaching.
Rankin, who has won the teaching award 11 consecutive years, reminded members of the class to maintain balance in their lives, to keep their parents proud of them and to cherish the freedoms granted by the United States.
In addition to the new D.M.D.s, three students were awarded master's degrees, and 55 received postgraduate certificates of achievement in dental specialties and fellowships.
The ceremony ended with James B. Hanley, D75A, DG79, the school's associate dean for clinical affairs, leading the graduates as they recited the oath for dental graduates.
Give the Day
The Gerald J. and Dorothy R. Friedman School of Nutrition Science and Policy awarded 61 master's degrees and 20 doctoral degrees at its 29th commencement ceremony, held in Cohen Auditorium.
Bill Layden, owner and partner of the food and nutrition consulting company Foodminds, encouraged the graduates to share themselves and make a difference in the lives of others.
"With all due respect to the popularity of carpe diem, I believe old Horace was wrong," said Layden, a member of the school's Board of Overseers. "Please don't seize the day. Rather, I say give the day. Give the day and your future will be trusted. The world needs more givers and fewer seizers."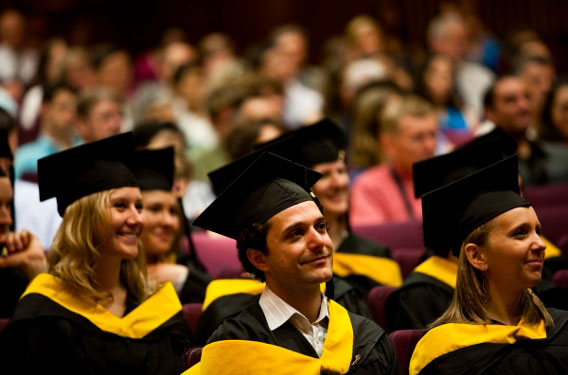 The Friedman School awarded 61 master's degrees and 20 doctoral degrees at its 29th commencement ceremony. Photo: Emily Zilm
He spoke of the imperfect food system the new graduates have inherited, one that has given us "an overweight, undernourished population while depleting and destroying our natural resources."
"Some would look at you and say, hey you smart, young people, can you fix it? Can you change it? Can you make it better?" Layden said. But he suggested a different approach. "Instead, I challenge you to break it, and break it good. Sometimes you have to tear down something to make it better."
He spoke of his time as a congressional investigator with the General Accountability Office, when he concluded the way the EPA reviewed pesticide safety needed to be redesigned, not just improved. The report earned him a meritorious service award from the GAO.
In her class address, Dawn Undurraga, who received her master's degree in nutrition communication, looked to the rows of graduates and noted the diversity of career paths that will grow from their nutrition studies.
"I see farmers, development workers, scientists, dietitians, policy analysts, researchers, epidemiologists, public health workers, urban gardeners, planners, writers, journalists, entrepreneurs, teachers, mentors, advocates," she said. "I see people who care about living their lives with passionate purpose."
Undurraga, who was a U.S. Schweitzer Fellow for her public service work, continued: "Whether we do our work bending over petri dishes in a lab or blending hummus in a kitchen, volunteering in Chinatown, Dorchester or Somerville, or interning in Italy, India or Ethopia, Friedman students are working hard to answer our president's call to 'form a more perfect union.' "
Welcoming the New Veterinarians
The Cummings School of Veterinary Medicine welcomed 74 new veterinarians to the profession at its commencement exercises at the Agnes Varis Campus Center on the school's North Grafton campus. With those graduates, the school now has more than 2,000 alumni.
In addition to receiving their D.V.M. degrees, six students received master's degrees through the school's combined-degree programs. Two students combined their veterinary studies with public health, one with comparative biomedical sciences and three with the school's laboratory animal medicine program. The school also awarded its third Ph.D. in biomedical sciences to Yi-Lin Yang, whose thesis was on the parasitic disease Cryptosporidium parvum.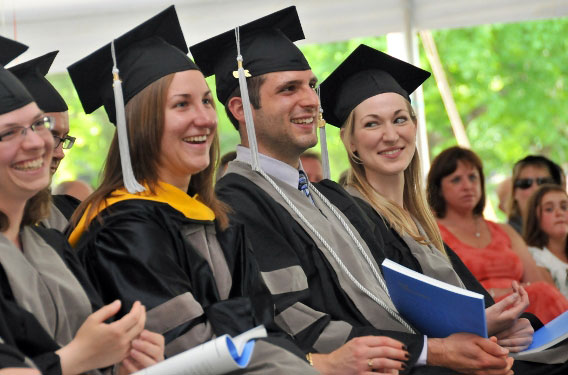 The Cummings School of Veterinary Medicine now has more than 2,000 alumni. Photo: Andrew Cunningham
Speaking to the graduates, Jamshed Bharucha, provost and senior vice president, said veterinarians will be more critical than ever. "Many of the most dangerous diseases that affect human disease have origins in animals," he said. In an era of globalization, he added, "a global approach to health is critical today."
Several members of the Class of 2010 took nontraditional paths to veterinary school. Among them was Cara M. Kneser, who received her D.V.M. 30 years after she completed her undergraduate studies. The faculty speaker was Elizabeth Rozanski, an assistant professor of clinical sciences and head of the Critical Care Section at the school's Foster Hospital for Small Animals. John Berg, chair of the Department of Clinical Sciences, received the Pfizer Teaching Award; Assistant Professor of Biomedical Sciences Elizabeth Byrnes received the school's research award, also sponsored by Pfizer.
Jay Merriam received the Henry E. Childers Award, given to part-time instructors who have made extraordinary contributions to educating veterinary students. In addition to other efforts, Merriam's Massachusetts Equine Clinic in Uxbridge shares an equine internship program with the Cummings School.
Five faculty members were honored with emeritus designations: Susan M. Cotter, Distinguished Professor of Clinical Sciences, whose early work with the feline leukemia virus was the first to show that viruses that cause leukemia are contagious and suppress the immune system; George P. Looby, a founding member of the Tufts Ambulatory Service and former director of the Foster Hospital for Small Animals and the Hospital for Large Animals; Lawrence J. Kleine, the school's first section head for radiology; and Irwin Leav, who helped create the veterinary school's basic science curriculum and became its first associate dean for research in 1978. The daughter of Harold E. Hammerquist, one of the founding faculty members of the veterinary school, accepted the emeritus award for her father, who died the day before commencement.
Diplomatic Approaches
This year, 437 students received professional degrees from the Fletcher School—424 master's degrees and 13 doctorates.
Fletcher Class Day on Saturday, May 22, was held at Fletcher Field and featured award presentations, including the Edward R. Murrow Award for Excellence in Public Diplomacy to Benjamin Ziff, F87, the counselor for public affairs at the U.S. embassy in Rome, and the posthumous presentation of the first Tufts University Alumni Association Active Citizenship and Public Service Award to U.S. Army Capt. Benjamin Sklaver, A99, F03, which was accepted by his parents. Sklaver, 32, died on October 2, 2009, in an ambush while on patrol in Muscheh, Afghanistan, near the Pakistan border. It was his second tour of duty. He was the founder and director of the ClearWater Initiative, a nonprofit that provides clean water to people affected by humanitarian emergencies. The Dean's Medal was given to Helene Gayle, president and CEO of CARE USA, who also gave the keynote address.
On Sunday, the faculty address was given by Cheyanne Scharbatke-Church, lecturer in human security, who received the Paddock Award for Excellence in Teaching.
For more coverage of commencement go to news.tufts.edu/features/commencement2010.
Marjorie Howard can be reached at marjorie.howard@tufts.edu. Julie Flaherty, Jacqueline Mitchell and Bruce Morgan contributed to this story.