Medical Makeover
A smart, comprehensive effort has transformed the Sackler Center from top to bottom. We provide a user's guide to the new space
By Jacqueline Mitchell
Two years ago, a team of architects started studying Tufts medical students to determine how they used the Sackler Center, what worked and—more frequently—how the space failed them.
One thing they noticed pretty quickly was that in some ways, the students behaved like cats, seeking out the building's rare shafts of sunlight when they could, even pulling chairs and sofas over to spots where sun managed to stream in. They were starved for daylight in a building that first opened in 1985.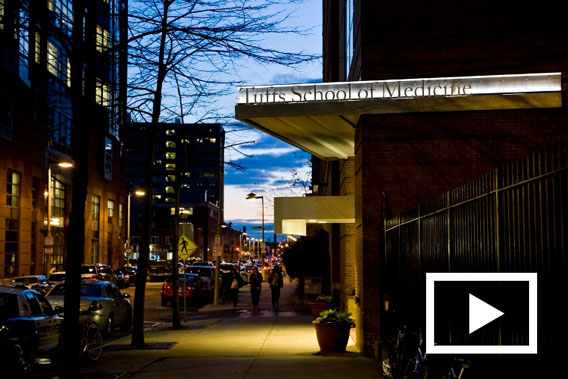 Click on the photo to launch a slideshow about the new Sackler Center and Clinical Skills and Simulation Center. Photos: Alonso Nichols
Today, after just 15 months of construction, Tufts medical students are learning and socializing in a totally transformed home, tailor-made to enhance their education and overall well-being. With its small learning communities, wired classrooms and cheerful décor, the new Sackler Center on the Boston campus offers sunny nooks and crannies for studying alone or in small groups, places to hang out and relax with friends and even a gym for working out the day's tensions.
In addition to a raft of new windows that offer natural light and panoramic views of Boston, the renovated building brings students, faculty and staff from all the schools on Tufts' health sciences campus together in one modern, convenient and inviting location. "The transformation of the space far exceeded anybody's expectations," says Marsha Semuels, the medical school's executive administrative dean.
The biggest challenge, says project manager Chris Candiello, was taking out one of the first-floor lecture halls and turning it into a function room with a beautiful, sunlit lobby. The undertaking required the construction crew—numbering up to 40 workers—to remove and then replace load-bearing structures in an occupied building. It was a daunting task that went off without a hitch, says Candiello. "It came out great. It's beautiful, up-to-date and should last a long time," he notes.
A renovated Sackler isn't the only new addition to life at Tufts Medical School. At 35 Kneeland Street, just around the corner, a new Clinical Skills and Simulation Center contains three simulation rooms with state-of-the-art computerized mannequins that display symptoms and distress the same way real patients do: dilated pupils, low heart rate, coughing, sweating. The mannequins afford medical students, as well as interns and residents from Tufts Medical Center, the chance to practice procedures such as putting in a blood line or intubating before they ever try it on a human patient.
In addition to the simulation facility, there are 12 rooms that look just like the exam rooms you'd see in a doctor's office, where students can practice taking medical histories and refine their bedside manner with standardized patient-actors. Each room is fully wired for audio and video, so faculty members are able to watch students' performances from central control rooms. Semuels calls the potential of this training space "a huge improvement to the education of our students."
The early support of Steven Jaharis, M87, and his father, Trustee Emeritus Michael Jaharis, made the renovation of the Sackler Center and the creation of the new Clinical Skills and Simulation Center possible.
This story first appeared in the Winter 2010 issue of Tufts Medicine magazine.
Jacqueline Mitchell can be reached at jacqueline.mitchell@tufts.edu.