A Musical Home
Balancing his roles, an anesthesiologist sings by night
By Bruce Morgan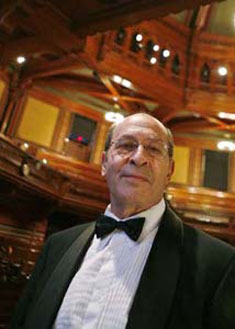 Valery Steinbok before performing in a concert at Sanders Theatre in Cambridge. Photo: John Soares
Thirty years ago Valery Steinbok was working as a doctor at a second-tier hospital in Moscow—second-tier because a prevailing spirit of anti-Semitism in Russia played a decisive role in determining where you worked, and Steinbok happened to be Jewish. "I worked in hospital, but I couldn't get the job in hospital I wanted," is how Steinbok puts it in his characteristic stilted English, missing a few words, maybe, but otherwise clear as ice.
At the age of 41, Steinbok left his homeland and emigrated to the U.S. with his wife in search of greater opportunities. He landed in Chicago. It took him several years of hard work to get credentialed in American medicine and acquire further professional training, but he overcame all the hurdles, becoming a U.S. citizen in 1987.
For the past 20 years Steinbok has worked at Tufts Medical Center, where he is an assistant professor of anesthesiology and director of neuroanesthesiology, tending patients through his inner reserves of steadiness and calm. "He's a consummate caregiver," says his colleague, Morton Rosenberg, D74.
With his professional life settled at last, Steinbok rekindled an early love of music. His father, a mid-level bureaucrat with perfect pitch, had played piano on the side. Steinbok had played the trombone and double bass in his youth and even dabbled with singing groups during his medical school days. "I never considered myself as a singer. I just liked music," he shrugs.
Luckily, the Boston area teems with musical options. Steinbok sang with the Zamir Chorale for several years, then the Newton Choral Society for a decade. He joined the Masterworks Chorale as a member of the bass section four years ago.
Steven Karidoyanes, music director of the elite 85-member ensemble, is delighted to have him. "Val's voice is low and dark, but very well controlled," says the director appraisingly, before going on to sketch the many ways that this rather reserved and unassuming man with his "wonderful, dry sense of humor" has found his niche within the group.
Asked to describe the relationship between music and his day job, Steinbok holds his hands far apart. "They are like this," he says. "Music gives me big, big relief.
Bruce Morgan can be reached at bruce.morgan@tufts.edu.