January 2010 People Notes
2010 Tufts Distinction Awards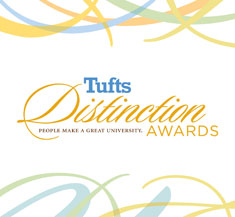 Celebrate the achievements of Tufts staff and faculty and nominate a colleague for this honor. Go to http://distinctionawards.tufts.edu.
Donna Akiyoshi, research associate professor of biomedical sciences, and Alison Robbins of the Center for Conservation Medicine at the Cummings School were awarded a one-year Fish and Wildlife Service grant for the development of Geomyces destructans-specific monoclonal antibodies. Akiyoshi is the principal investigator on the grant. This was one of six awards funded out of 41 proposals submitted for an initiative to explore the cause and control of white-nose syndrome in bats.

Rita Bhardwaj, a doctoral student at the Cummings School, presented a poster titled "Immune Modulation at the Schistosome Surface" with Patrick Skelly, associate professor of biomedical sciences, at the 17th annual New England Association of Parasitologists meeting at the University of Connecticut on November 14. Bhardwaj also presented a talk titled "Immune Modulation at the Schistosome Surface" at the 58th annual meeting of the American Society of Tropical Medicine and Hygiene in Washington, D.C., in November.
Lauren Black comes to Tufts as an assistant professor of biomedical engineering in January. Black, who received his M.S. and Ph.D. in biomedical engineering from Boston University in 2003 and 2006, respectively, had been a postdoctoral fellow at the University of Minnesota. He researches the engineering of cardiovascular tissue and advanced methods of cardiac repair. His projects have included the development of a fibrin gel-based myocardial equivalent, as well as engineering cell alignment for improved beating in a fibrin-based heart patch. Black received a National Institutes of Health Pathway to Independence Award.
Bruce Boghosian, professor and chair of mathematics in the School of Arts and Sciences, gave the "Adventures in Theory" lecture at the Duke University Center for Theoretical and Mathematical Sciences in Durham, N.C., in December. His lecture was titled "A Dynamical Systems Approach to Turbulence—Challenges for High-performance Computing." Boghosian also gave an invited talk on "The Dynamical Systems Approach to Turbulence" at a workshop sponsored by the National Science Foundation's Numerical Algorithms and Intelligent Software Program at the University of Edinburgh in October.
Brian Brenner, professor of the practice in civil and environmental engineering, is the author is of Bridginess: More of the Civil Engineering Life (ASCE Press, 2009), a collection of essays on a wide range of engineering-related topics. Brenner is also a vice president and structural engineer with Fay, Spofford & Thorndike in Burlington, Mass.
Julia Browne, A11, and Meghan McCooey, A10, won their second straight national title in tennis this fall. They won the Intercollegiate Tennis Association Small College National Championship in doubles in October at the Copeland-Cox Tennis Center, straight-set winners over a doubles team from the College of New Jersey. Read the full story on the Tufts athletics website.
Kamaria Carrington, G10, and Bradley Rawson, G10, graduate students in urban and environmental policy and planning, and recent UEP graduates Julia Prange, G09, and Dana McQuillin, G09, were awarded the 2009 Outstanding Student Planning Award by the Massachusetts chapter of the American Planning Association. The group received the award for their project titled "Sophisticated Matchmaking: Identifying Opportunities for Affordable Housing Development in Medford, Massachusetts," which proposes strategies for developers and city government to expand the affordable housing stock. The winning project was developed as part of the Department of Urban and Environmental Policy and Planning's course in field projects.
Michelle Eilers, A10, received the first Alice Rowan Swanson Fellowship Award from SIT Study Abroad, a program of World Learning. World Learning president and CEO Adam Weinberg presented the award to Eilers, a senior studying anthropology and community health, during a November ceremony at the Harvard Faculty Club in Cambridge, Mass. The fellowship will enable Eilers to study a program in Chile that provides indigenous Aymara women with access to their traditional birthing methods within a modern hospital. The project will expand on research that Eilers conducted earlier this year on an SIT Study Abroad program that focused on culture, development and social justice in Chile. Eilers "embodies many of the exceptional qualities of the award's namesake, including Alice's passion for preserving the traditions and improving the daily lives of indigenous people living in Latin America."
Sherwood Gorbach, M62, a professor of public health and community medicine, was selected to deliver the annual George A. Jacoby, M.D., Lecture in Infectious Diseases at the Lahey Clinic. On December 3 and 4, he spoke on Clostridium difficile, a potentially life-threatening bacterium that causes gastrointestinal illness, and four other illnesses (botulism, tetanus, gas gangrene and colitis) caused by the toxin-producing Clostridium bacteria.
Jeffrey Griffiths, associate professor of public health and community medicine, testified before the U. S. Senate Committee on Environment and Public Works at a December 8 hearing on the presence of lead and other toxins in school water supplies. Griffiths called for more protection and monitoring of water contamination, and said drinking water providers should be accountable for safety lapses. Officials from the EPA also testified at the hearing and pledged to better protect school water supplies from toxins.
Alisha Gruntman, a resident at the Hospital for Large Animals at the Cummings School, gave a presentation on "Differential Effects of Age on Compensatory Lung Regrowth and Type II Alveolar Epithelial Cell Proliferation in Mice" at a meeting of the Comparative Respiratory Society in October in Plymouth, Mass.
Jonathan Harris, director of the Theory and Education Program at the Global Development and Environment Institute (GDAE), had a Serbian edition published of his book, Environmental and Natural Resource Economics: A Contemporary Approach. A Chinese translation of the text has been completed by Professor Wang Yi of Guangdong University of Business Studies, who is a visiting scholar at GDAE. Selected chapters from the Chinese text will soon appear on a special GDAE Chinese publication web page.
Katya Heldwein, assistant professor in microbiology at the School of Medicine and the Sackler School of Graduate Biomedical Sciences, has been awarded one of two 2010 Merck Irving S. Sigal Memorial Awards from the American Society of Microbiology for her research on herpes virus entry mechanisms. The awards "recognize and reward excellence in basic research in medical microbiology and infectious diseases." The awards are presented in memory of Irving S. Sigal, who was instrumental in the early discovery of therapies to treat HIV/AIDS.
John Hsu, DI84, a lieutenant colonel in the U.S. Army Reserve who commands the 455th Medical Company (Dental Service), presented the Meritorious Service Medal to his former teacher, Robert Doherty, director of the International Student Program at Tufts Dental School and also a lieutenant colonel in the Reserves, in September at Fort Devens, Mass. Doherty was honored for his service from 2000 to 2009 with the 455th Medical Company. The medal is in recognition of "outstanding meritorious service during missions to Operation Walking Shield and several missions overseas to treat our active duty military personnel and outstanding treatment of our service men and women while deployed. LTC Doherty's exemplary professionalism and clinical skills as a dentist were significant in accomplishing all the medical missions tasked."
Michael Kowaleski, V93, associate professor of clinical sciences at the Cummings School, presented a series of lectures at the AO Masters Course in Osteotomy in November in Cremona, Italy. In addition, Kowaleski was an instructor for osteotomy laboratories.
Gilbert Metcalf, professor of economics in the School of Arts and Sciences, was interviewed by CNN American Morning on "Climate Change and Your Wallet."
Elena Naumova, professor of public health and community medicine, participated in the Global Perspectives conference, sponsored by the Institute on Science for Global Policy. At the conference, held December 6–9, leading scientists and senior policymakers from seven countries discussed the preparation of a two-year initiative on Emerging and Persistent Infectious Diseases.
Mark Pokras, V84, associate professor of environmental and population health at the Cummings School, presented a talk titled "Lead, Health and the Environment: Old Problem and 21st Century Challenge" at the American Public Health Association 2009 annual meeting on November 9 in Philadelphia.
Richard Reynolds, A67, will serve as interim vice president for operations at Tufts, following the January 26 retirement of John Roberto. He is the principal of the Reynolds Group, a strategic real estate consulting firm and a former principal with Spaulding and Slye. As a member of the Tufts Board of Trustees, he has served on its Committee on Buildings and Grounds. Reynolds has extensive experience in real estate development, management and investment. He holds an MBA from Babson College. Additionally, he is a past president of the Greater Boston Real Estate Board, former chairman of the Massachusetts Government Land Bank, a current governor of the Urban Land Institute and former chair of the Boston District Council of the Urban Land Institute.
John Roberto, vice president of operations at Tufts for nearly 32 years, is retiring on January 26. During his tenure, Roberto has overseen many major construction projects on all three campuses, including the Granoff Music Center, renovations to Packard Hall, the New England Regional Biosafety Laboratory in Grafton and the vertical expansion of the dental school building. He has been responsible for facilities, construction, public safety, dining services, real estate, public and environmental safety and mail services.
Beth Rosenberg, assistant professor in the Department of Public Health and Community Medicine, gave a presentation about her successful efforts to add silica to the list of hazardous substances at the 20th anniversary conference of the Toxic Use Reduction Act (TURA) in November. TURA effectively reduced the use and generation of toxic waste in Massachusetts. Prolonged exposure to silica dust can lead to silicosis, an irreversible and sometimes-fatal lung disease. Also in November, Rosenberg testified at a hearing at the Massachusetts State House in support of the Safer Alternatives Bill, explaining the dangers of chemical exposures and the inadequacies of regulatory measures for toxic chemicals.
Mort Rosenberg, D74, professor of oral and maxillofacial surgery at the School of Dental Medicine, presented a new "Airway Rescue Course for Moderate Sedation Providers" at the American Association of Dental Examiners annual meeting, which was held in conjunction with the 150th annual meeting of the American Dental Association in Hawaii in October. Rosenberg also was co-director of the three-day "Hands-on Simulated Anesthesia Emergencies" course held at the annual meeting of the American Association of Oral and Maxillofacial Surgeons in Toronto. This course, which combined task-training and high-fidelity human simulation, centered on basic and advanced airway management and crisis management during ambulatory anesthesia. Rosenberg also has been appointed to the International Sedation Task Force of the World Society of Intravenous Anaesthesia.
Kim Ruane, an associate professor of mathematics in the School of Arts and Sciences, gave one of two keynote lectures at the Binghamton University Graduate Conference in Algebra and Topology, in November. Her lecture was titled "Boundaries of Groups and How to Use Them." Ruane also gave two faculty colloquia as the distinguished visiting professor at Bucknell University during the week of October 19. The lectures were "To Infinity and Beyond..." and "Using the Boundary."
Danya Ruttenberg, a rabbi and senior Jewish educator at Tufts Hillel, had her book, Surprised by God: How I Learned to Stop Worrying and Love Religion (Beacon Press), nominated as one of five nonfiction finalists for the 2010 Sami Rohr Prize for Jewish Literature. The Rohr Prize awards $100,000 to its top winner, with a $25,000 Choice Award given to the first runner-up. It is administered under the auspices of the Jewish Book Council. The winners will be announced at the end of January, and the awards ceremony will be held in Jerusalem on March 31.
Amit Sachdeo, assistant professor of prosthodontics and operative dentistry at the School of Dental Medicine, was initiated as an associate fellow of the Greater New York Academy of Prosthodontics at the group's annual meeting in December in New York City.
Sharan L. Schwartzberg, professor of occupational therapy in the Graduate School of Arts and Sciences and adjunct professor of psychiatry, along with Kathleen Hubbs Ulman, an assistant professor of psychiatry at Harvard Medical School, ran a workshop on countertransference in working with medically ill and rehabilitation populations at the Eastern Group Psychotherapy Association annual meeting in New York in November.
Ken Shadlen, a senior research fellow at the Global Development and Environment Institute (GDAE), had his book, Politics of Intellectual Property: Contestation over the Ownership, Use, and Control of Knowledge and Information, published by Edgar Elgar Publishing.
Medha Singh, DG04, DG05, assistant professor of public health and community service at the School of Dental Medicine, was inducted as a fellow in the International College of Dentists during its annual meeting in Hawaii in October.
Patrick Skelly, associate professor of biomedical sciences at the Cummings School, co-chaired the "Schistosomiasis and Other Trematodes: Molecular Biology/Biochemistry" session at the 58th annual meeting of the American Society of Tropical Medicine and Hygiene in Washington, D.C., in November. Skelly presented the paper "Water Movement in Schistosomes" at the meeting.
Lynn Solomon, associate professor of oral and maxillofacial pathology, and Morton Rosenberg, D74, professor of oral and maxillofacial surgery, presented a daylong program honoring Esther Wilkins, D49, DG66, at the 3rd Annual Esther Wilkins Symposium held at the Forsyth School of Dental Hygiene and the Massachusetts College of Pharmacy and Health Sciences on November 21. Topics presented included "Oral Cancer: The Role of the Dental Hygienist" and "The Dental Team Approach to Managing Medical Emergencies." Wilkins, a clinical professor of periodontology at the School of Dental Medicine, trained as a hygienist at Forsyth before entering Tufts. She is the author of the book known as "the bible of dental hygiene," Clinical Practice of the Dental Hygienist (Lippincott, Williams & Wilkins), now in its 10th edition.
Anne Bentley Waddoups, a doctoral student in child development, has been named a 2009–10 fellow by the nonprofit organization Zero to Three. During the two-year fellowship, Waddoups will adapt a training guide she co-created for volunteers at an infant clinic in Guatemala. The adapted guide will focus on an integrated approach to infant assessment and intervention, and Waddoups hopes the revised guide will be used by staff at institutions, hospitals and orphanages in the United States and abroad.
Jeremy Wahlman has joined Tufts as a project manager in University Relations' Web Communications department. A native of Minnesota, Jeremy graduated from Boston University in 2001 with a degree in film and television. Before coming to Tufts, he worked as a project and professional services manager at Gotuit Media, a provider of video indexing software applications and cross-platform streaming solutions. Prior to his work at Gotuit, he was a reporter for the Brookline Bulletin. You can also catch Wahlman hosting trivia nights around Boston.
Richard Weiss, professor of mathematics in the School of Arts and Sciences, has been invited to give two series of lectures on his work at a meeting on "CAT(0) Spaces and Affine Buildings" in Sde Boker, Israel, in February and at a meeting on "Linear Algebraic Groups and Quadratic Forms" in Lens, France, in May.
Timothy A. Wise
, director of the research and policy program at the Global Development and Environment Institute (GDAE), and
Kevin P. Gallagher
, a senior researcher at GDAE, released several new publications on the
"Lessons from NAFTA"
in Washington the week of December 7. The new publications included a Carnegie Endowment report,
"Rethinking Trade Policy for Development"
; a Pardee Task Force Report on reforms to U.S. trade policy, "
The Future of North American Trade Policy
"; and
"Agricultural Dumping Under NAFTA,"
a new working paper by Wise. Presentations included an event at the Carnegie Endowment, and House and Senate briefings, as well as one with the U.S. Trade Representative's office. Gallagher also presented recommendations from a State Department advisory committee on U.S. Bilateral Investment Treaties (BIT), which assumes new importance with the announced negotiation of a BIT with China. The work was widely covered in the press, with two articles in the
New York Times
' Economix blog:
"Dumping on Mexico"
and
"Did NAFTA Actually Help Mexico?"
. In addition, the
Journal of Peasant Studies
has published Wise's "Promise or Pitfall? The Limited Gains from Agricultural Trade Liberalisation for Developing Countries."