Trey Jumbo
Junior guard Colleen Hart is leading the women's basketball team to new heights with her three-pointers
By Paul Sweeney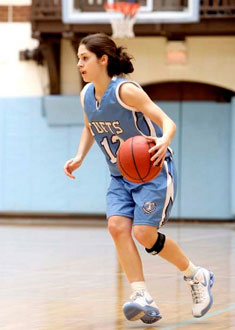 "Everyone is having fun; everyone works hard, and there is no pressure," says Colleen Hart.
How hot is junior guard Colleen Hart of the women's basketball team? She entered mid-December shooting a sizzling 51.2 percent from three-point territory (22/43), and she improved upon that mark in three games. Her 11-for-19 success (61.1 percent) on threes was only part of a performance that earned Hart her second New England Small College Athletic Conference (NESCAC) Player of the Week honor.
"A big part of it is definitely our personnel," says Hart. "In our starting lineup alone, we have three point guards, plus [sophomore] Kate [Barnosky] who plays like one, with her crafty passing. [Junior] Lindsay [Weiner] comes off the bench and plays some point as well, so we have a lot of distributors who really create good shots for me."
Hart, who shared the weekly conference honor with Lauren Yanofsky from Bates, averaged 21 points per game in Tufts wins against Wheaton College, Maine Maritime Academy and Regis College. With the last two victories, Tufts captured the Park Lodge Tournament title, and Hart was named the Most Valuable Player. For that week overall, Hart averaged 4.3 rebounds, 3.3 assists and 2.3 steals per game, while shooting 58.5 percent (24/41) overall.
Hart also scored 40 points over the two games of the Land of Magic Classic in Daytona Beach, Fla., in late December, as the Jumbos handily won the tournament, beating Concordia University Wisconsin 70-53 on December 30. In the first game, on December 28, Tufts rolled to an easy 83-69 victory over Allegheny College.
The win over Concordia was the 10th in a row for Tufts, which has not lost since a season-opening, double-overtime loss at SUNY New Paltz on November 20. The Jumbos are approaching the school record of 12 consecutive victories set during the 2007–08 season.
In the December 12 game against Maine Maritime, Hart became the Tufts program's all-time leader in three-pointers. Her trifecta with 3:22 remaining in the second half was the 140th of her career, moving her past Valerie Krah on the Jumbo list. Krah had 139 three-pointers from 2003–07. Hart added two more in the tournament final the next day against Regis, making her 142 for 358 (.397) on threes in 66 career games.
"We have a new identity, and I'm happy with it," says Hart. "We like the players we have, and I think we are only going to get better. We are young, but it is working in our favor. Everyone is having fun; everyone works hard, and there is no pressure. We are excited to exceed expectations."