Better than Carrots
Diets rich in omega-3 fatty acids may protect against vision loss later in life
People who eat diets high in the omega-3 fatty acids found in oily fish may have some protection against one of the most common causes of vision loss in people over age 60.
Age-related macular degeneration (AMD) is a progressive disease that attacks central vision, resulting in a gradual loss of eyesight and, in some cases, blindness. In a study by scientists at the Laboratory for Nutrition and Vision Research at the Jean Mayer USDA Human Nutrition Research Center on Aging (HNRCA) at Tufts, people who reported consuming higher amounts of the fatty acids DHA and EPA, both omega-3 fatty acids, showed a slower progression of the disease.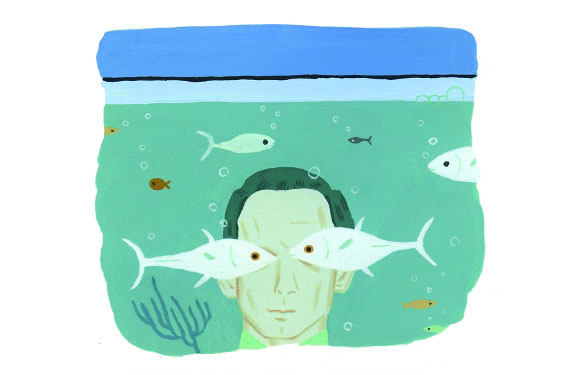 Illustration: Juliette Borda
The study, which appeared in the British Journal of Ophthalmology, looked at nearly 3,000 men and women, ages 55 to 80, who were participating in an eight-year supplement trial, the Age-Related Eye Disease Study of the National Eye Institute. That trial revealed that participants who received a supplement containing the antioxidant vitamins C and E and zinc experienced a slower progression of their AMD.
When the researchers looked at progression to advanced AMD, diets high in the omega-3s had their own protective effect. But the researchers note the supplements seem to hamper the omega-3s' benefits during the early stages of the disease. Omega-3s are found in cold water oily fish like salmon, as well as in walnuts and flax seeds.
"We observed that participants with early stages of AMD in the placebo group benefited from higher intake of DHA, but it appears that the high-dose supplements of the antioxidants and/or the minerals somehow interfered with the benefits of DHA against early AMD progression," says senior author Allen Taylor, director of the HNRCA vision laboratory and a professor at the Friedman School of Nutrition Science and Policy.
Still, both the supplements and the omega-3s helped during the later stages of disease. And for those participants who also reported eating a diet of low-glycemic index foods (think whole grains instead of refined carbohydrates), the risk of progression to advanced AMD was even lower.