This Won't Hurt a Bit
It's a call to arms as dental school clinic workers get vaccinated for the flu
By Jacqueline Mitchell
"Do I really have to get the shot? I've never gotten the flu," asks Greg Barner, D11, as he enters the student lounge, the scene of the dental school's clinic for the seasonal flu on October 20. "It's up to you," replies Kanchan Ganda, professor of public health and community service and one of the forces behind the vaccination clinic. She asks Barner to consider how much downtime he can afford should he fall ill. "You make a good case," says Barner, who elects to get vaccinated.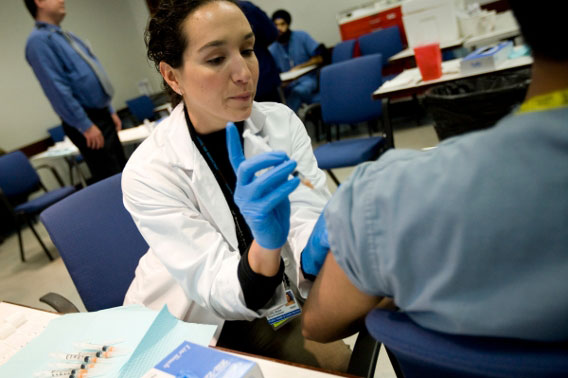 Monica Flowers, a nurse practitioner at the School of Dental Medicine, administers a seasonal flu vaccine. Photo: Dominick Reuter
This year, for the first time, the state of Massachusetts is requiring all health clinic workers and staff to be vaccinated against the seasonal flu and the H1N1 influenza. Clinic workers who are allergic to the vaccine—or just skeptical of its safety and efficacy—may opt out, but still must file paperwork. Ganda, Mark Gonthier, associate dean for admissions and student affairs, and his assistant, Samuel Ruth, organized a seasonal flu clinic just for the dental school's faculty, staff and upperclassmen to comply with state regulations. A flu clinic for H1N1 will be held when that vaccine becomes available.
In addition to the five nurses provided by Human Resources, the school supplied two of its own to staff a total of six shot stations over the course of the four-hour clinic. More than 20 extra volunteers helped distribute flu shots to 87 members of the faculty and staff and 60 third- and fourth-year students. The dental school will run another seasonal flu clinic on November 4. Students may also get vaccinated for free at the employee health clinic located in Tufts Medical Center. (Call 617-636-5480 for more information.)
Until now, Joanna Claustro, D11, had never gotten a flu shot. A little nervous, she reads the information flyer carefully and asks for the "nicest nurse" before sitting down with her upper arm exposed. "I'll be in contact with a lot more people than I ever have been before," she says. "I really like that they've done this."
If the dental school hadn't made getting the shot so convenient, Claustro says she probably "would have opted out." When told to expect little more than a sore arm for the next couple of days, she smiles. "I guess I won't go to the gym this week, and I'll tell my husband I can't cook or clean," she jokes. "I might have to get this shot every year."
Jacqueline Mitchell can be reached at Jacqueline.mitchell@tufts.edu.