Toe Stopper
In an intricate pas de deux, Adrina DeVitre navigates life as a dental student and a dancer
By Julie Flaherty
It's a Monday afternoon in a mostly empty Symphony Hall as Boston Pops conductor Keith Lockhart rehearses for tomorrow night's performance, a tribute to the Ballets Russes. He is bowed over his sheet music, his hand marking time to the playback of a recording. Only when Adrina DeVitre takes the stage and begins her dance solo does Lockhart look up from the page, his hand still keeping the beat, to watch. Although her smile is probably choreographed to enhance the appearance of effortlessness, she looks genuinely happy. Is it the playful dance steps? The prestigious locale? Or is she just glad to be taking a break from studying for her physiology exam?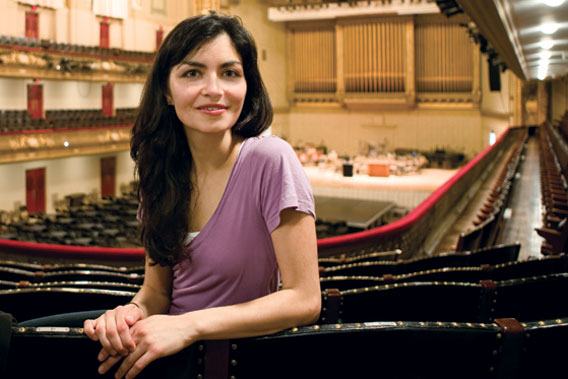 "It's just very intuitive to me how to move the [dental] drill because I've been basing my movement off a mirror my whole life," Adrina DeVitre says. "In ballet, you continuously look in the mirror to assess the way your body moves." Photo: John Soares
As a professional dancer and a dental student, DeVitre is most likely the only member of the class of D12 who can perform a grand jeté as easily as a cavity prep. Between high school and college, she spent three years performing professionally with the Boston Ballet, the Dance Theatre of Harlem and the BalletMet Columbus. While she put most dancing on hold during her first year of dental school, this special performance with the Rebecca Rice Dance Company was a welcome outing. Sitting for several hours in class isn't easy for someone so used to constant movement.
"I was very excited to run off and go to rehearsal a couple times a week for this," she says.
Dentistry and dancing have long been a part of her life. Her parents, Virginia Shahinian, D77, DG79, and Rustam DeVitre, DG76, DI77, met at Tufts. As a girl, DeVitre often assisted them in their dental practices in Boston and Hingham.
"My mom would be called in during off hours—'Adrina, get in the car'—so I started like that," she says. "It just felt natural. I would go assist my parents, and I would crave grabbing the instruments. I love the little trinkets, all the burs, and those kinds of things."
And dancing? Even as a little girl, she says, "I wouldn't play with dolls or games or anything like that. Just run around the house dancing."
Not wanting to dampen her daughter's creativity and sense of spirit, her mother didn't sign her up for lessons until she was about 8, and when she did, DeVitre wasn't very enthused. Her teacher paid more attention to the girls she had trained since they were toddlers.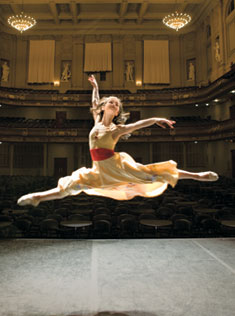 "When I dance, I feel like I'm in my element and can communicate my emotions or those of my character freely," says Adrina DeVitre. Photo: John Soares
Landing a Leading Role
DeVitre's real interest in ballet began at age 10, when she earned a tiny role in the Boston Ballet production of The Sleeping Beauty.
"I walked out on stage with a massive wig and hat, carried a tray to the Lilac Fairy, and then marched off," she says. The role was minimal, but seeing the costumes, the live orchestra and the beautiful dancers opened her eyes. "Wow," she thought. "This is such a magnificent world."
The next year, she tried out for the Boston Ballet's production of The Nutcracker. Although she showed up late and slightly disheveled for the audition ("My mom wasn't much of a stage mother, because, you know, she was a dentist"), she landed, to her great surprise, the central role of Clara. DeVitre thinks her enthusiasm and expressive style gave her an edge.
"When I dance, I feel like I'm in my element and can communicate my emotions or those of my character freely," she says. She performed so well she was asked to repeat the role the following year.
By eighth grade, she was commuting to Boston six days a week to attend class at the Boston Ballet School, often not returning home until 10 p.m. "I would be so tired I would go to sleep and wake up at 4 in the morning to do my homework," she says.
Dental school may be tough, but it's nothing compared to balancing dance training and academics at Milton Academy, where she went to high school. The dichotomy was harder on her psyche than her toes. In school, her teachers expected her to bring her insights to lively class discussions. But in ballet class, where the teachers are considered all-knowing (she has trained with luminaries Jean-Pierre Bonnefoux, Patricia Mcbride and Violette Verdy, three of George Balanchine's favorite dancers, for example) silence was the rule.
"I went from being expected to contribute and having a voice to being in ballet and having no voice—being a body, an instrument," she says.
Even so, by age 16 she knew she wanted to be a professional ballet dancer. She deferred her admission to Columbia University and went to dance for the Boston Ballet.
At 5-feet, 3-inches, she is on the smaller side for ballet dancers, which means she is often cast in fast roles with lots of jumps and turns, such as the Cupid Variation in Don Quixote, which is "about balancing and flirting with the audience," she says. If the part calls for spunky, bubbly and lots of personality, it's hers.
Unfortunately, after dancing with two other companies in New York and Ohio, a knee injury threatened her ability to dance full time. She began to look at other career options. Besides, she says, "I wanted to get back into the classroom and continue stimulating my brain." After three years of deferrals, she told Columbia University she was ready.
The Family Business
Throughout college, where she studied pre-med and French, she experimented with different dance styles. She joined an Indian classical fusion dance troop as well as a hip-hop group called Raw Elementz, which often performed at halftime during basketball games.
"I went from performing in these beautiful old theaters to the basketball court," she says. "But it was so much fun, and the crowd was so enthusiastic."
DeVitre, who has always loved learning about the body, chose dentistry as a profession in the hope it will give her the flexibility to continue dance training and performing. Her parents may have been something of an influence, too.
"I can't deny that they encouraged me to pursue a dental career," she says.

Her dance training has prepared her in unexpected ways for dental school. When her professor presents the class with a cavity prep to copy for a practical, it reminds her of the countless times she has had to replicate a teacher's dance step. By now, copying is something of a forte for her.
She also enjoys doing wax-ups, sculpting a complete tooth based on a fragment. After years of studying the body and the myriad ways a foot can turn or a hand can be posed, she appreciates the lines and contours of a tooth. "I think ballet helped me see details that can often be overlooked," she says.
And when some of her classmates were struggling to use the mouth mirror to work on upper teeth, she was amused that "indirect vision" was second nature to her.
"It's just very intuitive to me how to move the drill because I've been basing my movement off a mirror my whole life," she says. "In ballet, you continuously look in the mirror to assess the way your body moves."
If barre work is suddenly added to the dental curriculum, you'll know who to thank.
This story first appeared in the fall 2009 issue of Tufts Dental Medicine magazine.
Julie Flaherty can be reached at julie.flaherty@tufts.edu.