Playing Against Type
She's run her own practice and a big company, and now Kathleen O'Loughlin, D81, leads the world's largest dental association

By Julie Flaherty
Kathleen O'Loughlin, D81, isn't afraid of new challenges. In 2002, after spending 21 years caring for patients in her practice in Medford and later in Winchester, Mass., she changed course, saying goodbye to hands-on dentistry to become president and chief executive officer of Delta Dental Plan of Massachusetts. In her five years there, she helped the insurance company double its reserves and increase its membership by 400 percent.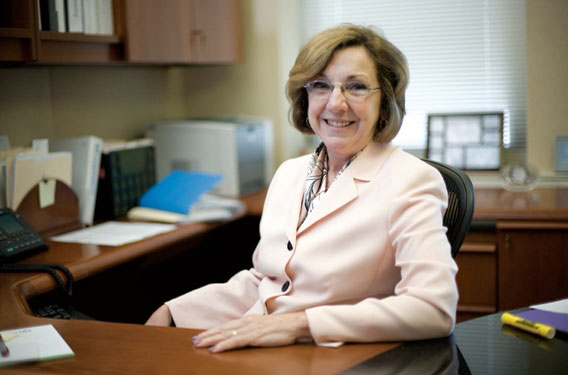 Kathleen O'Loughlin, D81, a Tufts trustee, is the first woman to serve as executive director and COO of the American Dental Association. Photo: Carlos Javier Ortiz
Now she is executive director and chief operating officer of the American Dental Association, the world's oldest and largest national dental organization. With her background in private practice, teaching, research and health-care management, including a degree from the Harvard School of Public Health, she isn't your typical professional association administrator. But after only a short time on the job (she began June 1) she has already pronounced the experience "great."
Q: The ADA spent nearly a year looking for a new executive director, screening candidates from the public and private sectors, M.B.A.s and D.M.D.s. What do you think you had to offer that the others didn't?
I was pretty shocked when I was offered the job. I'm very much out of the mold of association executives. Because I bring a little bit of academia, a fair amount of private practice, a fair amount of senior management and a good deal of public health, I really bring an eclectic collection of experiences and skill sets.
I think the board of directors cast a very wide net on purpose, because they were looking for ways to refine their own thinking rather than going out and saying, "We're looking for an association executive." I admire their courage. My core values may have been part of what the board was looking for: integrity, accountability, acceptance, optimism and a focus on truth. It was really my husband who encouraged me to express my interest in the position. Just from the description that was in the ADA News he said, "This sounds like a good fit for you."
What's on your to-do list?
I have two very clear objectives: support the public's health and promote the profession. [The ADA has] had interim executive director leadership in the last year and a half, and I would like to move quickly and give the staff confidence that things are progressing in the right direction. I'm here to support them in their work. I definitely see my role as working on behalf of the members and board of trustees. This isn't my show; this is their show.
Are they an innovative group?
I would describe the ADA as a kind of Queen Mary: you change a vector today, and the outcome will be visible in a year or two. But there's a lot of innovative thinking, lots of various approaches and especially passion for both the public good and the profession.
With the economy as it is, what are dentists most concerned about right now? And what are patients most concerned about?
Dentists are definitely seeing postponement of preventative services, high-end services and even routine services. Dentists are reporting that they are booked out less far in advance than they were. At the same time they've seen an increased demand for services by people who are afraid of losing their jobs [and their dental insurance].
I think many dental Medicaid programs will be in jeopardy. Dental disease among vulnerable people—low-income kids, underemployed adults and frail elderly—the need is escalating faster than we can meet it. If you superimpose the economic crisis on top of that, it's going to make for a terrible situation. I worry that we will lose the gains we've made in the last several years in increasing policymakers' awareness of how important oral health is.
Before you took this job, you spent some time consulting for Tufts Dental School, didn't you?
I did some work on how to manage the curriculum when they lost the use of the simulation clinic during the vertical expansion project. The solution was to get students into the clinic during their first year and have them function as pseudo-assistants who are there to observe, to learn to be comfortable with patients, to watch treatment-planning decisions and get first-hand experience of what it's like to be in the dental practice.
Was the plan your idea?
Consultants may like to take credit, but no. I listened and learned from what the faculty and students were telling me. The only way you can give anybody a good solution is to listen to them and understand what they need. I'm doing a lot of listening right now.
You were the first female class president at Tufts Dental School, the school's first female valedictorian, and now you're the first woman to be executive director of the ADA. Do you attach any significance to that, or is it old hat by now?
Kind of old hat, but I also think I'm [part of] that transition generation of women who went from the home front to the executive suite. It isn't as hard for women now as it was 20 years ago. Finally, I think the world accepts female senior executives as women with a different style of leadership, not women dressed up like men and behaving in the workplace like men. I bring many traditional female qualities, such as empathy and nurturing, to my leadership style, in addition to effective decision making and disciplined execution. And I think that's great. I think women are accepted for their style, which is clearly different. It's not better or worse, just different.
Are women well represented in the ADA leadership?
Right now, the majority are men. But to become a leader in any profession it takes you 20 years. There is a lag period where leaders emerge. When I was a dental student, women made up 12 percent of the class. Now 50 percent of dental school classes are women, and I think within 15 years we're going to see a huge change in the complexion of organized dentistry. You're going to see a lot more women moving up through the ranks. [The American Dental Association has] already had two women presidents, which is better than the United States.
This story first appeared in the Fall 2009 issue of Tufts Dental Medicine magazine.
Julie Flaherty can be reached at julie.flaherty@tufts.edu.