New Frontiers in Her Own Backyard
The "interdisciplinary sabbatical" pioneered by computer scientist Carla Brodley could foster creative collaboration among Tufts faculty with widely different specialties
By Marjorie Howard
Professor Carla Brodley was due for a sabbatical from the department of computer science when she had an intriguing notion: instead of working on just her own research or visiting another university, maybe she could spend a semester or two in a different school or department right here at Tufts.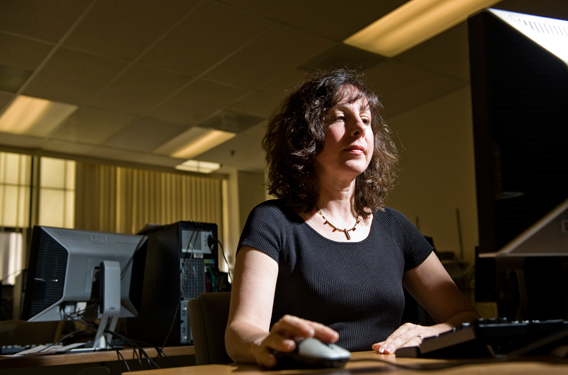 Carla Brodley spent two semesters at Tufts' medical school, collaborating on research projects for which her specialized computer science skills proved invaluable. Photo: Alonso Nichols
If one of Tufts' goals is for faculty to collaborate, she thought, it would make sense to get to know people outside of her own turf, the School of Engineering. Perhaps there were ways her skills could be put to use. Perhaps there were projects she could help with—if only she knew about them and other faculty knew about her. With a longtime interest in medical applications for her work, she was especially interested in making a connection with the School of Medicine.
She presented her idea to Provost Jamshed Bharucha, who approved it. Thus was born a new program that Brodley calls the "interdisciplinary sabbatical." Last year she spent two semesters at Tufts' medical school, ensconced in an office at 35 Kneeland Street on the Boston campus, collaborating on research projects for which her specialized computer science skills proved invaluable.
The results, which included two draft papers and a funded grant for further research, were so positive that Brodley is continuing the work, and connecting others in her department with Boston-based researchers. She's also helping medical school researchers develop a computer program that faculty throughout the university might use to find possible collaborators on campus.
The Power of Lunch
Brodley began her sabbatical with a couple of brown-bag lunches at the medical school, where she talked about her work, namely research connected with data mining and machine learning. Data mining uses software to detect and analyze patterns in large amounts of information. Machine learning is related to data mining: it uses software to teach machines how to recognize such patterns, and how to make decisions based on data.
The lunches quickly paid off. She connected with Joseph Lau, M78, a professor at the School of Medicine and director of the Tufts Evidence-based Practice Center, which uses the evidence gained from clinical research conducted around the world to determine the most effective treatments.
"A significant part of our work involves screening thousands, if not tens of thousands of abstracts," says Lau. "This is a funneling process. We conduct a literature search and end up with thousands of potentially relevant articles. We screen those and reduce them to a few hundred potentially relevant studies, and we further evaluate them to see if they meet the criteria to be included in the report."
There are vast numbers of abstracts to pore over, says Lau, who notes that "this is a fairly boring exercise for a human. It would be nice to have a computer to do this work—or at least help out."
Enter Brodley. She and Lau, together with Professor Christopher Schmid and Assistant Professor Tom Trikalinos from the School of Medicine and computer science graduate student Byron Wallace, have developed prototype software that screens abstracts for key words or phrases. That could save researchers hundreds of hours. "Once we have this program successfully done, it will reduce the work to a quarter or less of human time," Lau says.
"I was working on this before," says Lau, "but she [Brodley] is an expert in this area and could pinpoint exactly what needs to be done, what is feasible, what research questions are remaining; she's been extremely helpful."
Lau, Schmid and Trikalinos work in the same building where Brodley was based during her sabbatical. "Her office was only two floors down; clearly it was extremely helpful to have her physically here," says Lau.
Brodley is so pleased with the results of her sabbatical that she plans to spend one day a week at the medical school to continue her work. In addition, she is bringing in a postdoctoral student to help develop the computer program that would encourage interdisciplinary collaborations.
The program, she says, reviews faculty members' papers to determine if one person's essential topic might become another person's minor topic. "If people are working on the same main topic," she says, "they already know about each other. It's more useful to suggest that people work with someone they are not familiar with."
Breaking Down Barriers
Bharucha, the Tufts provost, is delighted with the results of the interdisciplinary sabbatical and is encouraging others to propose their own.
"It can help us bridge the schools, which is a goal of mine," he says. "We have so much talent on our faculty across the university and so much potential for collaboration that's not being realized because of the geographic and organizational barriers."
Bharucha has long sought ways to encourage faculty collaboration. In 2007 he began the University Seminars, a program that invites a multidisciplinary team of faculty and students to work on an issue together.
Brodley says she would heartily recommend an interdisciplinary sabbatical to others. "The research we're going to do," she says, "would be better than either of us would do on our own."
Marjorie Howard can be reached at marjorie.howard@tufts.edu.