Eat Up and Slim Down
A study finds that older people lost body fat after regularly eating whole-grain fiber cereals
By Taylor McNeil
Eating more whole-grain fiber each day isn't just good for your health, it might also be good for your waistline. That's the message from a new study that found that older men and women who ate whole-grain foods showed the greatest loss of abdominal fat.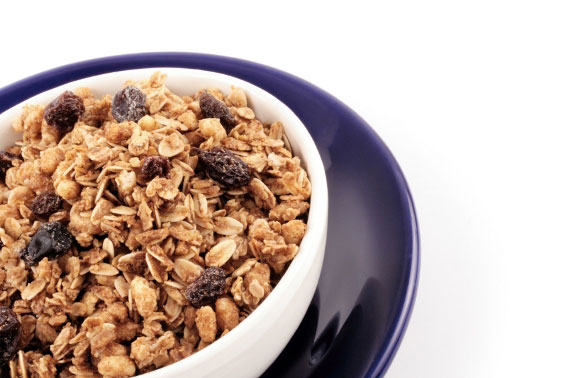 Researchers found that people who ate the most whole-grain cereal with fiber had the highest overall loss of body fat, and specifically abdominal fat. Photo: iStock
The researchers at the Jean Mayer USDA Human Nutrition Research Center on Aging (HNRCA) at Tufts studied 434 men and women with an average age of 68, and examined how consumption of whole grains and refined grains correlated with body fat distribution. They also examined the relationship between body fat and dietary fiber from different foods, cereals, fruits and vegetables.
After accounting for a host of other variables, the researchers found that those who ate more whole-grain foods, rich in cereal fiber, had the lowest body fat and abdominal fat. In contrast, other aspects of diet, such as refined grains and dietary fiber from fruits and vegetables, were not linked to lower body fat. The main source of whole grains eaten by study participants was cold breakfast cereals, followed by whole-wheat breads.
"Consistent with other studies, individuals with higher intakes of whole-grain foods had significantly lower BMI (body mass index), independent of other healthy lifestyle behaviors," wrote the researchers in the Journal of Nutrition. The research was led by Nicola McKeown, an assistant professor at the Friedman School of Nutrition Science and Policy and a scientist with the HNRCA Nutritional Epidemiology Program. "This study takes the evidence a step further and shows that people who eat more whole-grain foods have lower abdominal adiposity, or fat," McKeown says.
The findings weren't surprising. "Both dietary fiber and higher intakes of whole grains have been linked to lower [fat] or less gains in fat as measured by waist circumference," they write. That said, how the cereal fiber "as opposed to other fiber sources influences body fat distribution remains unknown and the biological mechanism remains speculative."
Although the link between high-fiber, whole-grain cereals and lower body fat was clear, the researchers noted that the study participants might not be representative of the general population over 60 years old, since fiber intake was almost 50 percent higher than what the average American in that age range consumes. Also, consumption of whole-grain foods is related "to other healthy lifestyle behaviors, such as greater physical activity and less smoking," according to the study.
Still, the findings do suggest a link between consumption of whole-grain foods and body fat. Further study is needed, the researchers say, to determine how different types of whole grains affect body fat distribution. "More questions need to be answered, and unfortunately the study design cannot demonstrate that the lower body fat is a direct consequence of consuming whole grains," McKeown says.
Other researchers on the study included Paul Jacques, director of the Nutritional Epidemiology Program at the HNRCA; Alice Lichtenstein, the Stanley N. Gershoff Professor of Nutrition Science and Policy and director of the Cardiovascular Nutrition Laboratory at the HNRCA; Sarah Booth, associate director of the HNRCA; and Edward Saltzman, a scientist in the Energy Metabolism Laboratory at the HNRCA. McKeown received funding from the General Mills Bell Institute of Health and Nutrition; other funding came from the USDA.
Taylor McNeil can be reached at taylor.mcneil@tufts.edu.