Doing Right by Doing Good
In its first year, a program that helps Tufts graduates working in the nonprofit and public sectors pay off their student loans is making its mark
By Marjorie Howard
First her family called, then her boyfriend, then her boyfriend's parents. In all, six people called or sent Courtney Boen, A06, MPH07, a Boston Globe article about a new Tufts program. All agreed: this is perfect for you.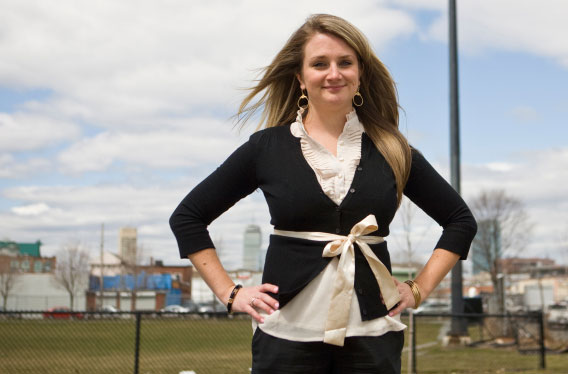 The Loan Repayment Assistance Program "reaffirmed that I made the right decision," says Courtney Boen, A06, MPH07. Photo: Joanie Tobin
Even if Boen hadn't had such an attentive group of family and friends, she would have learned about the Loan Repayment Assistance Program from emails she got from Tufts. Better known as LRAP, the program encourages students to pursue careers in public service by helping them pay off student loans incurred while going to Tufts. Recipients receive money from the program based on their income and the amount of their outstanding loans.
LRAP has just completed its first year—a successful one by all accounts—helping alumni remain in jobs they feel passionate about. Believed to be the first university-wide program of its kind, more than 400 graduates, ages 22 to 37, applied for assistance, and about 300 received funding. Their public service careers range from teaching disadvantaged students and working with disabled veterans to helping end hunger.
LRAP is funded by income from the Omidyar-Tufts Microfinance Fund, which was established with a gift from Pierre Omidyar, A88, and Pamela Omidyar, J89, who share, along with Tufts, a strong commitment to active citizenship.
Judi Kennedy, the program's coordinator, says there is nearly $500,000 available annually for LRAP grants, and she hopes additional contributors will donate to the program so that more alumni can be helped.
"I'm definitely pleased with how the first year of the program went," she says. "I met a couple of the applicants, and just hearing their voices, I could tell they were happy and grateful, and that's key."
Kennedy says those alumni who did not receive assistance did not meet the criteria for the program, which include working for a nonprofit or public-sector agency. The number and size of awards depends on the number of applications received and the funding that is available. Applicants may reapply to the program each year. Applications for next year's round of funding are due on September 1. More information can be found at the program's website.
President Lawrence S. Bacow is a strong believer in the program, recognizing the difficulty of pursuing a career in public service when salaries and benefits may be lower than jobs in the for-profit sector. "Every student who graduates with a loan worries about how to pay it off," he says. "We hope this program will make it easier for our graduates to pursue their passions and make a difference in the world."
The Right Decision
The fledgling LRAP is already making a difference in the lives of the first-year recipients. Not only did the money help them repay loans, several say, but they are pleased that Tufts is demonstrating that it truly wants its graduates to pursue public service careers.
Boen earned her undergraduate degree in community health and sociology and a master's in public health. She is a policy analyst for the Boston Public Health Commission's Center for Health Equity and Social Justice, which works throughout New England to eliminate regional and ethnic disparities in accessing quality health care.
Faced with $47,000 in education loans, Boen says she was "thrilled" to get LRAP funding. It's a "huge help," she says. "Making a decision as an 18- or 19-year-old, you're not thinking about being in your mid-20s and paying loans off over a long period. For me, it's definitely making things a lot easier."
While Boen opted for a career in public service before LRAP was established, she says the program "reaffirmed that I made the right decision. Tufts had been preaching a global view and teaching about the greater good, and this shows they stand behind alumni who made that choice."
"It's nice to see that our school is acknowledging us," says Jolanda Porter, A06, who has been working for nonprofits since she was 18. Porter, now 25, is a program coordinator for exalt, a New York-based agency that works with youth between the ages of 15 and 20 who are in the criminal justice system, sometimes because of fairly minor incidents.
"We're trying to yank them out of their situations and put them in the real world where they can thrive," says Porter. The young people enter a five-week program, followed by an internship that aims to give them both practical and emotional tools to further their education or careers.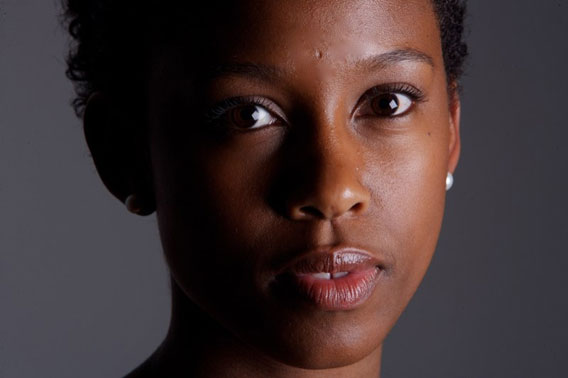 Jolanda Porter, A06, says she hopes LRAP will encourage alumni who might have gone into other work to try public service. Photo: Courtesy of Jolanda Porter
Porter graduated from Tufts with an education debt of about $19,000; she notes the university "gave me a big helping hand" in terms of financial aid. After graduating, she took several nonprofit jobs in Boston and New York. She moved to New York in part to pursue her musical career—she sang at her Tufts commencement and is an aspiring singer-songwriter. She wants to start a mentoring program for young people that includes music.
She says she hopes LRAP will encourage alumni who might have gone into other work to try public service. "We need a lot more people of color doing this," she says. "I'm a black woman, and I think what I do is three times as important because I look like some of the kids I'm serving, and I show them a college education is relevant for them."
Gratifying Work
Michelle Hamilton, D05, also hopes LRAP will encourage others to go into public service. Hamilton did her residency at the Veterans Administration Hospital in Augusta, Maine, and liked it so much that when a job opened up, she jumped at the chance to stay. She and her colleagues treat disabled veterans, from recently returned veterans of Iraq to those who served in Vietnam and World War II.
"The big draw," she says, "was to be able to give back to the veterans and provide the services they desperately need. Oral health care for veterans is unfortunately in great demand, and many don't have the funds to be able to seek out private dentists. It's very gratifying work, and I feel very privileged."
Hamilton earned a master's and a doctorate before entering dental school. Her professional training alone left her with debts totaling $360,000. "The money from LRAP was a huge boost for me," she says. "We know that in community service we'll be paid less than if we went into private practice, but we do it because we love it. Through my residency I found my calling, and I expect I'll retire from here."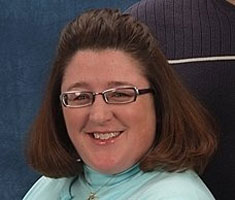 "The big draw," says Michelle Hamilton, D05, explaining why she took her job at the Veterans Administration, "was to be able to give back to the veterans and provide the services they desperately need." Photo: Courtesy of Michelle Hamilton
Hamilton notes there are currently two fourth-year Tufts dental students working in her VA clinic. "They didn't know about LRAP before, and we talked to them about joining a VA if they're interested. You never know when someone might go that route as well."
For some former students, not only are large student loans a challenge, but the cost of living can also be a factor in their choice of careers. Catherine Hsu, N07, owes $60,000 in loans from her master's degree studies at the Friedman School of Nutrition Science and Policy and lives in the San Francisco Bay Area, where housing is expensive. After earning a degree in nutrition policy and programs, she chose to return to her native California, where she took a job with California Food Policy Advocates, an organization that makes it easier for people to get access to food stamps and free lunch programs.
"I was worried because rent is expensive in the Bay Area, but I figured I would try to make it work," she says. Hsu says she looked at jobs in the private sector before taking her current position, and she would still consider one, "but the LRAP allows me to keep nonprofits in my options," she says. "I like my work. It's nice to think that people are a little less hungry because of me."
Finding the Right Fit
Elizabeth Simmons, G06, says her job is emotionally exhausting but also enormously gratifying. After earning a master's degree in teaching, Simmons began teaching 11th-grade English at a public school in New York's Lower East Side, a low-income neighborhood.
"This is the school I wanted to work at," she says of the East Side Community High School. "In my opinion, it's one of the best New York City public schools for students from at-risk backgrounds. I'm very happy to be here."
When Simmons finished her Tufts education, she had about $9,000 in loans, which she is still paying off. The money from LRAP was "a small amount," but she says she is "so appreciative of anything. I think it's great. I don't expect handouts. I was grateful to receive help for working in a low-income job."
Sometimes finding that perfect professional path can take time. When Andrew Yang, F06, graduated from college, he went to work for a think tank in Washington, D.C., that deals with military issues and used his Chinese language skills to analyze Chinese politics and the military. "I felt unfulfilled," he says, "and I didn't feel like I was helping. So I began looking for other, more meaningful things for me to do."
He enrolled at the Fletcher School, where he pursued his interest in conflict resolution and development. He now works as a project assistant at CDA Collaborative Learning Projects, a nonprofit based in Cambridge, Mass., that aims to improve the effectiveness of humanitarian assistance. Yang does a little bit of everything there: research, writing, travel and making travel arrangements for others. His field work has taken him to Kosovo and Timor.
"We look at the impact of humanitarian and development assistance on poor societies," he says, "especially ones experiencing conflict."
Yang still owes $30,000 for his Fletcher education and is grateful for LRAP, "especially for someone like me, making an NGO (nongovernmental organization) salary." He shares an apartment with three others to save money and says the grant from Tufts "was a lot of money to me."
Saving money is also important to Kate Ziegerer, V03. The mother of four young daughters, ages 7 and under, Ziegerer says when she took out her school loans she didn't realize the impact it would have on the family budget. "My current balance is $150,000, so it's nice to have some relief," she says of the LRAP support.
Ziegerer started her veterinary career in a private practice, treating small and exotic animals, but soon realized she wanted to help on a broader scale. "Animal welfare and the way animals are used have always been of interest to me," she says.
She became a veterinary medical officer with Animal Care, a division of the Animal and Plant Health Inspection Service of the U.S. Department of Agriculture, working in Missouri and Kansas. Her agency enforces the Animal Welfare Act, which established standards for the humane care and treatment of animals. Her job includes inspecting facilities used by animal breeders as well as exhibitors, such as zoos and traveling animal exhibits. She also inspects laboratories that use animals for research.
Despite owing a lot of money for her education, Ziegerer says, "I'm very pleased with the education I received from Tufts, and I have no regrets. There are other career opportunities in the veterinary profession where I could make a lot more money, but I love the mission of our agency, and I love the work I do. And the money from LRAP definitely makes it easier to continue in this career path."
Marjorie Howard can be reached at marjorie.howard@tufts.edu.