Fostering a Global Approach to Health Care
Medical school names new dean of multicultural affairs
Joyce Sackey, a native of Ghana, has been appointed dean for multicultural affairs and global health at the medical school. Sackey comes to Tufts by way of Beth Israel Deaconess Medical Center and Harvard Medical School, where she was a primary-care physician and associate master of the Oliver Wendell Holmes Society. She assumed her new position in early March.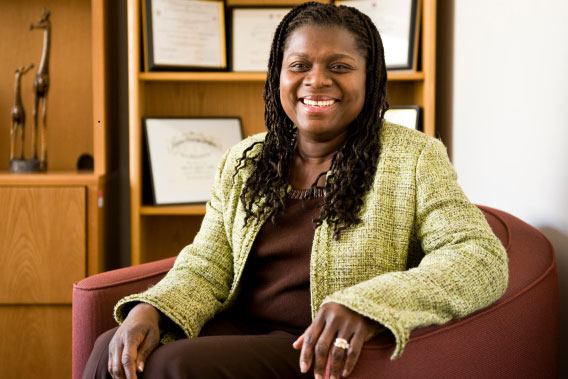 Joyce Sackey is the new dean for multicultural affairs and global health at the medical school. Photo: Alonso Nichols
Educated at Dartmouth College and Dartmouth Medical School, Sackey did her internship and residency in internal medicine, including a year as chief resident, at Beth Israel. In 1992, she joined the faculty of Harvard Medical School as an instructor. In 1996, she was named medical director of the North Suite outpatient unit of Beth Israel Deaconess Medical Center.
She is a graduate of the Rabkin Fellowship in Medical Education at Beth Israel's Shapiro Institute for Education and Research. She has taught courses for undergraduate medical students and for continuing medical education, in addition to advising and mentoring residents. She has worked with pipeline programs designed to give underrepresented minority students access to careers in the biomedical sciences.
Sackey has also collaborated in recent years with colleagues in Ghana, developing an exchange program for health professionals, establishing international workshops on HIV/AIDS and working to improve regional access to health care.
Since her arrival at Tufts, Sackey says she has felt welcomed, from the guard in the parking garage who gave her a smile and a big hello on her first day to the note from Tufts President Lawrence S. Bacow that she found waiting on her desk.
"Everybody has been so fantastically nice," she says. "I feel like I have joined the Tufts University family." Sackey plans to spend her first 90 days devoted to what she calls her "listen-and-learn tour," meeting people throughout the medical school and getting a sense of what they hope for and need.
This story first appeared in the spring 2009 issue of Tufts Medicine magazine.