A Solar House for the Ages
Tufts students and faculty are part of Team Boston, one of 20 international groups competing to design and build the ultimate sustainable home
Their goal is ambitious: to build a house that is entirely solar-powered, attractive and affordable—and compete against teams from colleges and universities in the United States, Canada and Germany.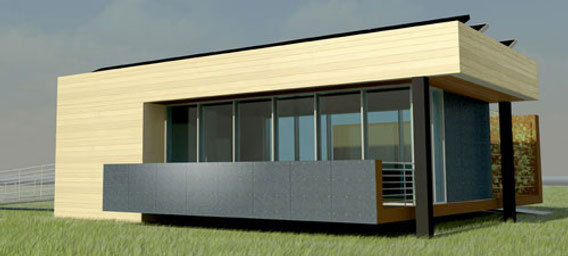 A rendering of Curio House, the Tufts-Boston Architectural College entry in the Solar Decathlon competition. Illustration: Courtesy of Team Boston
That's the challenge facing Team Boston, a collaborative group of student designers, engineers and planners from Tufts University and the Boston Architectural College, as they take part in the 2009 Solar Decathlon, a bi-annual competition sponsored by the U.S. Department of Energy. The team is the only entrant from New England.
Curio House, as the 800-square-foot structure being built by Team Boston is called, will feature a new way to harness energy from the sun. In conventional systems, solar energy flows from groups of photovoltaic panels to a single piece of equipment called an inverter, which converts the direct current power into usable electricity. But Team Boston plans to attach micro-inverters to each individual panel and use them to track energy output through an Internet-based monitoring system. Micro-inverters alert users to malfunctioning panels and ultimately result in a higher energy yield.
The competition requires that the houses include sleeping quarters, entertainment space, a kitchen and a bathroom, and that the projects be student-directed. Preliminary construction of Curio House began in early April inside a warehouse on the Tufts campus. Now the construction has moved outdoors. The house will be dismantled and shipped to Washington, D.C., in October, when the teams will reassemble their houses on the National Mall for judging.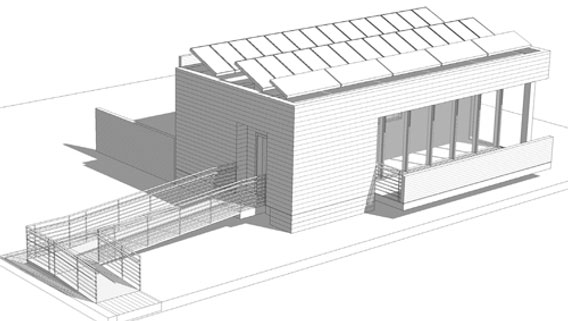 A drawing of Curio House showing its proposed solar panel array. Illustration: Courtesy of Team Boston
Tufts' principal investigator for the project, William Moomaw, a director of the Tufts Institute for the Environment and a professor of international environmental policy at the Fletcher School, says the house will illustrate a convergence of social policy, engineering and sustainability.
"Sustainable living is the future, but it's not a very practical goal if the related costs are so enormous that they're not accessible to a wider community of average homebuyers," says Moomaw, whose retirement home in western Massachusetts is "off the grid." The Tufts solar house "can't but help further our practical understanding of sustainability and renewable energy," he says. "What better educational experience than to plan, design and build a house?"
Moomaw is joined in the project by co-investigator Chris Swan, an associate professor of civil and environmental engineering.
The Department of Energy, which picked the finalists, is providing each team with $100,000 in grant money. Project costs will be significantly greater than the grant, and Team Boston is actively fundraising to make up the difference.
"We are addressing broader issues of excessive consumption, climate change and our relation to the built environment," says Team Boston project manager Colin Booth, a student at the Boston Architectural College. "We're setting a new paradigm of how we use limited resources and showcasing the next generation of problem solving. In reality, the 20 schools aren't in competition with one another, but with the status quo that has gotten us into this mess."