It's the Thought That Counts
Dental education needs to embrace critical thinking skills, which promote better patient care and research, says Bates-Andrews Day speaker
By Jacqueline Mitchell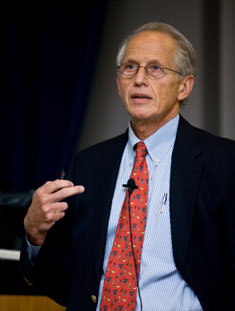 "It doesn't matter if you practice in the third world or the first world, Appalachia or Manhattan; patients benefit from dental clinicians who are trained to think logically," said Bruce J. Baum, D71, in his keynote address at this year's Bates-Andrews Day. Photo: Joanie Tobin
To provide patients with ever-higher quality care, dental education needs to fully embrace biomedical research and all its benefits and teach students to think critically, said Bruce J. Baum, D71, in his keynote address at this year's Bates-Andrews Day, the School of Dental Medicine's annual student research fair.
"As health-care professionals we are obliged to improve the standard of care available. I was taught that lesson on my first day at Tufts by Dean [Louis J.P.] Calisti," said Baum, chief of the gene transfer section at the NIH's National Institute of Dental and Craniofacial Research. Research provides the intellectual basis of dentistry, he said, citing findings on fluoride, antibiotics and vaccines that led to paradigm shifts in clinical practice.
Baum himself is renowned for pioneering research that could lead to quality-of-life improvements for many oral cancer and dry-mouth patients. Baum still remembers sitting at the back of a lecture hall and chatting to a friend when his "Eureka moment" hit. He knew that radiation treatments for head and neck cancers routinely destroy the salivary glands—as do certain autoimmune diseases—and the resulting dry-mouth leaves patients uncomfortable and at high risk for tooth decay and choking. He thought he could deliver genes to make salivary ducts do the work of the damaged gland. "But I had no background in that," Baum emphasized.
Trained as a protein chemist, not a geneticist, it was his ability to think critically that allowed him to transfer his skills to a different field and build on his flash of inspiration, he said. In 1997, Baum and his colleagues published a seminal paper in the Journal of Dental Research describing novel gene transfer techniques to get dysfunctional salivary glands up and running again. In 2006, the researchers received approvals to commence phase I clinical trials in humans.
"The take-home message is, 'Imagination is more important than knowledge,' " said Baum, quoting Albert Einstein. "Anyone can memorize facts, but when you know how to think, you can go on your own from there."
The lab isn't the only place where critical thinking can lead to improved care, Baum argued. "It doesn't matter if you practice in the third world or the first world, Appalachia or Manhattan; patients benefit from dental clinicians who are trained to think logically."
Baum worries that critical thinking skills may get overshadowed by an emphasis on manual techniques at some dental schools. Dental students and educators must "recognize that critical thinking is a technique itself," said Baum. "That is what scientists do," he said, drawing the parallel between a researcher gathering data to develop a hypothesis and a clinician identifying symptoms to develop a diagnosis.
Baum said he was heartened by the student research showcased at this year's Bates-Andrews Day. "I am blown away by the spectrum of different projects," he said of the students' work, ranging from public health studies to cancer research and tissue engineering. "Take advantage of these opportunities at and outside Tufts if you can," Baum urged. "You'll be a much better clinician."
Jacqueline Mitchell can be reached at jacqueline.mitchell@tufts.edu.