Higher Ed, Middle-East Style
Fletcher School professor and doctoral students head to Iraqi Kurdistan to kick-start educational programs with local universities
By Taylor McNeil
When Fletcher School Professor Andrew Hess got an email from the U.S. State Department in early December requesting that professors and instructors come to Iraqi Kurdistan over the winter break to teach at local universities, there was little doubt how he would respond.
By the next day, Hess, a professor of diplomacy who has extensive experience running training programs for Fletcher in the Middle East, and his doctoral student, Geoffrey Gresh, had put together a proposal and sent it off, along with CVs and scans of their passports. Three weeks later they were flying from Amman, Jordan, directly into Erbil International Airport.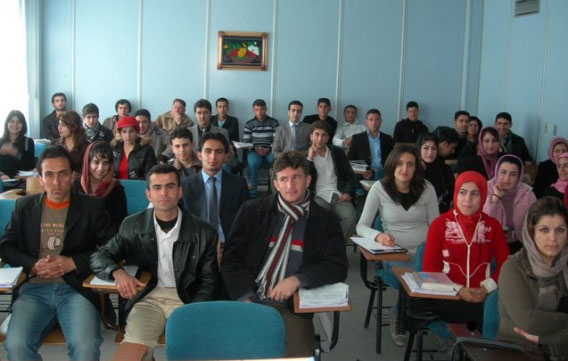 For many students at the University of Salahaddin, classes led by Fletcher Professor Andrew Hess were the first time they had interacted with civilian Americans on a daily basis. Photo: Courtesy of Geoffrey Gresh
The teaching modules led by Hess and Gresh at Salahaddin University in Erbil were part of a larger program launched by the U.S. State Department's public diplomacy team in Iraqi Kurdistan. "With the improved security situation in Iraq, we decided to encourage U.S. faculty to come to the Kurdistan region and meet with Iraqi students and faculty, with the aim of creating long-term relationships with the universities where they are working," says Suzanne Bodoin, J95, the public diplomacy officer in Erbil who initiated the exchange.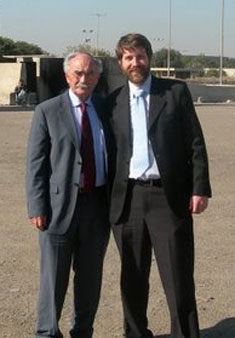 Fletcher Professor Andrew Hess and Geoffrey Gresh, a Fletcher Ph.D. candidate in Iraq. Photo: Courtesy of Geoffrey Gresh
Hess, who is director of Fletcher's Program on Southwest Asia and Islamic Civilization, lectured on the globalization of Southwest Asia and how worldwide political and economic changes are affecting Iraq and Iraqi Kurdistan, while Gresh gave an introductory course on international security studies.
They found their students to be enthusiastic, but they also faced a number of hurdles. For starters, even though English is now the preferred language for foreign affairs in Iraqi Kurdistan, the students, with only a few exceptions, were not up to speed in spoken English. Translators had to be brought in for the classes, essentially doubling the teaching time.
"The problem was how to get them to start asking and answering questions," Hess says. "So we tried to pick explosive topics like Middle East politics, U.S. foreign policy and what the United States was going to do next in Iraq. That was a tough one—but despite the language problem we did encourage quite lively exchanges."
Language wasn't the only stumbling block. PowerPoint was new to Salahaddin University in Erbil, and the 1930s-style projector screen didn't quite fit the bill. With no blinds to keep out the sunlight, Hess and Gresh improvised, bringing bedsheets from their hotel to shade the windows. "Each day we had to innovate to ensure proper electrical connections too," says Gresh.
Higher education in Iraq faces other, even more basic stumbling blocks. Though the university in Erbil has some 18,000 students, about 1,000 of whom are in the college of law and political science where Hess and Gresh taught, library facilities are poor, and knowledge of topics outside the students' immediate areas of expertise is limited. "We started asking them about economics in politics classes, but they had little to no knowledge of even fundamental concepts such as gross domestic product," Hess says. Still, he says, "the students were motivated."
"This is something of a pilot program for a country that has been cut off from the rest of the world for the better part of 20 years," says Bodoin. "It is a gradual process of re-integrating the higher education institutions with the international community, all the while faced with the fact that the universities here struggle to provide the most basic of services, such as electricity, modern textbooks and computer equipment, to their students."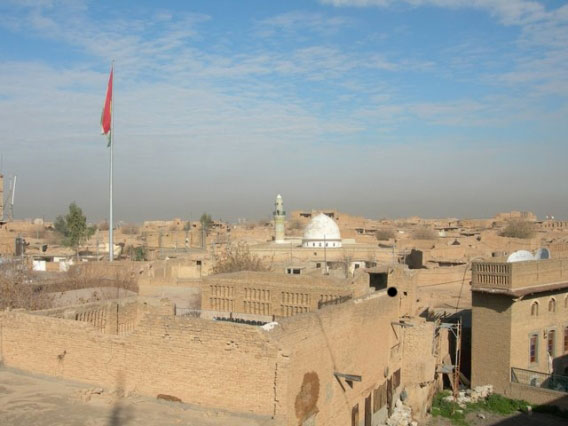 The city of Erbil, Iraq, with the citadel in the background. Photo: Courtesy of Geoffrey Gresh
The management of higher education is very hierarchical, Hess notes, which adds its own complications. Even though administrators at a university might see what needs doing, nothing can be done without approvals from very high levels of the government's educational bureaucracy; in the end, decisions are often made in Baghdad.
"Because of Kurdistan's relative security, they have been able to move forward in the construction of buildings—ironically, given Kurdish politics, constructed by Turkish companies—but they are still dependent on an administrative order fearful of rapid change," Hess says. "So they are hindered by that, and by the still uncertain security situation in the rest of Iraq."
"There is definite need for capacity-building programs in the area of international studies, because its development stopped in 1958, according to many of the Iraqi scholars we met," notes Gresh. "Since Fletcher is a professional school in international relations, we have a lot to offer in terms of new thinking in international law, international business and obviously in the diplomacy and security arenas. The big questions are, will security questions prevent us from sending instructors to Iraq, and can we find the resources to train qualified Iraqi students at the Fletcher School?"
For their part, the Iraqis were appreciative of the Tufts teachers. "For many students, it was the first time they have had the opportunity to interact with Americans—particularly civilians—on a daily basis," says Bodoin. "Some senior faculty have experience abroad, but most of the younger faculty members have never left Iraq, so being able to learn from an exchange with American faculty was a very valuable experience."
"One of the things both of us thought about was that we were taking big risks doing this," Hess says. But, he adds, being on the ground has its advantages. "I've read lots of books on Iraq. I know the contemporary history, and I read the newspapers all the time, but there's nothing like going over there and seeing it, from a point of view that starts in a Kurdish classroom and is not connected with discussions with officials at the top of government agencies."
Hess and Gresh say the trip was well worth the effort, and others from Fletcher have already headed over to teach. In February, Fletcher Ph.D. student Ethan Corbin lectured at the University of Dohuk, and Leigh Nolan, also a Ph.D. candidate, will follow Gresh and Hess to Iraqi Kurdistan on the same State Department program, teaching in Suleymaniyah during March.
Taylor McNeil can be reached at taylor.mcneil@tufts.edu.