At the Head of the Table
When St. Patrick's Day rolls around in Boston, Jack Hart, A91, is the host with the most
By Lauren Katims
When Jack Hart, A91, became a Massachusetts state senator in 2002, after five years as a state representative, he was taking on more than new legislative responsibilities. As senator for the district that includes his native South Boston, he suddenly had a very public role to play: hosting the annual St. Patrick's Day Breakfast.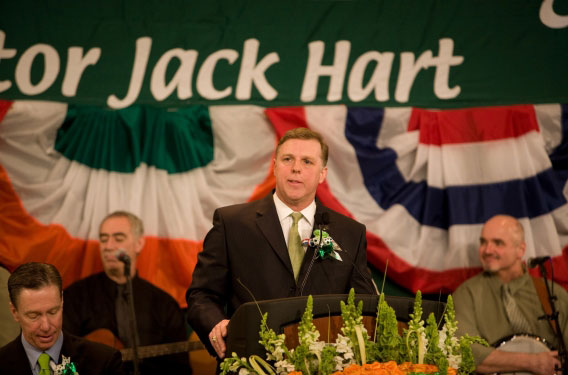 Jack Hart, state senator for South Boston, hosting the 2008 St. Patrick's Day Breakfast, the place to be for Bay State politicians every March. Photo: Courtesy of Jack Hart
The breakfast is an institution in Boston. On the Sunday closest to St. Patrick's Day, prominent political figures like Gov. Deval Patrick, Mayor Thomas Menino and State House leaders sing along to traditional Irish tunes and trade lighthearted banter and personal jabs.
"The first breakfast was a very anxious moment for me, but a wonderful undertaking as well; it's a fairly daunting task," says Hart, who had only one month to plan the event, which usually attracts more than 700 people and is broadcast around New England. "I wanted it to come off well and hopefully continue the standard of excellence the breakfast has had over the 60-plus years it's existed."
Hart has now come to love emceeing the event. "On that day we have fun and don't take ourselves seriously," he says. "It's an opportunity to build relationships, but also to show the public that we can have fun and are human."
This year, Hart hopes to add some "new flavor to the stew," he says, but was keeping mum about special guests, who in the past have included now Vice President Joe Biden and former Vice President Al Gore.
Hart says politics is in his veins. "Growing up in the town in the '60s, politics was to us what water is to fish; we didn't consciously understand it, but we were always fully immersed in it," he says. "Politics was something that I had always hoped, even at a young age, that I would have the opportunity to engage in as a volunteer or even an elected official."
During college, Hart was able to explore that passion. "While attending Tufts, my interest in pursuing a career in public service truly took shape," he says.
He studied political science at Tufts, where he captained the baseball team, played football and was a member of the Delta Upsilon fraternity. "Tufts is a great school because of the faculty and the top-notch students who are there," says Hart. "Everyone is an achiever, and to be exposed to that kind of atmosphere is very stimulating and very helpful."
Hart used that inspiration to land a seat in the House of Representatives only a few years after graduation. Now, as senate chairman of the Joint Committee on Economic Development and Emerging Technology, Hart is analyzing ways business is done in Massachusetts to ensure that the state is well positioned in the economic downturn. And, of course, he's busy planning this month's St. Patrick's Day Breakfast.
"My experience at Tufts played a large and significant role in my life," says Hart. He adds that he shares his memories of the university with his four daughters, who he admits have already started to take a liking to elephants.
Lauren Katims can be reached at lauren.katims@tufts.edu.