December People Notes
2009 Tufts Distinction Awards
Nominations open January 20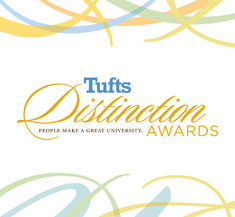 Help honor the achievements of Tufts staff and faculty. Everyone in the Tufts community is welcome to make a nomination at http://distinctionawards.tufts.edu.
Robyn Alders, associate professor of environmental and population health at the Cummings School of Veterinary Medicine, traveled to Luanda, Angola, from October 11 to 22 for a consultancy for the KYEEMA Foundation to assist with the initiation of a Newcastle disease control project financed by the European Union. The highly contagious disease afflicts many domestic and wild avian species, especially chickens. Formed in 2003, KYEEMA aids in the development of treatments and cures for diseases affecting plants, animals and people living in developing countries, and helps develop technology to assist in improving the living standards in developing countries.
Astier Almedom, director of the International Resilience Program and professor of the practice in humanitarian policy and global public health, facilitated and contributed to a panel discussion titled "Rebuilding Community Resilience" at the inaugural International Conference on Rebuilding Sustainable Communities for Children and Their Families after Disasters on November 17. Students in her Fletcher School seminar "International Humanitarian Policy and Public Health" participated in the conference and panel discussion.
Bob Bridges, professor of biomedical sciences at the Cummings School, participated in an outside review of the Developmental Neuroscience Intramural Program at the National Institute of Child Health and Human Development in late October in Bethesda, Md. Bridges was a member of a scientific panel that reviewed the research accomplishments and goals of a number of laboratories and units within the Developmental Neuroscience Program.
Bárbara M. Brizuela, associate professor of education, has been awarded a Fulbright grant to conduct research and lecture on algebra in the early grades at the National University of Comahue in Argentina. Recipients of Fulbright awards are selected for their academic or professional achievements and demonstrated leadership potential in their fields. Brizuela will be based at the National University of Comahue, which is located in Bariloche, Neuquén, Argentina, from February to May 2009.
Suzanne Cunningham was recently appointed a veterinary cardiologist on the staff at the Foster Hospital for Small Animals. Cunningham was certified in cardiology by the American College of Veterinary Internal Medicine this year, passing the challenging examination on her first attempt.
Johanna Dwyer, professor of nutrition at the Friedman School and a senior scientist at the Jean Mayer USDA Human Nutrition Research Center on Aging (HNRCA), has been named a lifetime associate of the National Research Council of the National Academy of Sciences.
Lauren Fisher, A08, had her senior honors thesis, "Signaling Change: Studying the Effect of Price Signals on Disposable Hot Beverage Cup Consumption," selected for an honorable mention award in the Association for the Advancement of Sustainability in Higher Education's 2008 Student Sustainability Research Award program. Sustainability: The Journal of Record is publishing an abstract of Fisher's paper in its December issue.
Lisa Freeman and John Rush, professors of clinical sciences at the Cummings School, traveled to Fujisawa, Japan, to give invited lectures to students, faculty and veterinarians in the department of veterinary medicine at Nihon University College of Bioresource Sciences.
Joseph W. Gravel Jr., A82, M86, has been elected president of the board of trustees of the Family Medicine Education Consortium, which includes more than 100 medical school and teaching hospital departments of family medicine. Gravel has served as the residency director of the Tufts family medicine residency program since 1995. Last year, the program was one of only 14 family medicine residency programs nationally to participate in the "Preparing the Personal Physician for Practice" (P4) National Demonstration Project to study innovative models for training primary-care physicians. He also serves on the national board of trustees of the Association of Family Medicine Residency Directors, the executive committee of the Massachusetts Academy of Family Physicians and for the past eight years, has served as medical director and faculty advisor for the Sharewood Project, a community clinic run by students at Tufts School of Medicine.
Justin Hollander, assistant professor of urban and environmental policy and planning, spoke on the topic "Can Cities Shrink to Greatness? Sustainable Design and (Un)Development in Cities" at the Taubman Center for Local and State Government, part of the Kennedy School of Government at Harvard University.
Simon John, research assistant professor of ophthalmology at the School of Medicine, was one of seven researchers in the country awarded $100,000 in unrestricted grant money from the Alcon Research Institute to pursue science designed to enhance understanding of vision and eye health. John was selected for his groundbreaking research on the underlying causes and potential treatments of glaucoma. He works out of the Jackson Laboratory in Bar Harbor, Maine, and is an investigator at the Howard Hughes Medical Institute and a member of the graduate faculty at the University of Maine.
Deborah Kochevar, dean of the Cummings School of Veterinary Medicine, has been elected to the board of directors of Charles River Laboratories International Inc., which is headquartered in Wilmington, Mass. "Dr. Kochevar is widely regarded as one of the industry's leading experts in veterinary medicine. She will bring a unique perspective to the board," says James C. Foster, chairman, president and CEO of Charles River.
Michael Kowaleski, associate professor of clinical sciences at the Cummings School, gave a presentation on "Cemented or Cementless: Decision Making in Total Hip Replacement" at the 2008 American College of Veterinary Surgeons Veterinary Symposium in October in San Diego.
Alice Lichtenstein, the Stanley N. Gershoff Professor of Nutrition Science and Policy at the Friedman School and director of the cardiovascular nutrition laboratory at the HNRCA, gave a presentation titled "Diet: What Should You Recommend to Your Patients to Reduce Cardiometabolic Risk?" at the 2008 Cardiometabolic Health Congress in Boston.
Alvin Lyckman, research assistant professor of neurology at the School of Medicine, was the lead author on two recently published studies: "Gene Expression Patterns in Visual Cortex During the Critical Period: Synaptic Stabilization and Reversal by Visual Deprivation" in the Proceedings of the National Academy of Sciences, and "Increased Intraneuronal Resting in Adult Alzheimer's Disease Mice" in the Journal of Neurochemistry.
Vincent P. Manno, associate provost and professor of mechanical engineering, presented a paper, "Revising the Power Generation Curriculum—the 1000 MW Solution," at the 2008 International Mechanical Engineering Congress and Exposition, held in Boston in early November.
Janet Martin and Alison Robbins, research assistant professors of environmental and population health at the Cummings School, attended the Rabies in the Americas meeting in Atlanta from September 28 to October 3, and presented a poster titled "Preliminary Results of a Comparison of Efficacy of Two Oral Rabies Vaccine Bait Types on Vaccination Rates in Raccoons on Cape Cod."
Joerg Mayer, staff veterinarian at the Foster Hospital for Small Animals at the Cummings School, attended the 15th annual Association of Reptilian and Amphibian Veterinarians conference in Los Angeles in October. He chaired the amphibian session and was elected to the association's board of the directors.
Melissa Mazan, associate professor of clinical sciences at the Cummings School, was the keynote speaker for the annual Mid-Atlantic Equine Veterinary Conference in Lambertville, N.J., on October 21. Mazan also presented an abstract on the role of macrophages in lung regeneration at a meeting of the Veterinary Comparative Respiratory Society in Oklahoma in late October.
Nicola McKeown, assistant professor at the Friedman School of Nutrition Science and Policy and a scientist at the HNRCA, had her article, "Dietary Magnesium Intake Is Related to Metabolic Syndrome in Elderly Americans," published in the European Journal of Clinical Nutrition. McKeown was asked to serve as a member of the editorial board for the British Journal of Nutrition, starting in January 2009. She also gave a presentation on "Whole Grains, Metabolic Syndrome and Diabetes Risk" at the conference "Whole Grains and Beyond—An Opportunity to Discuss Emerging Trends in Nutrition" in Toronto, Canada.
Simin N. Meydani, professor of nutrition and immunology and associate director of the immunology lab at the HNRCA, was invited to give a presentation on "Immune Function as a Biological Marker to Assess Micronutrient Status" at the Gates Foundation Micronutrients Assessment Meeting in August. She also presented "Antioxidants and Nutritional Intervention in Aging and Age-associated Disease" at the seventh annual Frontiers in Cancer Prevention Research Conference in National Harbor, Md., in November.
Paul Milbury, assistant professor at the Friedman School of Nutrition Science and Policy and a scientist in the antioxidant lab at the HNRCA, gave a presentation on "Berry Anthocynanins and Structurally Diverse Phytonutrients in Chronic Disease Prevention" at the 49th annual meeting of the American College of Nutrition in October.
Kenneth L. Noller, the Louis E. Phaneuf Professor and chair of obstetrics and gynecology at the School of Medicine, received the 2008 Alumni Award of Merit from Creighton University School of Medicine, from which he earned his medical degree in 1970. In the 1970s, Noller and his colleagues determined that women who took the drug diethylstilbestrol (DES) during pregnancy to prevent miscarriage exposed their daughters and themselves to increased health risks, including cancer. He continues that research and also is the principal investigator for a major national study to find a better early-detection test for women at risk for ovarian cancer.
Jose Ordovas, senior scientist and genomics laboratory director at the HNRCA, was appointed a member of the science advisory board of the FDA National Center for Toxicological Research for his expertise in nutrition and genetics. He also received the 15th Carles Martí Henneberg Award to the Scientific Trajectory from the Danone Institute.
Helen Rasmussen, senior research dietitian in the metabolic research unit at the HNRCA, expects to publish a book chapter titled "HIV in Older Adults" in early 2009 as a part of the volume Nutrition Management of HIV and AIDS.
Linda Ross, associate professor of clinical sciences at the Cummings School, attended the New England Regional Veterinary Conference, sponsored by the New England Veterinary Association, in September in Portland, Maine. She also participated in the 50th anniversary reception of the Veterinary Scholarship Trust of New England, of which she is a trustee. The keynote speech at the reception was given by Deborah Kochevar, dean of the Cummings School.
Robert Russell, former director of the Jean Mayer USDA Human Nutrition Research Center on Aging at Tufts and professor emeritus at Tufts School of Medicine, has been designated a lifetime associate of the National Research Council of the National Academies.
Allen Rutberg, research assistant professor of environmental and population health at the Cummings School, attended a national "Wild Horse Summit" meeting in October in Las Vegas and presented a paper titled "Managing Wild Horses with PZP (Or, How to Overcome Fear of Foaling)." He also participated in several panel discussions about wild horse management and behavior.
Shivani Sahni, F08, received a Young Investigator Award from the American Society for Bone and Mineral Research for her work on vitamin C and fractures. This work was a part of her thesis, which she completed under Professor Katherine Tucker.
Sharan L. Schwartzberg, professor of occupational therapy and adjunct professor of psychiatry, gave a talk on "Examining Group Intervention Outcomes in an Acute Psychiatric Inpatient Unit at Tufts Medical Center, Boston" at the University of Illinois at Chicago's College of Applied Health Sciences. She also conducted a demonstration-discussion of her model under study, "A Functional Approach to Group Work."
Johanna M. Seddon, professor of ophthalmology, was appointed to the scientific advisory board of Potentia Pharmaceuticals, a privately held biotechnology company developing medicines for the treatment of age-related macular degeneration. Seddon is an internationally recognized macular degeneration specialist and pioneer in nutritional and genetic research in age-related macular degeneration, as well as an international leader in the field of ophthalmic epidemiology. For more than 20 years she has directed NIH-based research on epidemiologic, biologic and genetic biomarkers for macular degeneration and has made original contributions in these areas.
Patrick Skelly, associate professor at the Cummings School and the president of the New England Association of Parasitologists (NEAP), compiled the scientific program and presided over the 12th annual meeting of NEAP at the Cummings School of Veterinary Medicine in October. Some 50 researchers attended the meeting. Charles Shoemaker, professor of biomedical sciences at the Cummings School, presented the keynote address, "Probing the Helminth Host-Parasite Interface with Phage-displayed Antibodies."
Diane Souvaine, professor of computer science, spoke on "Points, Obstacles, Spanning-Trees and Matchings" at the 18th fall workshop on computational geometry, held at R.P.I. in October. Tufts Ph.D. student Mashhood Ishaque presented the paper "Convex Partitions with 2-Edge Connected Dual Graphs," which he co-authored with Souvaine, Marwan Al-Jubeh, E10, Csaba Toth of the University of Calgary and Michael Hoffmann of ETH Zurich.
Grace Talusan, lecturer in English, published her short story "Shoot into the Crowds" in the literary magazine ghoti and her essay "Shuffled!"—a memoir in five songs, at Boston Progress Radio Live, an Asian-American radio station and blog.
Aron Troen, a scientist in the neuroscience lab at the HNRCA and an assistant professor at the Friedman School, gave a presentation on "Hot Topic: B-vitamins and Cognition—Is There Breakthrough News?" at the 2008 Friedman School Symposium in September.
Paul Waldau, director of the Center for Animals and Public Policy at the Cummings School, gave a lecture at the annual meeting of the Pets & People Foundation in Waltham, Mass., on October 23. Waldau has been named vice chair of the Animal Law Committee of the American Bar Association, and chair of the Subcommittee on Great Apes. He also talked on "Non-economic Damages for Harm to Animals" in Boston on October 2 at the Massachusetts Bar Association's Animal Law Practice Group panel.
Todd Walker, D10, received a second-place award for his research on "Effect of Adhesive System and Composite Type on Dentin Bonds" at the 2008 ADA/Dentsply Student Clinician Research Program during the American Dental Association's annual meeting in San Antonio, Texas, in October. The Student Clinician Research Program provides the opportunity for one student from each accredited dental school in the United States and Puerto Rico to receive an expense-paid trip to participate in the ADA scientific session and to compete for awards. Walker was selected to attend the ADA session because his project won the Best Overall Pre-doctoral Table Clinic Award at the School of Dental Medicine's annual Bates-Andrews Research Day last March. His mentor for the project was Gerard Kugel, associate dean for research and professor of prosthodontics and operative dentistry at the dental school.
Jun Xu, assistant professor in the section of reproductive biology and neuroscience at the Cummings School, gave a presentation on "Sex Chromosome Genes and Sex Differences in Brain and Behavior" to the department of physiology and biophysics at Georgetown University School of Medicine in October.