Field Hockey Team Reaches NCAA Finals
The Jumbos fall in double overtime, but end season with 19-2 record
By Paul Sweeney
The Tufts field hockey team came within one point of winning the NCAA Division III championship, but time ran out as they fell in a double overtime 3-2 loss to Bowdoin College on November 23.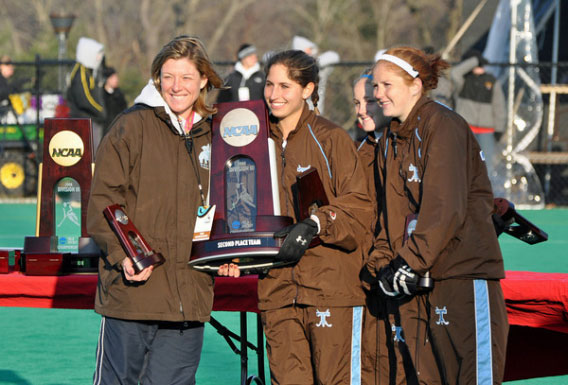 Coach Tina McDavitt, left, and team captains Marlee Kutcher, A09, Brittany Holiday, A09, and Tess Jasinski, A09, with the NCAA second-place trophy. Photo: Courtesy of Bob Kelly
Tufts was playing in just the second NCAA championship game in school history. The Jumbos, who defeated Messiah College 5-2 in the national semi-finals, finished with a 19-2 record. Bowdoin also finished at 19-2.
The NCAA championship game was the rubber match between the NESCAC rivals this season. Tufts had won the first meeting 4-3 on Halloween to finish a 9-0 NESCAC season and earn the number-one seed in the conference tournament. Bowdoin scored a 1-0 victory in the conference championship game nine days later. After both won NCAA semifinal contests, they battled closely in the first double-overtime national championship final since 1988.
"This is a disappointing end to a great season," Tufts Coach Tina McDavitt said. "We battled until the end like usual and just came up a little short. Once the sting from the loss wears off, we'll appreciate what an amazing run this year has been."
On a bright note, three members of the team were selected to the Longstreth/National Field Hockey Coaches Association All-American teams for the 2008 season.
Junior Margi Scholtes is one of 16 players in the country named to the All-American first team. Sophomore Tamara Brown garnered All-American second team notice, and classmate Amanda Roberts is on the All-American third team. The three players honored mark the most ever for Tufts field hockey on the All-American list.
Sports Information Director Paul Sweeney can be reached at paul.sweeney@tufts.edu.