Bound for College
Former Jumbo standout Khari Brown, A94, G01, is steering underprivileged kids to higher education
By Robert Bochnak
It's been a long time since Khari Brown, A94, G01, made his living as a basketball coach. But he relies on what he learned on the court every day as executive director of Capital Partners for Education, a nonprofit in Washington, D.C.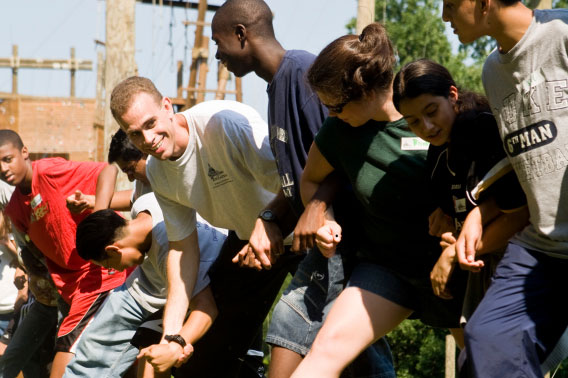 "We're sending students to college at about three times the rate of some D.C. schools working with a very similar population," says Khari Brown, A94, G01, joining kids in a team-building exercise. Photo: Melody Ko
"Coaching was probably the best education I had for being an executive director," he says. "It helped me to understand how to work with people and inspire them. It taught me how to maneuver in difficult situations and how to think on my feet."
While an undergraduate, Brown played basketball four years, made the Jumbo record books as a shot blocker and rebounder and was co-captain in his senior year. He went on to play professional basketball in Europe for a year before embarking on his coaching career, first for the Tufts basketball team and then for the Medford, Mass., high school junior varsity team.
In 2001 he joined Capital Partners for Education, which provides talented low-income high school students with scholarships to attend private college preparatory schools. Students work closely with volunteer mentors and take part in study skills workshops and enrichment opportunities, including college-planning workshops and SAT preparation classes.
"These are motivated kids who probably wouldn't go to college if they weren't part of our program," says Brown, who earned a master's in education from Tufts in 2001.
Capital Partners students come from families with an average annual income of $28,000, and 80 percent live with just one parent. "Of the kids who complete the program, 97 percent of them end up going to college," Brown says. "We're sending students to college at about three times the rate of some D.C. schools working with a very similar population."
Brown oversees the organization's six-person staff, as well as its core of more than 150 volunteers, meets with current and potential donors and helps plan and manage fundraising events, among other tasks.
And while he's no longer a coach, basketball is still a part of Brown's life. "I don't have time to coach anymore. I really wish I did," he says. "But I still play basketball in some leagues, and I do other sports, like weight training and biking."
This story first appeared in the Fall 2008 issue of Alma Matters magazine. Robert Bochnak can be reached at robert.bochnak@tufts.edu.