Cities, Leadership and Returning Home
Inspired by his sociology professors, Ryan Centner, A98, joined them this fall as an assistant professor
By Marjorie Howard
The assignment was straightforward: write a paper about the sociology of immigration. Some 10 years later, Paula Aymer, an associate professor in the sociology department, still remembers how one student—Ryan Centner, A98—went far beyond the required effort in his research into the plight of day-laborer immigrants.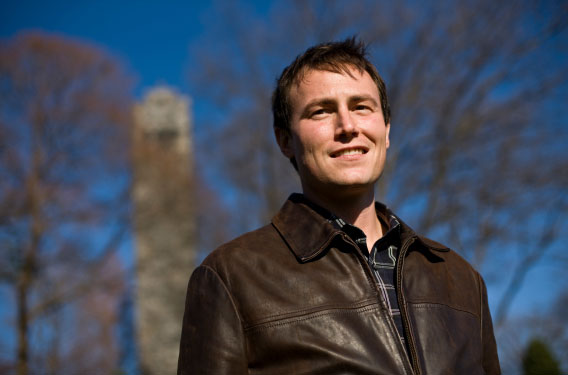 "The role I found for myself is doing research to understand new things about the social world and passing that on through teaching to my students," says Ryan Centner. Photo: Alonso Nichols
Aymer chuckles as she recalls how Centner handled the assignment. While everyone else in the class wrote papers based on library research, "he went to Washington, D.C., over Thanksgiving break, scouring Central American neighborhoods for information. When he came back, I said, 'Wow, this is the kind of student it's a pleasure to have.' "
Now Centner is back at Tufts, but this time he's the one in front of the class, a newly minted assistant professor in the very department that inspired him in his studies, hoping to discover some impressive students of his own.
Centner, who earned a Ph.D. in sociology from the University of California at Berkeley, will not only teach sociology classes focusing on urbanism and urbanization, but he has designed a course on leadership, power and politics, which will be part of a new interdisciplinary minor in Leadership Studies.
Leadership, Centner says, is often studied by psychologists and business scholars, but sociologists also offer a useful perspective. "I want to talk about the context from which leaders arise, what makes leadership possible or not in a social context," he says. "It's common in many leadership programs to try to make students into leaders, which I think is very important. However, it's also important to keep in check those expectations and get students to realize you simply won't always be a leader."
Sometimes, he says, it's important to be a follower and engage effectively with leaders. "And it's also about making demands through social movements, protests, through your presence as an active citizen."
Centner hopes to inspire students in the way his own thinking was invigorated by his sociology professors. He arrived at Tufts as a freshman with a passion for social justice, figuring he would most likely go to law school.
Instead, he found a different way to harness his interests and abilities. His courses at Tufts, he says, helped him start to understand the importance of theories and how they could play out in the real world. "I began to think about possibilities for change, how society could be better, could be different," he says.
He sees teaching and social change as "very much intertwined." While giving credit to activists and community organizers "who are out in the world working with people and their problems," he took a different path.
"The role I found for myself is doing research to understand new things about the social world and passing that on through teaching to my students, to constantly create new cutting-edge thinkers," he says.
Paul Joseph, a sociology professor and one of Centner's advisors when he was a student, says Centner was chosen for the faculty position out of a large field of qualified applicants. "He had a very strong publishing record, which not only shows promise but is quite an accomplishment for a young scholar."
He is pleased that his former student is now a colleague. "Every once in a while there's a student you have and you think, 'This person is a professor.' "
"I consider it my responsibility to talk them out of law school," Joseph adds with a laugh. "It's a mission I have. I only do that for the strongest students, and Ryan was one of them."
The Life of Cities
Centner is currently working on a book about Argentina, where he did research for his dissertation. He spent two years there, studying how economic policies encouraged by the International Monetary Fund (IMF) affected three neighborhoods undergoing physical and social transformation. He found that the public finance policy changes that the IMF mandated as loan conditions were closely intertwined with the urban redevelopment, "even if that was never an intention of the IMF and other international financial institutions," he says.
He also found that redevelopment was linked to local political influence. Neighborhoods that used interventionist and grassroots-oriented practices had different outcomes compared to those that were public-private ventures or completely privatized efforts.
"Some of the redevelopments that occurred enabled privileged Argentines to weather moments of economic crisis, while other Argentines were disadvantaged due to the disappearance of certain jobs or industries from the redeveloped landscape," he says.
Looking forward, Centner is planning a comparative study of Buenos Aires, São Paulo and Istanbul. The three cities, especially during the last 50 to 75 years, have had strikingly parallel economic and political histories, as well as comparable aspirations for development today, despite having radically different histories.
"I want to compare efforts to remake key areas of each city," he says, "looking specifically at how the urban landscape becomes part of struggles over being more 'European' versus more 'Latin American' or 'Middle Eastern,' and how the shifting landscape also helps define those ideologically charged connotations." He received a State Department Critical Language Fellowship for the project, which allowed him to study Turkish in Istanbul last summer. He is also fluent in Spanish and proficient in Portuguese.
That larger project is still a few years off, but he's already planning on preliminaries: fieldwork in Boston's Brazilian and Portuguese immigrant communities to hone his language skills.
Marjorie Howard can be reached at marjorie.howard@tufts.edu.