Engineering for Humanity
The founder of Engineers Without Borders says the profession needs social entrepreneurs, community builders and peacemakers
By Leslie Macmillan
Living in the world's wealthiest nation, it's easy to forget that a staggering percentage of people on the planet get by without even basic necessities: an estimated 20 percent lack clean water or adequate housing, and 40 percent lack adequate sanitation. Bernard Amadei, the founder of Engineers Without Borders–USA, is keenly aware of these sobering statistics, which, he says, do not paint "a pretty picture for a world that calls itself 'civilized.' "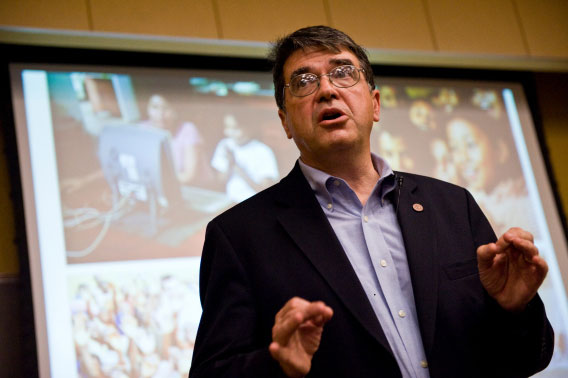 "This is not fancy engineering, not sexy engineering—but engineering with a social agenda," said Bernard Amadei at the Engineering Dean's Lecture. Photo: Alonso Nichols
In an impassioned talk that was as much a call to action as a discussion of how engineering can benefit the developing world, Amadei admonished those attending the Engineering Dean's Lecture on November 6 to "do something—even if it's a little thing. If we don't do anything about poverty, we destroy our humanity."
Amadei, who grew up in France and is a professor of civil engineering at the University of Colorado at Boulder, emphasized that even small-scale projects can make a huge difference to a poor community. A transmission tower that brought electricity to a Peruvian village cost $15,000, he said. A village water pump in the desert of Mauritania cost $9,000, and solar panels that bring electricity to a Nepalese school only cost $4,000.
"This is not fancy engineering, not sexy engineering—but engineering with a social agenda, with a human face," he said.
Amadei said the idea for Engineers Without Borders, a group that devises sustainable engineering solutions for the developing world, came to him during a visit to San Pablo, Belize, a poor Mayan village of about 250 people.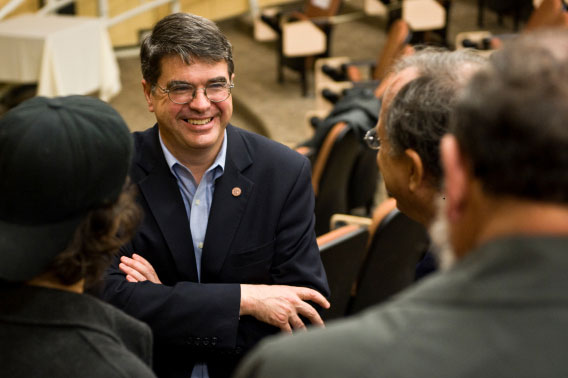 "If all the problems in the world were technical, we would have solved them by now," said Amadei. Photo: Alonso Nichols
He had been invited there in 2000 by the Belize Ministry of Agricultural Affairs to investigate the possibility of designing and installing a water delivery system in the village. Amadei said he ran across a little girl who "could not go to school because she was forced to carry water to the village, back and forth, back and forth all day long. That broke my heart."
Since the village had no electricity, running water or sanitation and because most villagers worked at a nearby banana plantation, the responsibility for carrying drinking and irrigation water from the river fell to the children. Amadei and a group of engineering students developed and built a distribution system that carried water to the village, all at a cost of only $12,000.
It came at a critical juncture in his life, one that Amadei called a "mid-life awakening," and led him to found Engineers Without Borders. Currently, the organization has 13,000 members working in 48 countries.
He emphasized that to be "appropriate and sustainable," such efforts should rely on local materials and skills. And the effects go far beyond engineering. In Afghanistan, an alternative fuel source to wood was needed because forests had been clear-cut in that country's successive wars. Engineers Without Borders designed a simple press to make fuel briquettes out of paper and sawdust, and was instrumental in rescuing 20 children from a prostitution ring by employing them in the fuel business.
"With a limited amount of funding—about $10,000—we were able to build a business from the bottom up," said Amadei.
What the world needs now is a new kind of engineer, he said. "My goal is to develop a new generation of engineers for the 21st century who are not just providers of technical solutions, but are social entrepreneurs, community builders and peacemakers," Amadei said. "If all the problems in the world were technical, we would have solved them by now."
Click here to see a video of Bernard Amadei's lecture.
Visit the Tufts University Engineers Without Borders website.
Leslie Macmillan can be reached at leslie.macmillan@tufts.edu.