Rooms with a View
Tisch Library rooftop renovations will create visually compelling campus gathering places
By Peter Bendix
It's already a required stop on campus tours: viewing the Boston skyline from the Tisch Library roof. Now that spot is going to be even more scenic, thanks to a $1.3 million renovation project designed to improve the look and feel of the space and transform it into a gathering place for the Tufts community.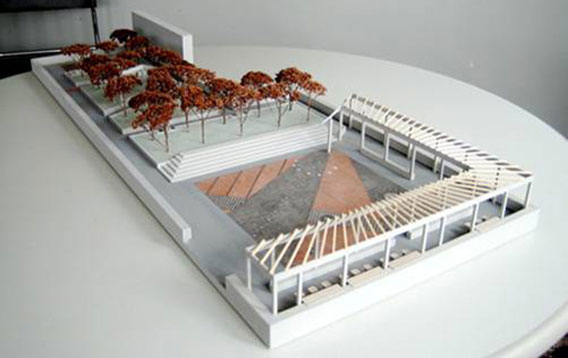 A model shows how the rooftop renovation will look from Goddard Chapel.
Plans call for three distinct open "rooms" atop the library roof. One will feature a sundial mosaic floor design and a terrace with lectern seating; another will have benches seating 20 to 25 people, the average size of a class at Tufts; and a third will feature stepped seating. Another area of the roof has seating nooks amid a small grove of white birch trees.
The renovation project is on schedule, and the roof deck should open by the beginning of December, says Mitch Bodnarchuk, the university's director of construction management. The plaza adjacent to the roof may not be finished before winter weather hits, but will remain open over the winter even if it is not completed.
The renovation was made possible by Tom and Andrea Mendel, whose son, Alex, attended Tufts in 2002. In his sophomore year, he took his own life, and his parents wanted to memorialize him, but not in a conventional manner, according to Amy Ingrid Schlegel, the director of galleries and collections at Tufts, who has been involved with the project since its early stages.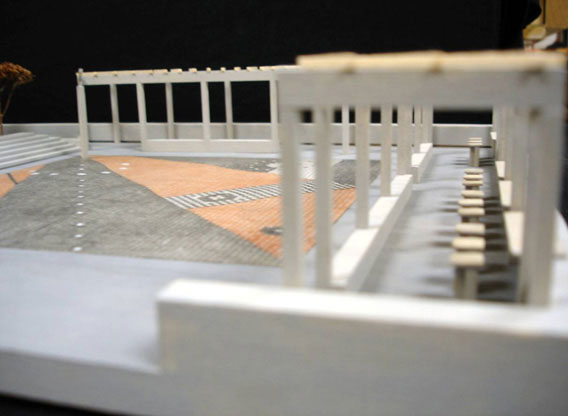 A close-up of the model of the Tisch Library roof renovation, as it will look facing the Boston skyline. The project is being funded through the Beyond Boundaries capital campaign, which has raised $919 million for Tufts to date.
The university began exploring different options, including purchasing a sculpture, renovating different areas of campus, or extending an invitation to an individual artist to redesign or create art on campus.
In the spring of 2006, the university decided on the library roof renovation. A steering committee began working with Urban Arts Institute, an organization that helps nonprofits commission public artwork. They chose to commission a specific artist, rather than a proposal or design, because they felt that the space was so unique that the artist would need to get to know it before developing an appropriate design.
A three-person jury—Schlegel, Patricia Fuller, curator of the public art collection at the Massachusetts Institute of Technology, and Paul Tucker, an art professor at UMass–Boston—selected New York City-based artist Jackie Ferrera from more than 150 applicants. Ferrera is known for creating art that engages viewers intellectually and heightens their awareness of their physical relationship to her structures and spaces. She collaborated with landscape architect M. Paul Friedberg on the designs.
Peter Bendix, A08, is an editorial assistant in Tufts' Office of Publications. He can be reached at peter.bendix@tufts.edu.