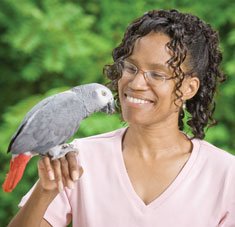 Tarah Hadley, V02, had been a journalist, but now owns an avian and exotics veterinary practice in Atlanta. Photo: Stan Kaady
Flighty Career Move
Volunteering at a zoo led Tarah Hadley, V02, to veterinary practice
By Leslie Limon
Tarah Hadley, V02, was living in New Jersey in the early 1990s, working as a journalist—and frustrated in her job. Looking for something meaningful that would satisfy her lifelong connection to animals, she volunteered at a local zoo.
"It was bare-bones work shoveling llama poop and things like that, but I loved it," she recalls. The lightbulb didn't go off, however, until she told her husband how much she enjoyed working at the zoo, and he asked if she had ever thought about being a veterinarian.
After that epiphany, she enrolled at Stockton College for two and a half years to fulfill her science prerequisites for veterinary school. (Math and science were always her strengths, and she was encouraged to pursue them in high school, but as an undergraduate at Dartmouth College, she decided she loved English more.)
Hadley entered the Cummings School of Veterinary Medicine with anticipation—and no small amount of anxiety, which took its toll on her grades in her first year. A turning point came the following summer, though, when she traveled to Florida with a classmate. Together they visited a bird hospital. She was hooked, and ended up spending two weeks working with the avian expert Gregory Harrison.
"I came back with much more confidence and tackled my classes with no problem," she says. She also became involved in the Cummings School's Gap Junction program, teaching basic science to urban middle school students.
The following summer she met Michael Jones, the first African American to be board-certified in avian medicine, at an Association of Avian Veterinarians conference. Jones not only became a role model but eventually, a mentor.
After completing an internship in small animal medicine and surgery at the Angell Animal Medical Center–Western New England in Springfield, Mass., Hadley followed Jones's suggestion to take up a three-year residency at the University of Tennessee, where he is on the faculty. She taught avian, zoological, wildlife and reptile labs, treated animals at the local zoo and participated in a summer program that exposed African-American high school students to avian and exotic animal medicine.
Today she owns her own practice, Atlanta Hospital for Birds and Exotics, in Georgia, and has authored or co-authored papers published in Veterinary Radiology and Ultrasound and the Journal of Avian Medicine and Surgery.
She says before her mid-20s, she had "never had any experiences with veterinarians. It wasn't something that ever came up on career day. It never occurred to me as an option." But luckily, she says, she found her true vocation.
This story first appeared in the Summer 2008 issue of Tufts Veterinary Medicine magazine.