Danger Afoot
Public health means more than disease prevention for Joe Donroe, A98, M07, who studies the high rate of child pedestrian injuries in Peru
By Jacqueline Mitchell
When Joe Donroe found himself heading to Peru to begin a public health research project a few years ago, he thought he would study one of the infectious diseases that ravage poor people around the world. But on the bustling, overcrowded streets of Lima, he discovered another public health problem: the high rate of pedestrian traffic injuries, especially involving children.
"Traffic injuries are projected to be one of the biggest causes of death in developing nations, and children suffer the most," says Joe Donroe. Photo: Corbis
"Injury prevention is an important issue in poor countries, but it is often overlooked in the age of HIV, TB and malaria," says Donroe, A98, M07, MPH07. "Traffic injuries are projected to be one of the biggest causes of death in developing nations, and children suffer the most."
Donroe, a former captain of the Tufts basketball team who went on to earn a dual M.D./M.P.H. degree from Tufts Medical School, was already familiar with Peru. In 2005 he founded LimaKids, a nonprofit that enables orphaned, homeless and abused children to experience some of the joys of childhood on the soccer field.
So when he was named a recipient of the Fogarty International Center/Ellison Medical Foundation research fellowship—which pairs U.S. health science students with research partners in developing nations—there was little question about the direction he would head.
Working with Robert H. Gilman, professor of international health at Johns Hopkins Bloomberg School of Public Health, Donroe and his colleagues took stock of the traffic conditions in Lima and analyzed what environmental and behavioral factors lead to pedestrian accidents. Public health researchers have extensively analyzed these topics in wealthy nations, but Donroe was interested in the "locally relevant modifiable risk factors" specific to Lima.
"I wanted to know the specific risk factors that might lead a child to get hit in Lima and how they might be different for a child in the U.S.," says Donroe. "The cultures are different; we might expect kids to behave differently and for traffic patterns to differ."
Hazards of the Road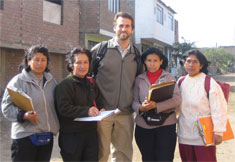 Joe Donroe does survey work with colleagues from the Asociacion Benefica Prisma in a Lima neighborhood.
Knocking on doors in San Juan de Miraflores, a poor section of Lima, Donroe and his team collected information about 100 child pedestrian injuries dating back to 2000. They gathered data about the accidents—what time of day, where the child was headed—as well as demographic information about affected families, such as income, number of children in the family and parents' level of education.
Donroe also considered the scene of the accidents, assessing factors at 40 accident sites, such as traffic volume and speed, presence and use of crosswalks and presence of street vendors.
As in the United States, Donroe found that high traffic volume and speed are major risk factors in Lima. Donroe cites the pervasive motorcycle taxis on Lima's already-chaotic roadways. "There seems to be a lack of regulation. You see a lot of underage drivers operating overcrowded motor taxis," he says. "Residents comment on how they zip up and down streets. There is definitely room for legal enforcement. In Lima, that would be one place to start."
While Lima's lack of painted lane demarcations, traffic lights and crosswalks contribute significantly to injuries, Donroe also identified some risk factors unique to the city.
For example, Lima's high number of street vendors turned out to be a significant risk factor. They create hazardous conditions by blocking streets, diverting traffic, concealing oncoming vehicles from view and distracting pedestrians and drivers.
And while poorly educated mothers are one important risk factor in the developed world, there seems to be no relationship between maternal education and pedestrian traffic injuries in Lima. Donroe speculates that the Peruvian family dynamic, in which multiple adult relatives supervise children, may be the reason behind this difference. Donroe also found that Peruvian children who spent more time in school each day were less at risk for road traffic injuries, which hadn't been identified as a risk factor before.
Donroe's research was, in part, inspired by the work of Doug Brugge, associate professor of public health and family medicine, who examined pedestrian traffic injuries in Boston's Chinatown. Donroe had taken Brugge's course in community collaborative research before leaving for Peru, and Brugge served as a faculty advisor for Donroe's study.
"It strikes me that his work there had a program element to it as well as a research element," says Brugge. "That's something a lot of full-fledged researchers have trouble putting together, so that's a very impressive thing."
Though Donroe is currently a resident in medicine and pediatrics at Yale, he hopes to return to Peru to follow up on the study, published September 10 in PLoS ONE, the online journal of the Public Library of Science.
"The hope is the research translates into intervention," he says. "The next steps would be to do the experiments with our findings and see if it can reduce traffic injuries. I hope that would generate the political will to make some changes."
Jacqueline Mitchell can be reached at jacqueline.mitchell@tufts.edu.