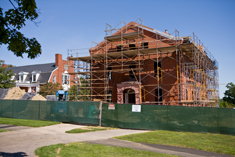 Packard Hall on the Green is being completely restored; the projected completion is March 2009. Photo: Alonso Nichols
Building Time
An update on construction projects around the three Tufts campuses
Construction crews are not an unusual sight at Tufts these days, with additions and renovations taking place on all three campuses. To keep the Tufts community up to date, here is the list of current construction projects, and their estimated completion dates:
MEDFORD/SOMERVILLE CAMPUS
Eaton Hall Over the summer, a new roof was installed; windows were repaired or replaced; the exterior trim was replaced, and the masonry and marble were re-pointed and cleaned. The work is "substantially complete," says John Roberto, vice president for operations, though some window work will trickle into September.
Packard Hall The interior and exterior of the building are being completely restored; plans also call for a new elevator to provide improved accessibility. The projected completion date for the building is March 2009. The construction site is currently fenced off, and Roberto says that "what you see now will essentially be the construction site through the winter months."
Tisch Library Roof Garden This project will provide a new roof, an accessible entrance plaza and the creation of an artistic garden/meditation space with seating areas, landscaping and mosaic tile. Work is scheduled to be completed by early December.
51 Winthrop The interior renovation of the former Sacred Heart Church, which Tufts purchased after the Archdiocese of Boston closed the church, will create a large, multipurpose function space, including seating for between 175 and 200 for dining and other events. The work includes new air conditioning and mechanical systems, roof repairs and interior finishes. It is scheduled for completion in December 2008. "Most of the work is taking place in the building right now; there is limited exterior work, except for window repair and a new front entrance," says Roberto.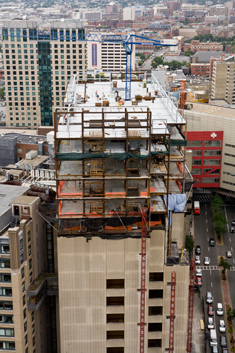 The Dental School Vertical Expansion, which will add five floors and 95,000 square feet to the 10-story building at One Kneeland Street, is well under way. Photo: Alonso Nichols
BOSTON CAMPUS
Dental School Vertical Expansion This project, which will add five floors and 95,000 square feet to the 10-story building at One Kneeland Street, is well underway. "The structural steel is topped off," says Roberto. "The floor decking is poured, and they should have the building completely enclosed by December this year with exterior walls." The expansion of One Kneeland Street, which opened in 1972, will create more teaching and research space, a continuing education suite and offices and meeting rooms. The project is scheduled to be completed in December 2009. (See the Tufts Journal story online.)
Sackler Campus Center The project involves the complete interior renovation of the basement and six of the building's eight floors. It is planned as a three-phase project. Phase one, the renovation of floors two and three, including the learning centers and classrooms for students, was completed in August. The project is currently in phase two, finishing the balance of fourth-floor renovations, including the café, and renovating eighth-floor administrative offices, classrooms and study rooms. Phase two work is scheduled to be completed in December. The final phase of the project, which is a major renovation of the first floor and the basement area, is set to be completed by August 2009. For more details, see http://www.tufts.edu/med/docs/news/sackler_renovation_project.pdf.
Clinical Skills and Simulation Center This brand-new 9,000-square-foot facility, located on the third floor of 35 Kneeland Street, adds yet another high-tech dimension to the clinical educational program at Tufts School of Medicine. Using computerized mannequins, students are able to refine their clinical and physical diagnosis skills, practice commonly performed procedures and learn how to care for acutely ill patients as part of a team. The 12 patient exam rooms and three simulation rooms are outfitted with video and audio equipment so faculty can observe students interacting with standardized patients from observation rooms equipped with computer monitors. The grand opening of the clinical skills center will take place in October.
Green Space A former parking lot adjacent to the Jaharis Center is being converted into open green space for the Boston campus community. "It's going to have some seating areas, some grass, some landscaping, a place for folks to come and relax, sit and enjoy lunch or congregate in an informal manner," says Roberto. "It's under construction right now, and should be done by about mid-November, when the plantings go in."
GRAFTON CAMPUS
Agnes Varis Campus Center Auditorium The addition to the new campus center at the Cummings School will include a 173-seat auditorium, equipped with state-of-the-art acoustics, lighting and audio-visual electronics, and a continuing education facility. "The ability to hold campus-wide meetings, national and international meetings and community hearings on our campus will broaden our impact on society and academic life, while bringing faculty, students, staff and the local community closer together," says Andrew Hoffman, associate professor of clinical sciences and director of the Lung Function Testing Laboratory. The scheduled completion date is December 2008; currently the masonry work is being done. The Agnes Varis Campus Center, which converted a historic but unused former state hospital dormitory into a facility designed to foster community, will be dedicated on September 23 from noon to 2 p.m. on the Grafton campus.
New England Regional Biosafety Laboratory The exterior and site work for this facility, which will allow researchers to focus their work on emerging infectious diseases and food- and waterborne illnesses, are substantially complete, and the mechanical systems have been installed. Interior finish work is currently under way, and completion is scheduled for December. The construction is being funded with some $20 million from the National Institutes of Health and another $9.4 million from Massachusetts' new Life Sciences Initiative, which will offset some capital investment in the building.