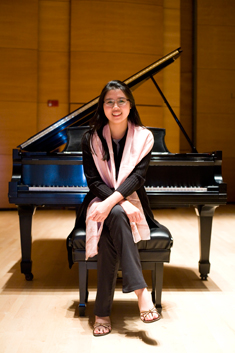 "I have a passion for music and humanitarian work," says Jean Foo. Photo: Melody Ko
Music's Magic
Graduate student Jean Foo took musical education to poor, migrant children in rural China
By Robert Bochnak
At a school for rural migrant children in China a few years ago, Jean Foo was playing music CDs as part of a volunteer music education program when she noticed that the children were just staring into space. "I tried to connect with them by asking them what they thought of the music, but I soon realized that many of the children hadn't heard music before," she says.
It was a shocking moment for Foo, a 25-year-old composer from Singapore, whose works for piano, clarinet, marimba, violin and cello have been performed in Japan, Egypt and the United States.
But it was also why the work she was doing was important, volunteering with Magic Hospital, an international organization that works on behalf of underprivileged children.
"When I joined the Magic Hospital, they didn't have a music program," says Foo, a graduate student in music at Tufts who is classically trained in piano and in the guzheng, a traditional Chinese string instrument. "So I created one which was aimed at sharing music with these children."
Foo focused her efforts on the sons and daughters of migrant workers living in rural China. The schools those children attended did not have the resources necessary to pay for music teachers or instruments-items that Foo and her fellow volunteers provided.
"We would provide basic music appreciation," says Foo, whose studies at Tufts are being supported by a Graduate School of Arts and Sciences scholarship. "We would have the kids do things like sing songs and play the instruments that we brought."
Most children living in remote Chinese villages rarely get much in the way of music education. "The villages these children live in were far from cities and, because of this, necessities like food are taken care of first," says Foo, who worked full time as a writer and translator for Gramophone Magazine (China) while she was a Magic Hospital volunteer.
She remembers going to one school where the children were given milk to drink for the very first time just a few weeks before she arrived. "Because of this focus on primary needs, the spiritual needs of the children were often overlooked, and they were not exposed to things like music," she says.
Although her graduate studies at Tufts don't allow her time to work with schools in China anymore, Foo is still involved with Magic Hospital, helping out with funding proposals, grant applications and referrals on an occasional basis.
And she's active on the Medford/Somerville campus. She volunteers with the Tufts China Care Program, which matches orphans from China with families in the United States, and with a newly formed student group, the Advisory Committee on Shareholder Responsibility, a group of graduate students, undergraduates, alumni and faculty that helps advise the Tufts Board of Trustees on ways to use the university's endowment to best exemplify Tufts' commitment to active citizenship, social causes and community outreach.
Foo plans to pursue a career in musical composition and research. She would also like to continue the work she started with the Magic Hospital.
Other than composing and lecturing, a long-term goal of hers is to design and implement a variety of music curricula, especially for underprivileged children and those from traumatic backgrounds.
"I have a passion for music and humanitarian work," Foo says, "and maybe one day, I'll be the music program designer for a global humanitarian organization."
This story first appeared in the Spring 2008 issue of Alma Matters. Robert Bochnak may be reached at robert.bochnak@tufts.edu.