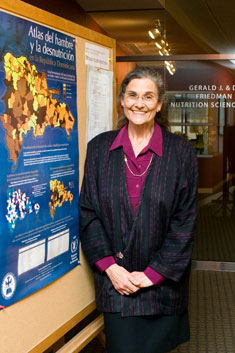 "Food security and nutrition are often determined by factors other than a household's income," says Beatrice Rogers, a professor at the Friedman School of Nutrition Science and Policy. Photo: Alonso Nichols
The Cartography of Hunger
Mapping the worldwide connections between nutrition and socioeconomic factors
Look at the big picture, the saying goes. But sometimes, seeing the trees instead of the forest can be just as useful, as Beatrice Rogers knows.
Rogers, a professor at the Friedman School of Nutrition Science and Policy, and her collaborator, Kathy Macías, N01, F02, made Latin American headlines earlier this year when they presented the results of their studies estimating the prevalence of malnutrition in Ecuador, Panama and the Dominican Republic.
Using a statistical technique called Small Area Estimation, they combined census data with nutrition surveys to profile not just provinces but the individual municipalities they comprise. They then created a series of maps that illustrate the nutritional differences-sometimes stark, even between adjacent districts.
They demonstrated, for example, that in a country like the Dominican Republic, where malnutrition is relatively low overall, there are still localized areas with high rates of malnutrition, and those areas are not always the most impoverished ones.
"See that one little guy there?" Rogers asks, pointing to a municipality along the coast. Colored purple, it stands out from its lavender and light-blue neighbors. The darker the color, the bigger the discrepancy between poverty and malnutrition rates, Rogers explains. "It's not in the place where people expect it to be bad."
With the maps, experts can see at a glance how nutrition status correlates-or doesn't-with factors like climate and topography, market infrastructure, availability of social services, distance from major cities, ethnic diversity, income inequality and the distribution of poverty. As Rogers writes, "food security and nutrition are often determined by factors other than a household's income."
Associate Professor Parke Wilde, Professor Patrick Webb and research assistant James Wirth also worked on the three-country study, which was sponsored by the World Food Programme's regional office for Latin America and the Caribbean.
Rogers says the maps can be an important tool in the fight against hunger, not only by pointing out the unexpected places where hunger lurks but by helping experts design nutrition interventions geared toward the particular concerns of individual municipalities.
This story first appeared in the Spring 2008 issue of Tufts Nutrition magazine.