Consistently Caring
Ukrainian student creates program to help orphans in her native city
When Maryna Vashchenko was growing up in Mykolayiv, Ukraine, she knew about a nearby orphanage that housed some 150 young children, but never gave it much thought. Like other people in her community, she assumed the children were well cared for. "No one thinks it's a big deal," she says, noting that Ukraine has tens of thousands of abandoned children living in orphanages. The children were no doubt receiving food and clothing and medical care; what more was needed?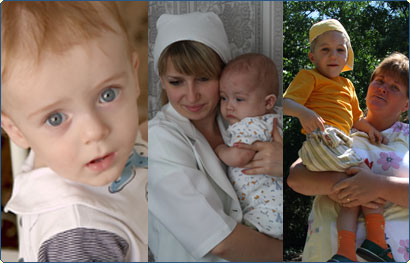 Vashchenko's thinking changed when she started her doctoral studies in the Eliot-Pearson Department of Child Development. She came to realize that food and clothing are simply not enough. The children in the Mykolayiv orphanage, she discovered, had no consistent caretakers, no one who answered their cries and no toys to play with. Studying attachment theory as part of her course work, Vashchenko learned that children without anyone responding to their emotional needs or interacting with them on a regular basis will fail to thrive. Under such conditions, children's cognitive and emotional development suffers.
She decided to do something about it. With the encouragement of Laurie Miller, an associate professor of pediatrics, and Donald Wertleib, a professor at Eliot-Pearson, in September she established a pilot program in Mykolayiv called the Big Sister Orphanage Program. With funding from the Tisch College of Citizenship and Public Service, the program seeks to create a richer, more positive environment for at least some orphanage children. The grant pays for four social work students from the nearby Mykolayiv State University to act as caregivers, visiting the orphanage on a regular basis for a year. Each student spends time playing and talking with a particular child five days a week. The program, modeled on a similar one in Russia carried out by Miller, is one of a recent series of initiatives that students and faculty from Eliot-Pearson are undertaking in other countries, from Ghana to Bulgaria.
Although the orphanages are well staffed, the caretakers usually work 24-hour shifts and then are off for days at a time. "Basically, what they're doing is rotating different caretakers," Vashchenko says. "Any given child could see 15 different caregivers per week."
The caregivers intentionally do not bond with the children. The orphanage staff told Vashchenko that because the children are alone in the world, it's better for them to learn to get along without being attached to someone. In Ukraine, some 90 percent of the children in orphanages have parents who are either unable or unwilling to take care of their children. Some are too poor, while others are alcoholics or drug addicts. The caregivers say they are providing multiple experiences, so the children can adapt to different personalities.
Vashchenko wants to do just the opposite. At the orphanage, workers thought their jobs were to "make sure no one's nose was running and no one was running a temperature," and that was about all. Based on her research, "the caretaker doesn't have to be the best person in the world, but she or he has to be consistent," she says. "You don't have to be rich to be a good parent or be a stay-at-home mom. You just have to be consistent and sensitive to a child's cues, which is exactly what the orphanage doesn't do."
She is well aware that the Big Sisters will become close to the children and may have difficulty leaving after a year. "We are providing weekly supervision where the students talk about emotional issues," says Vashchenko. "We know they will become attached, and so will the children, but we think the benefits the program will yield are greater than the negatives. It will be painful to say goodbye, so there will be a lot of follow-up with the students."
Vashchenko trained the students to prepare children for the transition: talking about the separation ahead of time, providing clear answers to children's questions and using games and stories to model positive self-help behavior in children. "Children in orphanages experience multiple abrupt separations in their lives, but no one teaches them how to cope with separations in a positive way," she says. "Our program will not put an end to separations, but it will help the kids learn the healthy ways of dealing with loss."
Despite the inevitable separation between the student caregivers and the children, Vaschenko is convinced that the experience will provide "a psychological basis for further healthy development, ideally in adoptive families," she says. "When your environment is so chaotic and you have no one to rely on, you don't have the psychological foundations that are so important for future outcomes."
Wertlieb, one of Vashchenko's core academic advisors on her doctoral program, gives the program a good chance of succeeding, and then some. "I am confident that her work will have an impact on the quality of care and the goodness of policies and practices in a deteriorating and tragic system so clearly in need of reform," he says.
Even though the Big Sister Orphanage Program is in its infancy, Vashchenko is already planning to expand it, and is raising money to hire more university students to nurture more orphans. "I dream that one day our program will be no longer needed and all children will have loving families or caretakers," she says. "But until then, we will keep working hard to provide at least some normalcy in the lives of these kids. We are looking for people who can help or who want to get involved. It takes about $50 to give an orphan child a big sister for one month. We hope to raise enough money to affect every child."
To contribute to the Big Sister Orphanage Program, contact Maryna Vashchenko at maryna.vash@gmail.com.
Marjorie Howard is a senior writer in Tufts' Office of Publications. She can be reached at marjorie.howard@tufts.edu. This story ran in the December 2007 issue of the Tufts Journal.