Romancing the Clues
An ordinary Sunday morning routine turned into a proposal
Aric Egmont figured he had struck gold on his fourth date with Friedman School graduate student Jennie Bass when they ended up going to a local coffee shop and doing a crossword puzzle together. "I knew I had found the kind of dork I could love," says Egmont. "That date was the first moment when we stopped relying on some kind of event to set the agenda, and instead took that first tiny step toward normalcy, spending time together doing the same things we would regularly do on our own."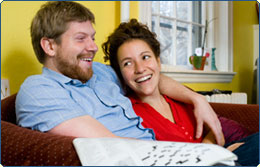 Doing the Sunday crossword together became a regular routine for the couple, with one person holding the puzzle and the other person reading over a shoulder. Many clues flowed under the bridge and over the dam. Then last summer, the 29-year-old Egmont, who works at Fidelity Investments, approached the Boston Globe Magazine with an unusual request. Would it be possible, he asked, for Emily Cox and Henry Rathvon, A73, G74, the married puzzle-writing team who had been fashioning the Globe crossword for years, to create a custom puzzle just for him?
Rathvon and Cox rose to the challenge. Their puzzle was titled "Popping the question," and each entry in it was a variation on the theme of proposals. As one example, the answer to "Macrame artist's proposal" was "Let's tie the knot." The challenge for the puzzle makers was to create a crossword that would make sense for the general public while being loaded with special meaning for the one woman who was its intended target. This called for a sly touch. The clue "Generic proposal" was typical, playing lightly on the names of the couple (Jen + Aric) for full effect.
And so the stage was set. Egmont had a restless Saturday night the day before the puzzle was to appear. "Finally, Sunday morning, I was like, 'Do you want to do the crossword?' I grab the paper and we start doing it," Egmont relates. "There are clues that have personal significance, my last name, her best friend's name. She's not suspicious at all. Her sister's name is in there. She's like, 'This is so bizarre.' She just thinks it's an amazing coincidence."
Finally the couple got to 111 across, "Generic proposal," whose answer was, "Will you marry me?" At that point Egmont went to his knee, proffered the ring and asked, "Will you marry me, Jennie?" There was some screaming and hugging before the bride-to-be managed a yes.
Bass, 29, will graduate next May with a degree in food policy and applied nutrition. The couple plans to wed in September 2008.
This story first ran in the Winter 2008 Tufts Medicine magazine, and appeared in the February 2008 Tufts Journal.