On the shelf
What Tufts authors are writing about
Degrees That Matter: Climate Change and the University
MIT Press, May 2007
Ann Rappaport, lecturer in urban and environmental policy and planning, and Sarah Hammond Creighton, project manager, Tufts Climate Initiative
Universities and colleges are in a unique position to take a leadership role on global warming. As communities, they can strategize and organize effective action. As laboratories for learning and centers of research, they can reduce their own emissions of greenhouse gases, educate students about global warming and direct scholarly attention to issues related to climate change and energy. Degrees That Matter offers guidance for those who want to harness the power of universities and other institutions and provides perspectives on how to motivate change and inspire action within complex organizations. The authors draw on almost a decade of experience leading the Tufts Climate Initiative and other institutional "greening" efforts. Tufts President Lawrence S. Bacow wrote the book's foreword.
The Enclave Economy: Foreign Investment and Sustainable Development in Mexico's Silicon Valley
MIT Press, September 2007
Kevin P. Gallagher, G99, G03, senior researcher at the Global Development and Environment Institute, and Lyuba Zarsky, senior research fellow, Global Development and Environment Institute
Foreign investment has been widely perceived as a panacea for developing countries— a way to reduce poverty and kick-start sustainable modern industries. The Enclave Economy calls this prescription into question, showing that Mexico's post-NAFTA experience of foreign direct investment in its information technology sector, particularly in the Guadalajara region, did not produce the expected benefits. Charting the rise and fall of Mexico's "Silicon Valley," the authors explore issues that resonate through much of Latin America and the developing world: the social, economic and environmental effects of market-driven globalization.
Fifteen Legs
Riverbank Press, 2007
Bonnie Silva, G06
The author recounts her travels with volunteers from numerous animal rescue and transport groups who provide escort services for last-chance animals. The book's title refers to the number of different rides that are sometimes necessary to transport a rescued dog, cat or other animal from a dire situation (where death is imminent) to a safe and loving home. Consider Walker, an Australian shepherd mix that traveled nearly 900 miles over two days, accompanied on each of his 15 legs by different volunteers. On her journeys, Silva encountered people like Yahoo groups list owner Brandy Holleran, bunny transport boss Jennifer Barbieri, volunteer pilot Kevin Boyle, hurricane search and rescue leader Jane Garrison and transport coordinator Terri Epp, who performs cyber-miracles from her home in Canada. Fifteen Legs shows us what can happen when a synchronized squad of strangers fuels up and hits the road.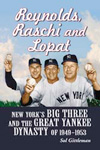 Reynolds, Raschi and Lopat: New York's Big Three and the Great Yankee Dynasty of 1949-1953
McFarland & Company, 2007
Sol Gittleman, University Professor
Tufts' beloved former provost and senior vice president takes us back to the remarkable period from 1949 to 1953, when the New York Yankees won five consecutive World Series. He notes that most of the credit for that feat should go to three aging pitchers who have been all but forgotten: Allie Reynolds, an Oklahoma Creek Indian, and Vic Raschi and Ed Lopat, offspring of Italian and Polish immigrants, respectively. Despite their widely different backgrounds, the trio shared a deep bond, and as they toiled for Yankee glory, they became lifelong friends.
This story ran in the September 2007 issue of the Tufts Journal.