On the shelf
What Tufts authors are writing about
Language and the Declining World in Chaucer, Dante, and Jean de Meun
Cambridge University Press, July 2007 (Cambridge Studies in Medieval Literature Series, No. 63)
John M. Fyler, professor of English
Medieval commentaries on the origin and history of language used biblical history, from the Creation to the Tower of Babel, as their starting point and described the progressive impairment of an originally perfect language. Biblical and classical sources raised questions for both medieval poets and commentators about the nature of language, its participation in the Fall and its possible redemption. Fyler focuses on how three major poets—Chaucer, Dante and Jean de Meun—participated in these debates about language. He offers new analyses of how the history of language is described and debated in the Divine Comedy, the Canterbury Tales and the Roman de la Rose. While Dante follows the Augustinian idea of the Fall and subsequent redemption of language, Jean de Meun and Chaucer are skeptical about the possibilities for linguistic redemption and resign themselves, at least half comically, to the linguistic implications of the Fall and the declining world.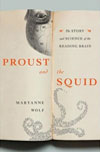 Proust and the Squid: The Story and Science of the Reading Brain
HarperCollins, September 2007
Maryanne Wolf, the John DiBiaggio Professor of Citizenship and Public Service and professor of child development
Every new reader's brain possesses the extraordinary capacity to rearrange itself beyond its original abilities in order to understand written symbols. But how does the brain learn to read? Wolf, a cognitive neuroscientist, tells us that the brain that examined tiny clay tablets in the cuneiform script of the Sumerians is configured differently from the brain that reads alphabets or of one literate in today's technology. She takes the reader from the brains of a pre-literate Homer to a literacy-ambivalent Plato, from an infant listening to Goodnight Moon to an expert reader of Proust, and finally to an often-misunderstood child with dyslexia whose gifts may be as real as the challenges he or she faces. Proust and the Squid celebrates reading, one of the single most remarkable inventions in history.
Rebels Rising: Cities and the American Revolution
Oxford University Press, July 2007
Benjamin L. Carp, assistant professor of history
In the cities of 18th-century America, tens of thousands of colonists met in back rooms to plot political tactics, debated the issues of the day in taverns and mingled together on the wharves or in the streets. Historian Benjamin Carp shows how these urban meeting places provided the tinder and spark for the American Revolution. He focuses closely on political activity in colonial America's five most populous cities: Boston's waterfront community, New York tavern-goers, Newport congregations, Charleston's elite patriarchy and the common people who gathered outside Philadelphia's State House. He argues that because of their tight concentrations of people and diverse mixture of inhabitants, the largest cities offered fertile ground for political consciousness, political persuasion and political action. Ultimately, the residents of cities became the first to voice their discontent.

This appeared in the October 2007 issue of the Tufts Journal.
Have a new book coming out? Let us know: karen.bailey@tufts.edu.