Endowed chairs
3 A&S faculty appointed to named professorships
Three faculty members in the School of Arts & Sciences have been appointed to endowed professorships: Howard Malchow, professor of history, is the recipient of the Walter S. Dickson Professorship of English and American History; Mark Richard, professor of philosophy, has been named the inaugural recipient of the Lenore Stern Professorship in the Humanities and Social Sciences; and Sergei Mirkin, professor of biology, is the inaugural holder of the White Family Chair in Biology.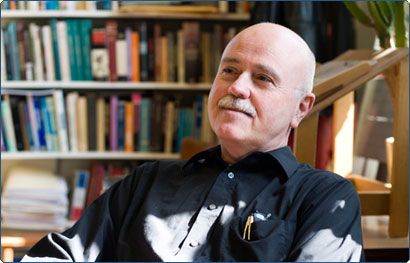 Malchow, whose area of scholarship is 19th-century British history, earned his Ph.D. at Stanford University in 1972, and taught there until joining the Tufts faculty as an assistant professor in 1974. He was promoted to associate professor in 1980 and full professor in 1992. He has held research appointments at the University of Pittsburgh and the University of Birmingham in the U.K., and was named a fellow of the Royal Historical Society (U.K.) in 1996. He is the author of four books and numerous articles and reviews on social and political movements in Victorian Britain. He is working on a major book about U.S./U.K. relations and popular culture in the 1950s, '60s and '70s.
At Tufts, Malchow has been an important contributor to the campus and faculty governance, serving on many committees and twice chairing the history department (1997-2004 and 2007-10).
The Lenore Stern Professorship in the Humanities and Social Sciences, created by James A. Stern, E72, chair of Tufts' Board of Trustees, and his wife, Jane, allows the School of Arts & Sciences to honor one of its most valued faculty members and to support faculty leadership in the humanities, Robert Sternberg, dean of the School of Arts & Sciences, said.
Mark Richard, the recipient, has established himself as a leading philosopher in the areas of language, epistemology and metaphysics, the core of the Anglo-American philosophical tradition. He received his B.A. in philosophy from Hamilton College in 1973 and his Ph.D. from the University of Massachusetts at Amherst in 1982. He joined the Tufts faculty in 1984, became an associate professor in 1990, and was promoted to full professor in 1999. He has chaired the Department of Philosophy three times (1995-98, 2001-04 and 2005-present).
Richard is the author of some four dozen peer-reviewed articles and two forthcoming books from Oxford University Press, one a compilation of his most highly regarded essays of the last 20 years.
Sergei Mirkin came to Tufts in January 2007 from the University of Illinois at Chicago, where he had been since 1990, and had risen to the position of professor of biochemistry and molecular genetics at the College of Medicine.
The author of 50 experimental papers published in top peer-reviewed journals, as well as numerous book chapters and invited reviews, Mirkin has established himself as an international authority in molecular biology and genetics, with a particular interest in the structure and function of DNA. He currently serves as a managing editor of Frontiers in Bioscience and an editor for GENE.
He earned his doctoral degree in molecular biology in 1983 from the Institute of Molecular Genetics at the Russian Academy of Sciences in Moscow. His work has been continuously funded since 1990; he has received grants and fellowships from the National Science Foundation, the National Institutes of Health, the La Jolla Cancer Research Foundation and the American Cancer Society.