Embracing diversity
In new post, Lisa Coleman is framing a conversation on community
by Helene Ragovin
Lisa Coleman is no stranger to Tufts, having served for almost eight years as the director of the Africana Center. She's no stranger to the subject of diversity, both as a matter of academic inquiry and of personal experience. And she's a person of seemingly boundless energy, with a limitless curiosity about the world around her.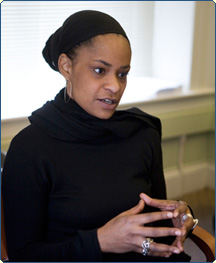 © ALONSO NICHOLS
So it should come as no surprise that when she was named executive director of the university's newly established Office of Institutional Diversity (OID), she hit the ground running.
"We are moving really quickly in some ways," Coleman said. While her goal is to develop a comprehensive plan for promoting diversity at Tufts, "part of that role is to put the architecture in place, to create an infrastructure and let people know how to 'fold into' that infrastructure. We have a lot of the diversity pieces, and we, as an office, are attempting to assess, revise and pull the various facets together."
That entails coordinating projects relating to everything from faculty and student recruitment to employee satisfaction and academic programming. In essence, the mission of the OID is to bolster the understanding of the importance—and the complexity—of diversity in all aspects of university life.
"We're facilitating the infusion of diversity into the schools," Coleman said. "That is not to suggest that these efforts do not already exist, but we're coordinating those efforts and providing some better communication in terms of ongoing initiatives."
A busy semester
Since the OID was launched in January, there has been a spate of initiatives that will affect all areas of Tufts. Among those:
Diversity-related positions have been created or restructured, and searches to fill those spots are ongoing. Among those positions are: dean of multicultural affairs, School of Medicine; director, Office of Equal Opportunity and Affirmative Action (an existing position that is vacant); and an Americans with Disabilities Act (ADA) program coordinator. Coleman said the goal is to fill the OEO and ADA positions by the fall. (OID encompasses OEO, which administers issues related to the regulatory aspects of affirmative action and employment practices, and issues related to the ADA.)
Work has begun on two websites, one from the OID that will link diversity information for all Tufts schools, and another from the provost's office focusing on diversity issues specifically related to faculty research. The goal is to launch the sites by spring 2008.
Data is being gathered on the "diversity climate" at Tufts as perceived by students, faculty and staff. Currently, most of the information available about diversity and campus climate comes from the annual sophomore and senior surveys that undergraduates are asked to complete. To a lesser extent, information has been gathered from graduate students, faculty and staff, but these efforts have been limited. New or revised surveys about a host of issues, including diversity, will be conducted to assess the experiences of those currently at the university.
There have been a number of events this semester designed to address issues of race, ethnicity and diversity. In February, for example, Coleman was co-facilitator of a town meeting on campus climate and stereotyping on the Medford/Somerville campus that showcased the work of psychology professors Samuel Sommers and Keith Maddox. Several scholars and writers visited Tufts to share their insights: Author and education activist Jonathan Kozol spoke about racial inequalities in America's public schools at the inaugural Social Policy Forum of the Jonathan M. Tisch College of Citizenship and Public Service; Georgetown University professors Mari J. Matsuda and Charles R. Lawrence III spoke on hate speech, structural inequality and affirmative action; author Tram Nguyen discussed her book We Are All Suspects Now: Untold Stories from Immigrant Communities after 9/11; former NASA administrator Julian Earls delivered the inaugural Dean's Lecture at the School of Engineering, discussing his career and the importance of "diversity, in every sense of the word."
The university trustees also hosted a welcome-back reception for first-year African-American students, and the annual Martin Luther King Jr. celebration and Black History Month kickoff took place on the Medford/Somerville campus.
A concern for everyone
One of the keys, Coleman said, is realizing that a favorable diversity climate must involve everyone at the university. It's not just an issue for students or people of color. "From my work at the Africana Center … what became clear to me from a student-affairs vantage point, is that one needs to really think about faculty and staff; of policymaking and its implications; of curriculum development, teaching—all the sorts of things that make up the life of a university," she said.
"Personally, I'm really committed to diversity," said Coleman, who grew up in a suburb in Ohio. "I went to predominantly white institutions and was involved in diversity conversations." Yet, she said, as a child she had few opportunities to learn about the development of particular communities and practices of discrimination. "Early on I didn't necessarily learn about communities of color, LGBT (lesbian, gay, bisexual and transgender) communities, those who are differently abled, various religions or systems of discrimination. This is an interest that developed over time and, quite frankly, because I had the desire to find answers to questions I was constantly asked. This led to a number of my professional and educational choices."
Through her work in Ohio, Washington, D.C., and New York—with the Social Science Research Collective at Ohio State University; the Association of American Medical Colleges in Washington and Merrill Lynch in New York—she said she learned the importance of understanding diversity and discrimination. "In New York, there are people from all over the world and all over the country with whom one must interact and relate. For example, when one employs a term such as 'Asian,' this may refer to people who are Chinese, Japanese, Indian, Taiwanese, Korean, and it is important to realize that these groups have different histories both inside and outside of the United States. Part of the process of education is to understand how these histories relate to the work we do in research, medicine and/or in corporations.
"The educational environment is about learning, research and teaching. Hopefully that is partially why we're all here," she said. "There are some perks to working at an educational institution, and one is having access to learning opportunities. But another is the ability to engage and participate in the ever-changing world in which we live."
Coleman's educational experiences at Denison University in Granville, Ohio; Ohio State University and New York University have also influenced her career path. Her master's work focused on gender and Africana studies, and her doctoral scholarship on social and cultural theory in American studies. She has taught American studies and women's studies courses at Tufts, including the popular "Constructions of Whiteness," which looks at the relationships of nation building and the development of racial categorizations in the United States.
"I was raised by two people who believed in education, both formal and informal. It wasn't enough to just go to school. You had to be engaged in the world around you. Quizzes over dinner were sometimes fun and sometimes quite grueling," she said. "I think that foundation led to a kind of curiosity. I'm curious about lots of different things … my work in interdisciplinary studies has really been about that kind of curiosity. It's about the intersection of varying disciplines, as well as power relations and the multifaceted vantage points that we bring to the table."
Framing the conversation
Coleman's appointment as executive director of OID was announced not long after the uproar over a racially insulting Christmas carol parody published in the conservative student publication The Primary Source.
While responding to the controversy became one of Coleman's first duties, her position was not created in reaction to that event. The idea for OID was launched in spring 2006, and Coleman discussed the job with President Lawrence S. Bacow and Provost and Senior Vice President Jamshed Bharucha over last summer and fall.
Coleman reports directly to Bacow and Kathe Cronin, vice president for human resources, with a dotted-line report to Bharucha. The position builds upon a number of initiatives, including the work of former assistant provost Elise Ahyi, whose responsibilities included diversity programs and outreach to the existing AS&E Office of Diversity.
"During the last decade, we have seen an increasing number of institutional diversity offices emerge at colleges and universities," Coleman said. What administrators are seeing, she said, is a movement away from the traditional model, which focused heavily on either faculty or student affairs, and moving toward a model where diversity is part of the institutional fabric, involving students, faculty and staff in a broader sense.
"I was interested in the way institutions frame conversations about diversity," she said. "And it became clear to me that [Bacow and Bharucha] were really interested in that as well. From ongoing conversations with senior institutional diversity officers at other schools, I was aware of many successes and failures," Coleman said. "One important factor is having a reporting structure and initiatives that signal to the community that diversity is important to [the university's] mission."
One area that needs attention, Coleman said, is the experience of staff members on campus. "Part of the reality at an educational institution is that you have to focus on students and faculty," she said. "But we must also focus on staff … that's one area to which we would like to pay better attention. What is the climate like; what are their experiences?"
While race relations—specifically in regard to African-American students—have been a focus this past semester, there are many other components to diversity at the university, Coleman said, including Latinos, Asian Americans, international students, students from varying religious backgrounds, LGBT students and students with disabilities.
While there are some common areas of concern among these traditionally underrepresented groups, there are also issues that are unique to each constituency. For those with disabilities, for example, Tufts' historic buildings present a challenge to accessibility. There are less-obvious issues, too. "What is it like for students, faculty and staff who are differently abled?" Coleman asked. "What are their experiences, not just in terms of access, but in terms of climate and community?"
Experiences can be mixed as well. For example, while Tufts has been ranked as having one of the best climates for LGBT students among American universities, unfortunately there are still instances of homophobia, including graffiti in the residence halls.
Some issues, she said, affect Tufts, although they are not specific to the university. "We are in New England, which, historically, has not been seen as hospitable, particularly to people of African descent," she said. "I'm not saying whether or not this is a fact, rather that perception certainly means that when we're trying to recruit faculty and staff who can also be recruited by other top-tier institutions not located in New England we must be familiar with these histories.
"College is a time when students often reflect and think about who they are and who they want to be," she said, and for, some students, it may be the first time they have encountered others who share their demographic—whether that be race, religion or sexual orientation. "We learn from one another, and while some students' initial tendency may be to stick together, for most students, it's an evolutionary process. It's not all the same students sitting at the table consistently," she said, referring to the 1999 book, Why Are All the Black Kids Sitting Together in the Cafeteria? "Those students change. That's the nature of identity development. By their senior year—or as alums—they're sitting at different tables."
Coleman said it is vital to prepare students for the world beyond Tufts. "The spirit at Tufts is one of active and involved citizenship," Coleman said. "Those factors are really central to the work and educational experience one has. If one is an active citizen, one is engaged with the community, and one has to familiarize oneself with all the varying and assorted aspects of what makes up a particular community, and of course that process is all about diversity."
Helene Ragovin is a senior writer in Tufts' Office of Publications. She can be reached at helene.ragovin@tufts.edu. This story appeared in the May 2007 Tufts Journal.